We all remember the good old days of paper-based planners. These planner pages made sure our routines and lives were in order. For decades, they have helped us stay focused and productive. However, technology's evolution has changed how we plan our tasks and lives.
Today, traditional, paper-based planners are replaced with online planners available on laptops and smartphones. They go with us everywhere and are instantly accessible. This article shortlists the best online planners whose feature-rich layouts make daily or weekly planning convenient and fun.
1 .Week Plan
Week Plan provides countless useful planners, each focused on improving productivity and efficiency. What sets us apart from our competitors is our prime focus on incorporating the best and most valuable features in our planners. In addition, with the integrations of countless applications, our planner is available on every device and platform.
Week Plan empowers you to prioritize your goals, efficiently allocate time to different roles, and maintain a healthy work-life balance. With our unique approach, we help you stay focused on high-impact tasks, avoid burnouts, and ultimately achieve your objectives. 
Features
Roles setting
Goals setting
Assigning roles
High-impact tasks
Life planner
Task management
Time tracking
Objective Key Results
Top 3 Features
1. Task Management
Our online daily planners offer a task management feature that is more than just scheduling jobs and setting reminders for each. It provides much more convenience, especially if you are an entrepreneur or a team member.
Firstly, it automates recurring tasks to relieve the burden of adding repeating tasks. You can add the routine tasks once and set their frequency. From then on, it is up to our planner to add these tasks to the task list for the specified time.
Second, there is the option of prioritizing tasks. For example, some jobs are more urgent than others or have a higher impact on overall productivity. 
It is best to complete such assignments before moving to the next ones. At Week Plan, we understand the significance of prioritization and thus have this option in task management.
Most importantly, this online planner allows all team members to add weekly tasks. So skip the constant request for work updates and let Week Plan give you a clear view of your team's work. 
2. Objective Key Results (OKRs)
OKRs are an essential standard practice among top organizations to analyze their progress in the right direction. As the name indicates, the framework refers to adding objectives and some "key results" to determine the progress toward fulfilling the objective.
Our online planner's OKRs feature is quite beneficial, especially for progressive companies. With an identified starting point and obvious targets ahead, your team will know what they need to accomplish to achieve their goals. The sense of purpose and motivation associated with clearly outlined goals is immense.
Setting OKRs also enables teams to organize their tasks accordingly. Set objectives provide a clear picture of high-impact tasks. Completing such jobs first makes your team members more productive and effective and reaps unmatched benefits for the organization.
3. Time-Tracking
Whether using Week Plan for yourself or your company, you will soon realize how vital our time-tracking feature is and how greatly it contributes to your effectiveness.
Time tracking allows you to log the time invested in your object-oriented task. In daily routines, we rarely and barely invest the deserved time in essential activities. 
Yet, we complain about the absence of desired results. Time tracking is a much-needed reality check of how much time was invested in the task.
Measuring time is a good way of analyzing whether we have done enough to complete our job. In addition, this simple practice helps identify the causes of delays or issues in getting the work done. 
From a team's perspective, time tracking brings productivity and accountability. Monitoring time lets us focus only on the current job and prevents distractions.
Pricing
Free 7-day trial
Monthly price plan for $10.83 per month
Yearly price plan for $104 per year
Customer support
Knowledge base
Forums
FAQs
Email
ChatBot
Ratings 
Week Plan is rated 4.5 at Capterra and 4.3 on G2.
Conclusion
Week Plan is an online planner that understands the secrets to better productivity. We know that the best online planners do not just add tasks and remind you to complete them but are your partner who keeps you on track and motivated for success.
The features of our platform ensure that you are ahead of your game and completing your tasks like an expert. Time tracking and setting objective key results make our online planner the best choice for enterprises and team members.
2. Trello
Trello is another famous online planner that allows users to connect and share work progress on the same platform. It is an excellent utility for team members, and its features cater to the needs of remote companies.
Trello promises convenience through its interactive and valuable features. You can stay updated with progress through boards, lists, and cards. The calendar is another helpful feature that allows you to access your schedules and dates without toggling between applications or windows.
Features
Views inspired by kanban boards
Timeline view
Calendar
Dashboard
Templates for features
Automated workflow
Integrations
Time tracking
Dashboards
In-software email
Top 3 Features
1. Butler Task Automation
Trello incorporates the latest automation feature in its online planner and offers added convenience to streamline your work operations.With butler, you can set rules and commands for automating any task. This way, you do not have to perform little tasks independently. 
Instead, you can leave them to the automated planner. For example, when a task card is moved to "done," as per set rules, the Butler automatically checks off the items in the checklist, removes users, and marks the due date.
Although the automated tasks are minute actions that you can perform manually, Trello tries to automate them to allow you to proceed to the next one without having to go through checklists and other review work.
2. Multiple Task Views
Trello allows users to review their work and their teammates' performance with different view options. For example, some have a better idea of work progress through the board's view, while others understand better in the list view.
The multiple view options display different aspects of tasks. For example, the board view presents jobs and their current status at a glance. On the other hand, the list view shows more information. For example, users can see if a particular task is due, in progress, or complete.
To make it all more interactive, there is the Cards view, where users move task cards across lists to update their status.
3. Trello Templates
Templates serve as a guide for new users on how to use Trello best. The templates also inspire the creation of similar tasks or planning activities. Trello has a wide range of templates for every activity users can think of.
Trello's templates include meeting inspirations, travel plans, education and HR-related templates, and more. Users can easily use existing templates instead of investing time in making a new one.
In addition, these templates are categorized according to work type and departments, so users do not have to sift through endless lists. Furthermore, each category features templates for significant activities, so users can pick the ones they need or get inspiration from similar ones.
Pricing
Free version available
Monthly plans

Standard, at $6
Premium, at $12.50
Enterprise, at $17.50 per user. The price for the Enterprise plan keeps reducing as the number of users increases.

Yearly plans

Standard, at $5 per month, billed annually
Premium, at $10 per month, billed annually
Customer support
Email
Knowledge Base
Help Desk
Chat
FAQs
Forums
Ratings 
Capterra and GetApp rate Trello 4.5. G2 rates the online planner at 4.4. It is rated 4.6 for its pricing and 4.3 for functionality on GetApp.
Conclusion
Trello is a relatively more simple online planner that caters to the needs of teams working remotely. Its task automation saves you, while the somewhat easier layout ensures a better understanding of the software.
However, on the downside, most features in Trello cater to the needs of teams. The software does not have any options for individual users. This is why the layout and features also do not align with the expectations of individual users.
3. Todoist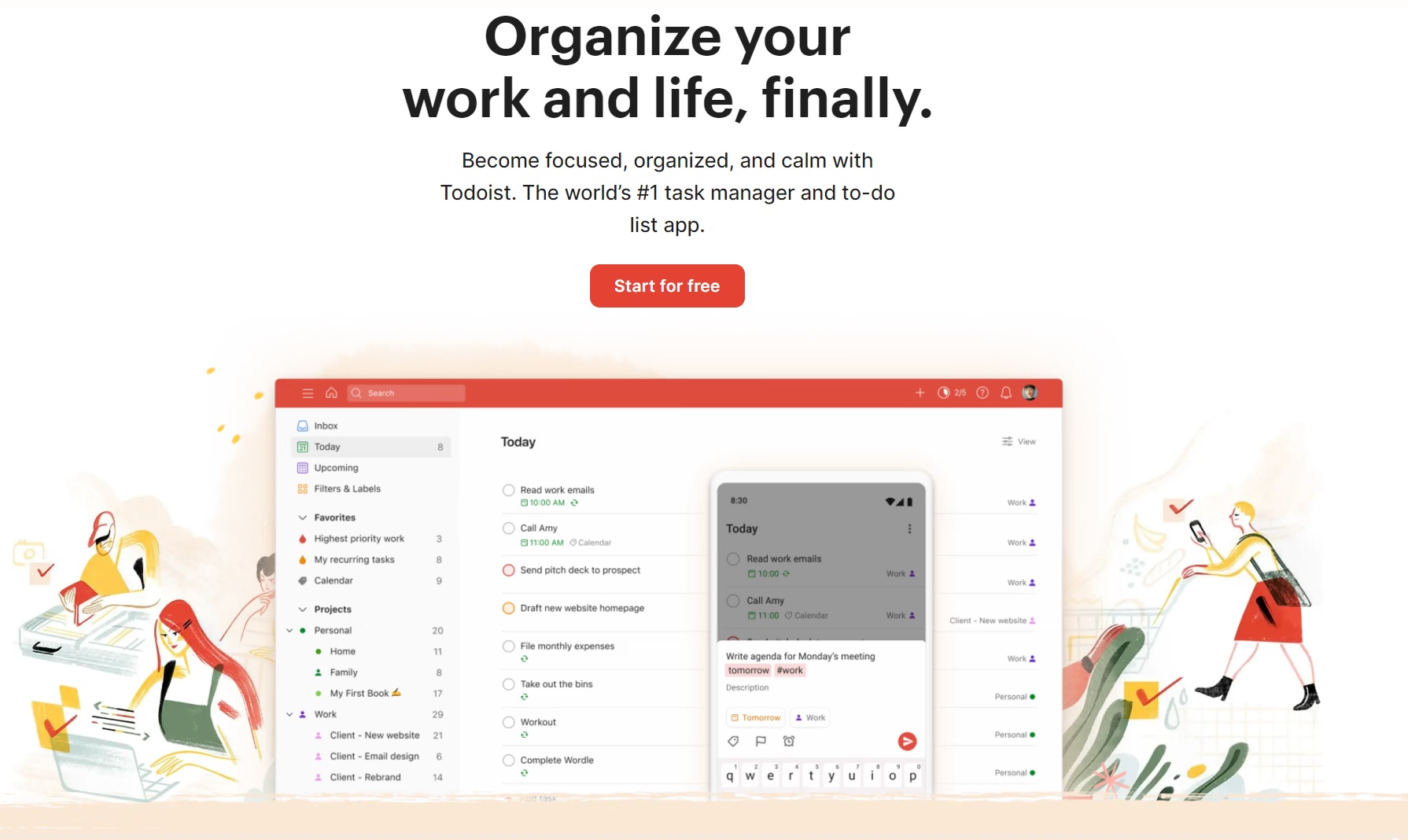 Todoist is one of the few online planners that offers features exclusive to individual users and teams. With a simple website layout that emanates calmness and serenity, Todoist convinces site visitors of its effectiveness at first look. The layout is well-planned, easy to navigate through, and convincing. The online planner has several useful features designed while keeping in mind the expectations of single users.
Features
Prioritization
Setting goals
Recurring tasks
Kanban boards
Themes
Integrations
Progress reports
Top 3 Features
Task Delegation
Task delegation is an interesting and interactive feature in Todoist. It lets you add your partners to get work done quickly. 
For example, you can assign ‌groceries to your partners. Instead of asking them verbally, with a high chance of forgetting, you can add the task and delegate them to other Todoist users. This way, no jobs are left undone, creating an organized routine for everyone.
Even better, you can share progress too. As soon as the assignee completes the task, you will be informed through a notification. You can also add comments and update everyone in the loop about any details related to the work.
2. Kanban Boards
Todoist presents tasks in an easy-to-understand Kanban board style. Kanban Boards are simple layouts with columns such as "to do", "in progress," or "completed." As a job is begun, you can move the stickers to the "in progress" column, and so on. Kanban Boards are not only interactive but super easy to use.
Several planning and productivity applications and software use Kanban board-inspired layouts to make work easier to review. Simple layouts provide an instant overview of how many jobs are pending or complete.
Todoist also uses this style to provide an interactive experience for you. You can drag task cards to relevant columns and achieve a sense of purpose and motivation at every step.
3. Integrations with Utility Apps
Many people find it too complicated to add reminders, events, or tasks from their communication channels into their online planners. Switching between software and mobile applications can be bothersome. Todoist comes to the rescue by integrating with all major utility applications.
With Todoist, you can create reminders and events from your emails and calendars without switching apps. You can send your emails to their Todoist and create tasks or reminders from them. Also, events added in Todoist or calendars are synced so that all agendas are in one place, and you can access them from wherever you want.
Pricing
Pro, for power users at $5
Business, for teams at $8
Yearly Plans

Pro, for power users at $4 per month, billed annually
Business, for teams at $6 per month, billed annually
Customer support
Email
Help desk
Forums
FAQs
Chat
Ratings 
Capterra and GetApp rate Todoist at 4.6. GetApp rates this online planner at 4.5 for value for money and 4.4 for functionality. G2 rates Todoist at 4.4.
Conclusion
Todoist is one of the few online planners with features for both individual users and teams. The best thing about this online planner is its website layout which features simple yet convincing information.
Todoist incorporates an interesting option of delegating tasks to other users for a smoother workflow. This also keeps all users in the loop and updates the status of their assigned jobs.
4. Any.do
Any.do is a simple yet effective task planner and reminder software that offers clarity and best task planning features. At first glance, it appears the website and feature descriptions are underperforming and not living up to the utility of the software itself. However, after you have used the planner for some time, you will understand the amazing capabilities the online planner offers.
Features
Project management
Task planning
Daily planner
Templates
Teamwork
Multiple integrations
Recurring tasks
Collaboration Planning
Top 3 Features
Daily Planner
Daily planners are great for staying active, productive, and organized. They work best for people who like having predictable and manageable routines but have varying daily tasks.
Any.do goes a step further by acting like your partner who prompts you to enter your daily tasks if they have already done so. While this sounds like a significant feature for people who forget daily planning, people who have had first-hand experience with this online planner find the constant reminders a bit bothersome.
2. Synced Calendars
From remembering birthdays to work, meetings to visits, Any.do does it all. Even better, it syncs tasks with calendars to keep all activities in one place. You can access your work from Any.do or their calendars.
However, Any.do not stop being useful just here. This interactive software suggests actions based on your tasks. For example, as Any.do reminds you of a birthday, it also suggests whether you would like to send a birthday wish to the person and what the message should say.
This way, you can ensure amicable communication along with smart planning. Any.do promises convenience in all aspects of personal and professional organizing.
3. Collaboration Planning
Any.do not merely align tasks to your team but also lets them engage with them better. The chat feature lets you communicate with your team members regarding tasks and projects. You can share concerns, update others on their status, and more.
In-software chat is a useful feature that keeps all task-related actions in one place. A centralized work, management, and communication system eliminates loopholes and keeps all team members on board regarding any issues.
Pricing
Personal Plan is free
Premium, at $3 per month, billed annually
Teams, for $5 per user per month, billed annually
Customer support
Knowledge base
Email
Help desk
Forums
FAQs
Ratings
Any.do rates 4.4 on Capterra and GetApp. G2 rates it at 4.1.
Conclusion
Any.do is a versatile and powerful online planner that offers a comprehensive suite of features, making it an ideal choice for individuals and teams alike. With its daily planner, synced calendars, and collaboration planning tools, Any.do streamlines the process of managing tasks and projects, promoting productivity, and organization. Its integration with various calendars and smart suggestions for actions demonstrate the software's commitment to convenience and efficiency.
5. TickTick
The last online planner on our list is TickTick, a simple, to-the-point planner that prefers to do what it is designed to, without any bells and whistles. TickTick is a simple planner and task management software that lets you add your jobs, set reminders, and sort tasks according to their priority. The features of TickTick are more inclined toward the needs and expectations of everyday users. 
Features
Voice input for tasks
Task input using Siri or Quick Ball
Converting tasks into reminders
"Annoying alerts"
Recurring tasks
Folder views
Tags
Prioritization
Sorting tasks
Calendar view
Top 3 Features
Multiple Reminders
Well, the name sounds funny, but best represents the "annoying" alarms in people's phones. TickTick, being a planner that focuses on the habits, needs, and expectations of everyday users adds this interesting feature to ensure jobs get done.
Many people are worryingly forgetful. Even if they set reminders for events or work, they are likely to forget them the next minute. Thus comes the multiple reminders feature, also dubbed the annoying alerts. With this feature, users can set reminders not once, but twice, or even thrice, for an event.
Multiple reminder features are missing in almost all reminders and task planning software and applications. It can be useful for people who tend to forget events too quickly or may miss out due to their packed routines.
2. Focusing with Pomo Timer and White Noise
Usually, online planners have the feature of setting goals and measuring progress. TickTick helps you stay focused on your goals in an altogether different way. It uses the famous Pomodoro Technique to let you work on the task at hand.
With the Pomo timer, TickTick sends periodic alarms and reminders to stop or resume work. These breaks maintain focus and prevent a tired mind.
Additionally, TickTick includes white noise to enhance focus. Although white noise is famous for letting babies sleep better, it turns out it lets adults work better too. Playing white noises and the pomo timer ensures maximum focus and increased productivity.
3. Share Tasks and Lists
TickTick lets you share your tasks and lists with other users to enhance collaboration and completing jobs better. You can create lists and share them with others so both can view and complete them.
Additionally, this planner has the feature of assigning tasks. A mini and simplified version of the task assigned in team-level online planners, TickTick's task assigning works on a limited scale but with the same effectiveness.
You can view the tasks and update your status too. All TickTick users actively contribute to better execution of work.
Pricing
Free for all users
Premium access for $27.99 per year
Gift Cards
Customer support
Knowledge base
Email
Chat
Forums
FAQs
Help desk
Ratings 
TickTick rates 4.7 on Capterra and GetApp while G2 rates it at 4.5.
Conclusion
TickTick is an excellent choice for an online planner, especially for everyday users who need a simple, straightforward, and effective way to manage their tasks and schedules. Its unique features like multiple reminders, the Pomo Timer, and white noise integration help you stay focused and productive. Moreover, the ability to share tasks and lists with others enhances collaboration, making it suitable for small teams or personal use. 
The Bottom Line
Planners and journals used to be an essential element in our lives. Even though our lives have turned digital, the significance of planners has not wavered. However, they have changed their form; from paper-based to online planners. Yet, their importance remains.
Considering all features, prices, and overall utility, Week Plan is the best option. Our online planner checks all boxes of valuable features, exclusiveness for individuals and businesses, and affordability. Contact us now to learn more about our planners and boost your productivity today.
Frequently Asked Questions (FAQs)
1. How does a digital planner compare to a paper planner?
A digital planner offers more flexibility and convenience compared to a paper planner. It can be accessed and updated from multiple devices, has automatic reminders, and often includes syncing capabilities with other apps or services. While paper planners can be more tactile and visually appealing, they lack the adaptability and features provided by digital planners.
2. Can I use a digital planner to manage both my personal and professional life?
Yes, digital planners are versatile tools designed to help manage various aspects of your personal and professional lives. They often have customizable features that allow you to tailor the planner to your specific needs, making it an effective productivity tool for both work and personal use.
3. Are there free digital planners available, or do I need to pay for a premium version?
Many digital planners offer a basic version with essential features for free. However, if you want additional features, such as advanced task management, increased customization, or integration with other apps, a premium version may be required.
4. Can I use a digital planner on multiple devices?
Most digital planners are designed to be used across multiple devices, such as smartphones, tablets, and computers. This allows you to access and update your planner from anywhere, ensuring that you stay organized and on top of your tasks.
5. Can I share my digital planner with others?
Many digital planners offer shareable list features, allowing you to collaborate with others on tasks, projects, or events. This can be especially helpful for teams or families who need to coordinate schedules and work together on shared goals.
6. Can I customize the appearance of my digital planner?
Many digital planners offer customization options, allowing you to choose the layout, colors, and other visual elements that best suit your preferences. This can make the planning experience more enjoyable and personalized, helping you stay engaged and motivated to use the tool regularly.

More Posts