Smart Personal Planner Software | Week Plan
Maximize productivity with Week Plan - the smart personal planner software tailored for your success. Plan, prioritize, and achieve more.
Juggling a busy daily schedule? Discover Week Plan, the ultimate Personal Planner Software. Our Daily Planner App streamlines your daily planning. Prioritize, schedule tasks, and find that work-life balance. Take charge with Week Plan – where smart planning meets daily success!
Unbeatable Features of Our Personal Planner Software
For a productive week, some prep is essential. Align your goals and streamline your to-do list with Week Plan, the premier Personal Planner Software. Know exactly where to focus, what to tackle, and what can wait. Amidst the daily tasks flooding in, our Personal Planner Software helps spotlight what truly matters.
1 - High Impact Tasks
High Impact Tasks (HITs) are the ones that are the most important milestones for the project. Week Plan has a pane that constantly shows your HITs. You can set your goals for the quarter and break them down into smaller and more achievable HITs. Week Plan helps identify different roles and segment the tasks by role or area of responsibility.
2 - Time Tracking
Week Plan times your productivity using the Pomodoro technique. It includes a Pomodoro Timer that encourages users to break efforts into two sprints: a 25-minute cycle of intense focus on the task, then 5 minutes to ease off and stretch. The time spent on Pomodoros is automatically added to the time tracked on tasks.
3 - Calendar View
The Calendar has drag-and-drop functionality for easy scheduling of tasks. Week Plan automatically rolls over completed tasks the next day to ensure that all tasks are completed. It also has a repeating tasks feature to help create habits and unlimited nested subtasks for breaking down large tasks with attachments.
4 - Prioritization
v
In the bustling rhythm of daily life, knowing what to tackle first is half the battle. Week Plan's Personal Planner Software is your secret weapon. It's not just about listing tasks; it's about recognizing what truly matters. With our prioritization feature, you can sift through your daily tasks and zero in on what deserves your immediate attention.
5 - Quadrant View
Ever felt overwhelmed by a mountain of tasks? Enter the Quadrant View. Inspired by the Eisenhower quadrant and popularized by the 'Seven Habits of Highly Effective People,' this feature is your roadmap to personal planning. It's not just a list; it's a strategy that helps you categorize tasks based on urgency and importance.
6 - Goals
With Week Plan's goal-setting feature, you can sketch out your ambitions for the quarter and break them down into actionable steps. Whether a personal goal or a work-related task, our Daily Planner App ensures you're always on track, turning dreams into reality one tick at a time.
7 - Roles
From being a parent to a professional, our roles define us. Week Plan understands this multifaceted nature. Segmenting tasks based on roles or areas of responsibility ensures a balanced approach to daily planning. So, whether you're wearing the hat of a sibling, parent, colleague, or friend, every role gets its due.
8 - Week View
A week is the perfect canvas to paint your plans. Not too short to be rushed, not too long to lose focus. Week Plan's Week View is the sweet spot of scheduling. It offers the perfect balance, giving you ample space to plan while keeping the time window short enough for focused execution. Your entire week, now at a glance!
9 - Pomodoro Timer
Distractions are the arch-nemesis of productivity. But with the Pomodoro timer, you're equipped to combat them. Dive into 25 minutes of intense focus, followed by a 5-minute pause. This rhythm ensures you're always at your productive best. It's not just time management; it's smart planning.
10 - Day Summary
The Day Summary feature lets you quickly gauge how you fared against your plans. Did you hit all your targets? Were there any up-downs? A glance gives you all the insights, prepping you for an even more productive tomorrow.
11 - Easy Scheduling
Scheduling shouldn't feel like rocket science. With Week Plan's drag-and-drop feature, it's as intuitive as possible. Whether reshuffling tasks or setting new ones, planning feels like a breeze. It's the Daily Planner App that works with you, for you.
12 - Attachments
In the digital age, tasks often come with digital companions - a file, a document, or a picture. Week Plan's attachment feature ensures that everything you need is just a click away. Attach, access, and ace your tasks with ease.
Benefits of Using Our Personal Planner Software
Personal planners help contain your days, letting you ensure that important tasks aren't forgotten in the corner of your busy life. It'll be your constant companion, so rather than opting for a generic planner, why not opt for a planner that organizes your goals and tasks? With Week Plan, you can do precisely that.
1 - Boost Your Productivity
You can't be productive if you keep switching from one task to another. There is a wide misconception that if you want to get loads done in a short span of time, go for multitasking. Here is a quick fact: multitasking can decrease your productivity by 40%, and you'll end up completing no tasks. A personal planner software helps you allocate a specific amount of time to one single task at a time and work until it's completed.
2 - Join the League of Highly Effective People
Highly effective people have certain habits that make them stand out. Did you know a habit takes 18 to 254 days to form? Using a personal planner software daily helps you formulate a routine to manage your tasks, track goals, and track your progress, which, if followed consistently, will become a great habit to possess.
3 - More Focused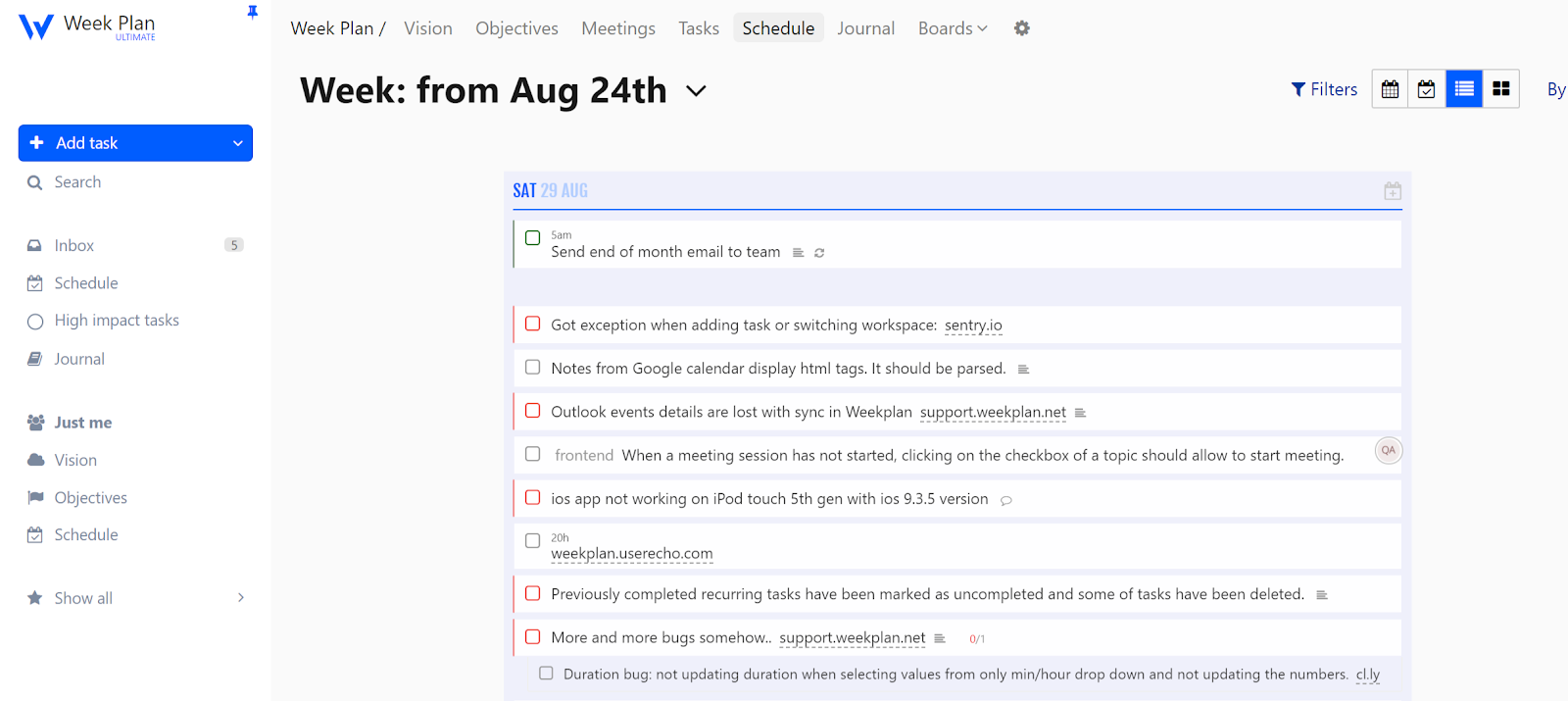 You might have come across the saying that if you can dream it, you can achieve it. It is the same with your tasks and goals; if you list them, you will most likely accomplish them. When you jot down your goals in the personal planner software alongside the dates you want them to achieve, whatever your priorities may be, you move towards them with a focus. You'll have the determination and drive to make them happen.
4 - Get More Out of Each Day

Looking busy doing nothing will only get you doomed. You can easily become frustrated when you have too much on your plate. A personal planner software can help you plan your day to the last. All your tasks will be arranged based on their priority, with deadlines, so you know how to efficiently and effectively make the most of the day. A personal planner helps you know exactly how your time is used – and on what.
5 - Stay Organized
Having personal planner software in place will help bring a curriculum to your life. A planner lets you stay on top of your personal and professional chores to avoid nasty surprises. You will always remember things and never make hasty decisions leading to disastrous repercussions.
6 - Smart Prioritization
Week Plan is robust enough to switch between a day/quadrant planner and a monthly planner. The Monthly planner zooms out to give you a bird's eye view of your tasks and goals for a specific month. The quadrant view showcases your tasks in an Eisenhower matrix where you sort your goals based on the four quadrants of priority and urgency. With this information at hand, you gain more control over which tasks to focus on and which ones to set aside for later.
7 - Progress Tracker
Week Plan offers detailed analytics to know the exact standing of what you've accomplished or lacked during a specific period. You can track your progress for the current week, in the past month, three months, and a year. Week Plan can track goals, the number of tasks completed, the number of parking lot items added, and how your tasks are distributed across the team.
Frequently Asked Questions (FAQs)
1 - What is a personal planner software?
Personal planner software is the most commonly used planner; it helps you with all your daily planning. The personal planner can be used for nearly everything, including work and other areas of life. Using a personal planner keeps you away from the need to have too many planners all over the place, causing nothing but chaos.
2 - Who uses a personal planner?
Personal planner can be used by any individual who wants to make the most of their day. For people looking forward to leading an organized and productive life, personal planner software is something they can afford to miss.
3 - Why use a personal planner software?
Personal planner software keeps the whole experience of setting goals, prioritizing what matters, ending procrastination, building good habits, and kicking bad habits. It gives you multiple tools to track your daily, weekly, or monthly progress.
4 - Does WeekPlan offer a free trial?
Yes, Week Plan offers a free trial of 7 days with every plan.
5 - Does WeekPlan offer integrations with other platforms?
Week Plan has Android, iOS, Chrome, Mac OS, and Windows apps to make the most of the tool.