Looking to achieve better results in less time? Discover the best daily task planners that can improve your performance and productivity. 
We have long used daily diaries and journals to manage and organize our daily lives. These are somewhat effective tools to some extent to note, which could be used for making a checklist of daily tasks and creating a schedule.
But now, in this age of technology, we have daily task planners better suited for daily planning and are better alternatives to daily diaries and journals. Many options are available, but we will look for only the best daily task planners. So, let's begin.
1. Week Plan
Week Plan is one of the best daily task planners as it can be used for both personal and professional purposes. We have also proven to be assistive for both individuals and teams in various fields.
Top 3 Features of Weekplan
1. Daily Planner
Daily Planner has several functionalities that make it useful for daily task management. The daily planner makes it super easy for users to add their daily tasks and their respective timelines over which these tasks should be completed. This helps the user to streamline their day in the most well-organized manner.
Our daily planner is among those features that optimize your time management. As the daily planner is used to its optimal level, better planning will save you much time. Furthermore, as adequate timelines are set for each task, their completion can also be focused on, ensuring prompt completion.
2. Time Tracking
Time tracking and daily task planning have a strong correlation between them. A team or an individual can take charge of multiple tasks regularly. Therefore, it is necessary to ensure that time tracking is done, and why so? Ensure that the person or the team reaches its optimal productivity level.
Time tracking is a compelling feature that tracks the time spent on a task and project. This can be very helpful in daily task planning as the time is tracked over the projects the task designers would have an idea about how much time should be allotted to each task.
When discussing tasks in general, we have to bifurcate between high-impact and low-impact tasks. High-impact tasks are essential, as the name suggests, and more focus must be centered on these tasks. The time tracking feature helps you identify how much time is spent on such tasks and projects.
The time tracking feature is also a helpful feature that can be used for tracking daily productivity. It helps you know how productive the individual and teams are in their daily tasks, allowing you to achieve better results.
3. Personal Planner
The personal planner is designed for tasks that are better suited for individuals. For example, some tasks require only our input in our daily routine. The daily tasks on a personal level could include homework for a student, budgeting for a small business owner, exercising or gyming for a gym freak, etc.
These tasks are essential, and proper task planning is required; a personal planner helps you with this. In addition, the personal planner can be used for the bifurcation of high-impact and low-impact tasks; this gives you a measure of what tasks at your level are more critical than should be completed and what can be delayed.
The personal planner offers numerous integrations with Android mobile apps such as Google Calendar, Outlook, and other iOS applications.
Pricing
Monthly: $10.83
Yearly: $104
Reviews
G2: 4.3 out of 5
Capterra: 4.5 out of 5
Conclusion
Week Plan is a subtle platform that can be used for daily task planning. This task planner is designed to maximize the users' productivity with fantastic features and super-rich functionalities. The excellent ratings it has received from top software rating sites prove it is a perfect choice as a daily task planner.
2. Any.Do
Being one of the best daily task planners with numerous features,  Any.do can make your daily planning easy. Any.do is a widely used platform with over 30 million users worldwide.
Any.do is the perfect platform and among the best daily task planners that ensure that daily planning is done correctly. One of the best things about the platform is it can host multiple users, which is favorable for teams.
Top Features of Any.Do
1. Daily Planner (My Day)
Daily planner (My Day) is the best daily task planner; it focuses on planning, organizing, and accomplishing everyday tasks. This feature has unique functionalities to offer to its users. The first one is "personalized suggestions." Personalized suggestions are given to users, telling them what they should do daily.
The daily planner (My Day) is designed to help users organize their daily tasks. This feature enables you to set and prepare for your daily tasks before they are initiated, so any last-clock hustle and hurriedness are avoided.
2. To-do List & Task
To-do list & task is also among the excellent features of Any.do. Daily, we often have some tasks related to our profession and work and some personal or related to our life.
Personal and professional tasks must be accomplished, and both are equally important. The to-do list & task feature helps you in the bifurcation of these tasks. As these tasks are categorized, the planning and organization of such tasks become easy.
3. Reminders
One of the essential features of this best daily task planner is reminders. Well, the feature of reminders offered by Any.do is vital because of various reasons. The first one is that these reminders help you or your team to get notified about important upcoming events.
The reminders could be informed of notifications; reminders can be set with flexibility and ease. In addition, there are various options while setting reminders. For example, if a task is conducted daily or recurring, then daily reminders could be developed.
Pricing
Personal: Free
Premium: $3 Monthly *Billed annually
Teams: $5 Per User monthly *Billed annually
Reviews
G2: 4.1 out of 5
Capterra: 4.1 out of 5
GetApp: 4.4 out of 5
Conclusion
Any.do has been one of the most prevalent and widely used daily task planners worldwide. If a platform of stature is trusted globally by millions of users, then it can be perfect for you, too, for daily task planning. Daily task planning can be done correctly with Any.do.
3. ClickUp
ClickUp is among the most used daily task planners. There are over 800,000 teams around the world that are using ClickUp for their daily task management and planning. ClickUp caters to its users with numerous features.
Top Features of ClickUp
1. Daily Tasks
One of the most prominent features of ClickUp is Tasks. The feature of tasks helps teams and individuals in daily tasks organization. In addition, ClickUp offers various customizations for each task.
The functionalities like tags, timeline, status, and sub-task can be used on each task to be easily understood. If a task is to be done immediately, for instance, its due date is today, then the status of such tasks can be changed to high priority to ensure that such tasks are completed ASAP.
2. Goals For Daily KPIs
The goal task management feature is designed for task progress of particular tasks undertaken by an individual or an entire team. In addition, this feature can be used as a Key Performance Indicator (KPI) to track the employees' progress, performance, and productivity.
While planning out the daily task, the goal feature can be set to track whether the goals are achieved by the end of the day.
3. Daily Task Prioritization
ClickUp allows you to prioritize and categorize your tasks using tags, priorities, and custom statuses. You can set due dates, assign tasks to team members, and create subtasks to break down large tasks into manageable steps. This helps you stay organized and ensures that important tasks are completed daily.
Pricing
Free Forever: $0
Unlimited: $5 Monthly
Business: $12
Business Plus: $19
Enterprise: Contact for a customized plan
Reviews
GetApp: 4.7 out of 5
Capterra: 4.7 out of 5
G2: 4.7 out of 5
Conclusion
Regarding daily task planning, ClickUp is among the number one choices. Numerous features can be used as a project management tool and daily planning. The ratings and reviews speak for themselves about how ClickUp is a daily and weekly planning app.
4. Friday
Friday offers several valuable features that make daily task planning instantaneous and simplistic. The features offered by Friday enhance your daily workflow, so the productivity of your team is optimized. So, let's give an overview of Friday's features and functionalities.
Top Features of Friday
1. Daily Planner
The daily planner offered by Friday is one of its integral features as it gives an overview of your tasks. This feature perfectly fits team management as it helps your team focus on their daily task. 
Another great thing about the daily planner is that it provides numerous templates. These templates are interactive tools that help you set your daily schedule.
The templates also offer a quick overview of the daily task lists and activities in progress. This professional planning app is preferred when working in teams and when track of improvement is needed.
2. To-do List
The to-do list offered by Friday helps you to jot down all your daily individual tasks. In addition, this to-do list of the task management tool offers users like you ultimate flexibility. You can easily set the time durations for your task and manage the order in which you plan to complete your tasks.
3. Time Management
Daily task planning can be optimized with time management, and a platform like Friday knows it well. That's why Friday provides the feature of time management, which offers some great functionalities. The time management feature offered by Friday helps you track time over the daily projects.
Pricing
Free Plan: $0
Starting Charges: $6 (user per month)
Reviews
GetApp: 3.5 out of 5
Product Hunt: 4.8 out of 5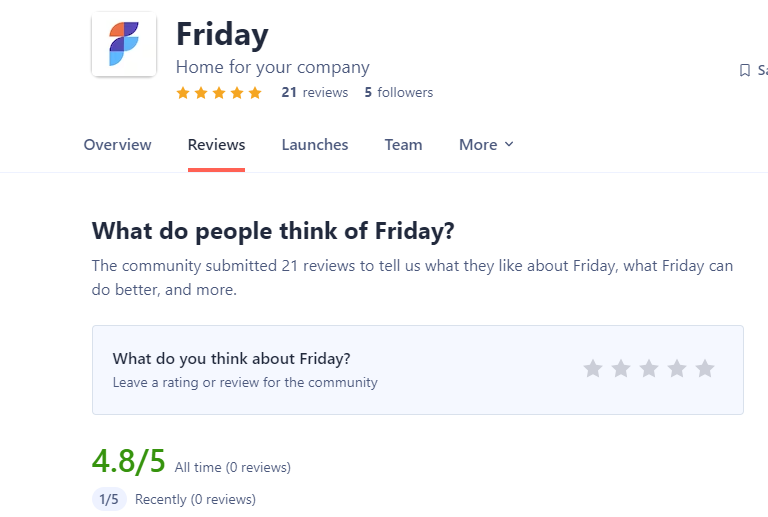 Conclusion
Friday is a daily task planner with every feature and functionality that can help you manage daily tasks. Friday is a fantastic daily task planner that empowers you with superb features that can kick the hassle of daily task management and make this process easy and fun.
5. Clockify
Clockify stands its ground among the A-list daily task planners and is designed to optimize three main areas: timekeeping, reporting, and management. Clockify has several features and functionalities that help keep track of your daily time; the reporting provides you with analytical insights and management focuses or organization of teams and other operations.
Top Features of Clockify
1. Daily Time Tracker
The time tracker feature provided by Clockify helps you to document the time of every project and task. The timesheet creation also becomes easy with time tracking. You can also add whether the task is billable or not. The time tracker of the daily planner app helps you by providing several informative insights regarding your daily tasks; these include the lengthiness of the projects and others.
2. Daily Projects and Tasks Dashboard
The dashboard helps you with the analytical process. This feature generates information like what daily projects and scheduled tasks your team has been assigned and is working on and how much time it has taken to close a particular task.
3. Daily Scheduling
The scheduling feature helps you create daily or weekly tasks. You can easily plan and create a daily task for yourself or your team. Creating the timelines for the daily tasks is also easy with the help of the scheduling feature.
Pricing
Reviews
G2: 4.5 out of 5
Capterra: 4.7 out of 5
GetApp: 4.7 out of 5
Conclusion
Clockify is the perfect choice for your daily task management and thereby makes it to our list of best daily task planners. This daily planner has ticked every box, whether it be key features, functionalities, or ratings. Choosing Clockify as your daily task planner can prove to be a great choice for you.
Table of Comparison
| | | | | | |
| --- | --- | --- | --- | --- | --- |
|   | Daily Planning | Reminders | Time Tracking | Dashboards | Prioritization |
| Week Plan | ✓ | ✓ | ✓ | ✓ | ✓ |
| Any.do | ✓ | ✓ | ╳ | ╳ | ╳ |
| ClickUp | ╳ | ╳ | ╳ | ✓ | ╳ |
| Friday | ✓ | ╳ | ✓ | ╳ | ╳ |
| Clockify | ✓ | ╳ | ✓ | ✓ | ╳ |
Best of the Best
1. Week Plan
Week Plan boasts a unique position among daily task planners due to its high focus on aligning your personal tasks with your long-term goals. As a project management tool, it seamlessly balances your daily task list and your overarching objectives. 
Week Plan's intuitive design facilitates the scheduling of tasks, while its calendar integration ensures you never miss an upcoming event. 
The app also offers customizable features like color-coded tasks, daily planner templates, and unlimited reminders to keep you on track. If you're a business owner or an individual with a long list of tasks and goals, Week Plan is a top choice.
2. ClickUp
Hailed as one of the most popular task management apps, ClickUp is a powerful platform for personal and professional planning. This comprehensive project management tool is particularly effective for complex projects, thanks to its advanced features like task calendars and automation for task management. 
Whether you're looking to schedule tasks or create personalized suggestions for daily plans, ClickUp has you covered. Its daily planning app feature set includes customizable templates, habit tracking, and a daily goal-setting function that keeps you focused on what matters the most.
3. Friday
Friday is perfect for those who manage personal and collaborative tasks. With its daily planner features designed to suit everyone from the busy parent to the hard-working business owner, Friday stands out in its flexibility. 
The platform offers customizable templates and a daily calendar to help you map out your daily routine and hourly schedule. On top of that, Friday's intuitive design integrates seamlessly with other popular task management apps, making it a versatile choice for those who need a daily basis tool for staying organized and goal-oriented.
Final Verdict
Selecting the right daily task planner can significantly impact your productivity and peace of mind. We've explored the top five daily task planners offering robust features from habit tracking to calendar integration. 
Whether focused on personal tasks or complex projects, a tool on this list is designed to meet your specific needs. So go ahead and elevate your task management strategy, making each day more productive and fulfilling than the last.
Frequently Asked Questions (FAQs)
1. What is the advantage of using a daily task planner app over traditional diaries and journals?
Daily task planner apps are effective, affordable, and easy-to-use software applications that can be used for schedule-making, day planning, and productivity tracking. In addition, they provide better organization and time management compared to traditional diaries and journals.
2. Which is one of the best daily task planners available in the market?
Week Plan is considered the best daily task planner app due to its features, such as daily planning, reminders, time tracking, dashboards, and prioritization. In addition, it is among the top planners as it is suitable for personal and professional use.
3. How can time-tracking features in daily task planner apps help improve productivity?
Time-tracking features help users identify how much time they spend on a list of tasks and projects. As a result, users can better allocate their resources, prioritize high-impact tasks, and improve their productivity by tracking time spent using the daily task management apps.
4. What is the significance of reminders in daily task planner apps?
Reminders are essential as they help users stay on track with their daily schedules and get notified about important upcoming events. In addition, they assist in avoiding the last-minute hustle and ensure that all personal tasks are streamlined and completed on time.
5. Are daily task planner apps compatible with mobile devices?
Many daily task planner apps offer compatibility with mobile devices, such as Android and iOS. This allows users to access and manage their tasks conveniently from anywhere using their smartphones or tablets.
6. How do daily task planner apps differ from physical planners?
Daily task planner apps offer automation for task management and can integrate with other digital tools, unlike physical planners.
7. Do these planners offer monthly views?
Most of these planners offer daily and monthly planner views, allowing you to track short-term and long-term tasks.
8. How do I integrate these planners with my daily routine?
These planners often offer daily planning app features that can be easily integrated into your daily routine for efficient task management.
9. Can we set unlimited reminders?
Many of these daily task planners offer the option for setting unlimited reminders to keep you on top of your daily plans.
10. How effective are these tools for complex projects?
Due to their advanced features, project management tools like ClickUp are particularly useful for managing complex projects.

More Posts