In today's fast-moving world, staying organized and productive is essential to achieving personal and professional victory. Thankfully, the digital age has brought us a plethora of online task management software to help streamline our tasks, prioritize our goals, and enhance our efficiency. 
This comprehensive guide delves into the top online Task Management Software options, highlighting their main features, pros and cons, supported platforms, pricing, and more. Whether you're an individual looking to manage your tasks or a team leader overseeing complex projects, a task management solution is tailored to your needs.
1. Week Plan
Let's start our journey with the cream of the crop: Week Plan. This online task management software takes the lead for its exceptional capabilities in goal setting, weekly planning, integration of roles and goals, and quadrant-based task prioritization. Task dependencies are a cornerstone of effective project management, and Week Plan provides advanced features for managing them seamlessly. It makes it a go-to choice for complex projects where task interdependencies are crucial for success. As a task management tool favoured by project managers, Week Plan offers a comprehensive solution to precisely plan, execute, and track project and individual tasks.
Week Plan stands out with its robust capabilities in online task management software. The platform supports task progress tracking in real-time, allowing project managers and teams to stay updated on the status of tasks. Whether you're working solo or collaboratively, Week Plan offers various pricing plans to cater to your needs, with options for unlimited users in the higher tiers. Including customizable templates in Week Plan's arsenal ensures you have many opportunities to streamline your project management software. Week Plan integrates seamlessly with Google Calendar for agile teams, allowing you to effortlessly sync your tasks and deadlines. 
Features
Role-based planning
Quadrant-based task prioritization
Customizable dashboards and workflows
Task automation
Collaboration and team features
Time tracking and time logs
Visual task management
Mobile apps
Reporting and insights:
File storage
Week planning
Top 3 Features of Week Plan
1. Goal Setting and Weekly Planning
Week Plan distinguishes itself in the domain of online task management software through its unique emphasis on setting clear goals and meticulously planning tasks every week. This approach ensures that users manage their daily to-dos and align strategically with their objectives.
2. Data-Driven Insights and Analytics
Week Plan provides robust reporting and analytics features that offer insights into task completion rates, time allocation, and goal progress. Visual graphs and charts display historical task completion patterns, helping users evaluate their productivity over time. These insights enable users to make informed conclusions, refine their task management strategies, and improve efficiency.
3. Quadrant-Based Task Prioritization
Week Plan integrates the Eisenhower Matrix, a renowned framework for task prioritization, into its core functionality. This powerful system assists users in categorizing tasks based on their top priority and importance, enabling them to focus their efforts on tasks that truly matter. The matrix guides users in making informed decisions about allocating their time and energy, resulting in more effective task management and goal attainment.
Pros of Week Plan 
Eisenhower matrix-based prioritization
Goal-centric approach
Enhanced productivity
Visual task management
Customizable workflows
Cons of Week Plan
No free plan is available
The learning curve for current users
Limited latest features compared to some competitors
Supported Platforms
WeekPlan stands out as a sought-after app for task management and weekly planning. Typically, apps of this nature are compatible with a variety of platforms, including web browsers, iOS, Android, Windows, and macOS.
Pricing
Final Verdict on Week Plan
Week Plan's unique focus on goal-setting, integration of roles and goals, and quadrant-based task prioritization makes it the top choice for individuals and teams seeking an efficient online task management software. 
While some competitors offer additional features, Week Plan's strong emphasis on goal alignment and productivity enhancement sets it apart.
2. Todoist
In a world where multitasking is the norm and responsibilities are multifaceted, the need for a comprehensive task management system has never been greater. Todoist is a versatile companion that helps users organize their to-do lists, prioritize tasks, and achieve goals while seamlessly integrating into their daily routines. 
Whether you're a busy professional juggling deadlines, a student managing coursework, or an entrepreneur producing various projects, Todoist promises a streamlined experience that empowers you to stay on top of your tasks, enhance productivity, and reclaim precious time.
Features
Task creation
Project management
Due dates
Priority levels
Labels and tags
Reminders
Recurring tasks.
Sub-tasks
Collaboration
Top 3 Features of Todoist
1. Intuitive Task Organization with Labels and Filters
Todoist offers a seamless task organization experience through labels and tags. You can effortlessly categorize tasks using colour-coded labels, making different task types or categories simple. Furthermore, the platform offers the convenience of utilizing filters, allowing you to effortlessly access tasks according to criteria like priority, due dates, and assigned labels.
2. Collaborative Task Management and Project Sharing
Todoist allows seamless collaboration among team members by enabling you to work together on tasks and projects effortlessly. You can easily share projects, promoting teamwork and synchronized efforts. Additionally, the platform lets you include task comments, fostering productive discussions and enhancing communication within the team.
3. Smart Scheduling and Productivity Insights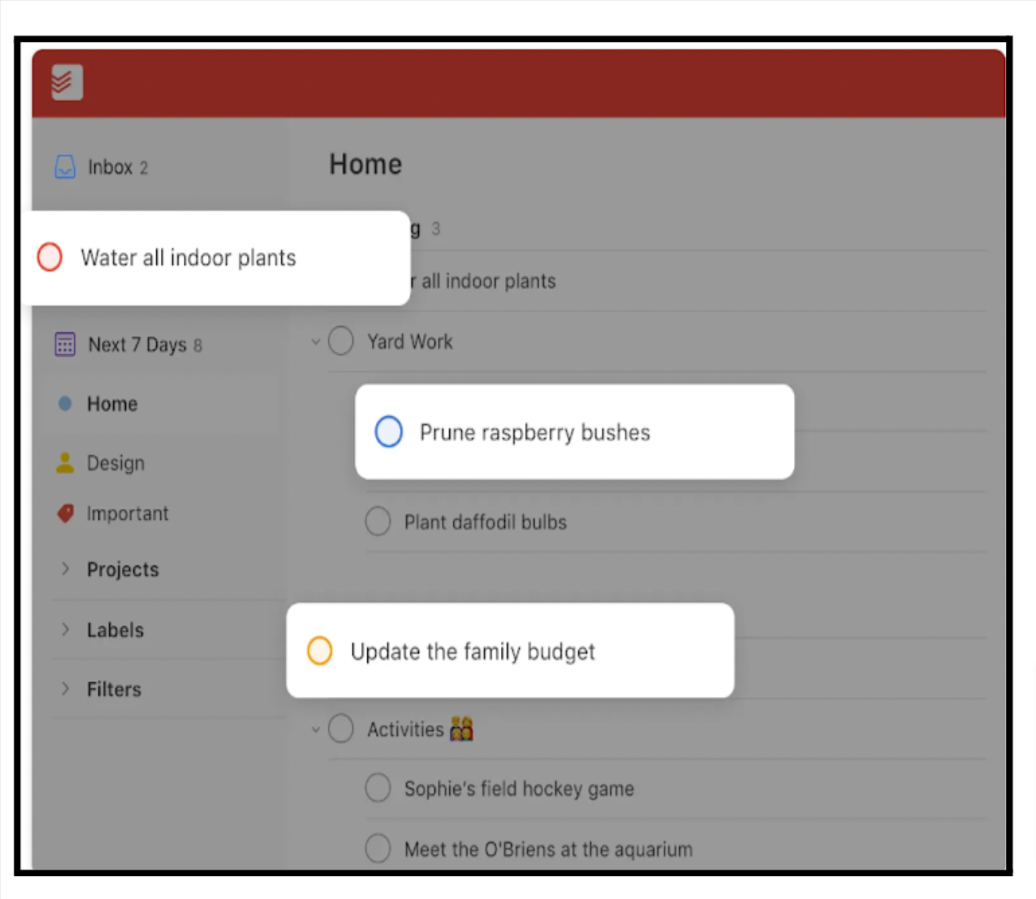 Todoist offers an efficient way to schedule tasks, allowing you to set specific due dates and times. You can increase productivity and stay on top of your tasks by using reminders and notifications. Moreover, the platform provides insights into your productivity through features like task completion history and progress tracking, enabling you to manage your time more effectively.
Pros of Todoist 
Intuitive and user-friendly interface
Efficient task organization with labels and filters
Collaborative task management
Productivity insights and analytics
Cross-Platform accessibility
Cons of Todoist 
Limited advanced features
Complex pricing tiers
The learning curve for new users
Supported Platforms
Todoist offers robust task management across various platforms. With native apps for Windows, macOS, Android, and iOS, it ensures consistent access and synchronization. Users can also access it through a web version and popular browser extensions like Chrome and Firefox.
Pricing
$11.50/Month
Final Verdict on Todoist
Todoist provides a user-friendly and feature-rich task management solution. With its intuitive organization features like labels and filters, users can categorize tasks effectively and tailor their task lists to match their preferences. 
Collaborative task management and project sharing enable teams to work harmoniously, exchange ideas, and accomplish goals collectively. The app's intelligent scheduling capabilities and productivity insights allow users to streamline their workflow and stay on top of tasks.
3. Asana
In the realm of top online task management software, one platform stands out as a beacon of organization, collaboration, and streamlined productivity – Asana. With its intuitive interface, robust features, and user-friendly approach, Asana has solidified its position as a leader in the online management landscape. 
Designed to empower individuals, teams, and organizations to achieve their goals precisely and efficiently, Asana has redefined how tasks are managed, projects are executed, and teamwork is orchestrated.
Features
Task management
Project planning
Task assignments
Due dates and deadlines
Priority setting
Task dependencies
Project templates
Milestone tracking
Top 3 Features of Asana
1. Flexible Task Management with Customizable Views
Asana provides versatile task management through customizable lists, boards, and calendar views, enabling beneficial task organization. You can structure tasks according to your specific workflow and preferences. It empowers you to prioritize and monitor tasks in alignment with your unique requirements, ensuring a seamless and tailored task management experience.
2. Seamless Collaboration and Project Tracking
With Asana, you can collaborate smoothly with team members in real time, allowing efficient teamwork. Share comprehensive project details, tasks, and updates with your colleagues, fostering clear communication. Stay on top of project progress through tracking mechanisms, ensuring alignment with team goals and maintaining a coordinated approach to achieving objectives.
3. Task Dependencies and Timeline Management
In Asana, you can achieve streamlined project progression by setting up task dependencies to ensure tasks are completed logically. Visualize your project schedules and important milestones using timelines, allowing for a comprehensive overview of project timelines. With these tools, project management becomes more efficient, as you can work with clear timelines that help set practical expectations for project outcomes.
Pros of Asana
Intuitive user interface
Comprehensive task management
Robust project planning
Task assignments and ownership
Collaboration and communication
Cons of Asana
The learning curve for new users
Limited basic plan features
Pricing tiers for advanced functionality
Complexity for small teams or simple projects
Supported Platforms
Asana offers dedicated mobile apps for both Android and iOS devices, allowing users to stay connected and update their tasks on-the-go. 
Pricing
$15.50/Month
Final Verdict on Asana
Asana is a flexible online task management software to increase collaboration and streamline project management.
Its flexible task management features, including customizable views, empower users to organize tasks to suit their preferences.
4. Trello
Trello emerges as a dynamic and visually-driven platform transforming how individuals and teams approach task and project organization. With its innovative Kanban-style interface, collaborative features, and customization options, Trello has established itself as a leading choice for those seeking a streamlined and efficient solution for managing tasks, projects, and team workflows.
The platform's ability to translate complex processes into simple visual elements has resonated with users across industries, making Trello a cornerstone of online management excellence. As we delve into top online management software, let's study the distinctive features that make Trello an indispensable tool for individuals, teams, and organizations striving for clarity, collaboration, and successful project outcomes.
Features
Visual Kanban boards
Customizable columns and lists
Task cards with descriptions
Task assignments
Due dates and reminders
Labels and tags
Checklists
Attachments and file sharing
Collaboration and card comments
Top 3 Features of Trello
1. Visual Kanban Boards for Intuitive Task Management
Trello revolutionizes task management with its visual Kanban boards. This feature presents tasks as cards on a board, allowing users to easily track progress from "To Do" to "Done." The visual representation simplifies task organization, enhances clarity, and offers an intuitive way to manage projects. Users can create, move, and categorize tasks effortlessly by dragging and dropping cards across customizable columns.
2. Collaborative Task Management and Card Comments
Trello exceeds in fostering collaboration among teams. Users can request team members to boards and assign tasks using cards. Adding comments to cards facilitates communication, allowing team members to discuss tasks, provide updates, or share insights directly on the board. This feature streamlines collaboration, reduces the need for separate communication channels, and centralizes essential information.
3. Power-Ups for Customization
Trello empowers users to tailor the platform to their unique workflow through Power-Ups. Users can include Power-Ups to boards to enable calendar sync, time tracking, automation, and more features. This customization ensures that Trello adapts to specific project requirements and amplifies productivity.
Pros of Trello 
Mobile apps for on-the-go management
Real-time updates
Attachments and file sharing
Flexible task organization
Checklist and due date features
Easy-to-use drag-and-drop functionality
Colour-coded labels
Activity logs and comments
Accessible anywhere with cloud storage
Cons of Trello 
Limited complexity for advanced projects
Lack of in-depth project planning
Non-appearance of time tracking
Limited reporting and analytics
Supported Platforms
Trello offers a web-based interface which can be used on any standard web browser on Windows, macOS, and Linux. In addition to the web version, Trello also offers dedicated mobile apps for both iOS and Android devices.
Pricing
$5.50/Month
Final Verdict on Trello
Trello has emerged as a leading player in online task management software, catering to individuals, teams, and businesses seeking an organized and collaborative approach to their projects. 
The platform's unique visual Kanban boards are a powerful centerpiece, offering an intuitive and obvious way to manage tasks, projects, and workflows. This feature enhances task clarity and simplifies project tracking and progress monitoring.
5. Any.do
In the passionate landscape of top online management software, one platform has become prominent for its elegant simplicity and comprehensive capabilities – Any.do. 
With a mission to help individuals and teams quickly achieve their goals, Any.do offers a streamlined approach to task management, organization, and collaboration, whether you're an individual seeking to manage your tasks more effectively or a team aiming to enhance project coordination. Any.do provides a user-friendly and intuitive interface that clarifies your tasks and projects.
Features
Task management
To-do lists
Reminders and notifications
Subtasks
Collaboration and sharing
File attachments
Voice entry
Time and location-based reminders
Top 3 Features of Any.do
1. Cross-Platform Accessibility
Any.do offer seamless integration across various platforms, ensuring you can access and maintain your tasks from anywhere. Whether you're using a computer, smartphone, or tablet, Any.do's synchronized platform keeps your tasks consistent and up to date across all your devices.
2. Task Collaboration and Sharing
Any.do allows efficient task collaboration by enabling users to share tasks and lists with team members, friends, or family. Collaborators can comment, add subtasks, and provide updates, promoting transparency and streamlined teamwork.
3. Smart Scheduling and Reminders
Any.do's smart scheduling feature suggests optimal times for task completion based on your habits, preferences, and available time slots. Additionally, the app provides customizable reminders to assure you never miss an important task or deadline.
Pros of Any.do
Intuitive user interface
Cross-platform compatibility
Task reminders and alerts
Collaboration features
Subtasks and lists
Notes and attachments
Location-based reminders
Voice entry and recognition
Cons of Any.do
Restricted features in the free version
Premium subscription required for advanced features
Absence of the latest project management tools
Supported Platforms
For desktop users, Any.do offers a web version, as well as native apps for Windows and macOS. Additionally, Any.do integrates with other platforms and services, such as Amazon Alexa and Google Assistant.
Pricing
$5.50/Month
Final Verdict on Any.do
In a world brimming with tasks, deadlines, and responsibilities, Any.do emerge as a user-friendly and efficient online task management software. With its intuitive interface and seamless integration of features, Any.do has carved a niche for itself in online task management. 
The platform's standout feature lies in its ability to effortlessly capture tasks and organize them to suit individuals' preferences and work styles.
6. Smartsheet
In the busy landscape of online management software, one solution has emerged as a powerhouse of versatility, collaboration, and streamlined productivity – Smartsheet. 
With its innovative approach, robust features, and user-centric design, Smartsheet has solidified its position as a leader in online management. Engineered to empower individuals, teams, and organizations to achieve their goals with precision and efficiency, Smartsheet revolutionizes how tasks are planned, projects are executed, and collaboration is fostered.
Features
Grid view
Gantt chart view
Card view
Calendar view
Automated workflows
Collaboration and sharing
File attachments
Forms and data collection
Resource management
Top 3 Features of Smartsheet
1. Dynamic Workspaces and Sheets
Smartsheet offers dynamic workspaces that enable teams to organize and maintain projects efficiently. Users can create customizable sheets within these workspaces that are the foundation for task tracking, project management, and data organization. These versatile sheets support various formats, such as grids, Gantt charts, and calendars. This flexibility empowers users to adapt Smartsheet to their workflows and project requirements.
2. Collaboration and Real-Time Updates
Smartsheet encourages collaboration among team members, whether working in the same office or distributed across multiple locations. Multiple users can collaborate on the same sheet at the same time, making real-time updates, including comments, and sharing attachments. This collaborative environment promotes seamless communication and ensures everybody is on the same page, reducing the risk of misunderstandings and lags.
3. Automation and Workflow Management
Smartsheet offers necessary automation capabilities that streamline monotonous tasks and workflows. With the help of automation, users can set up triggers and actions to automate processes, such as sending notifications, updating cells, or creating new tasks based on predefined conditions. This automation saves time and minimizes the possibility of manual errors, enhancing overall efficiency and productivity.
Pros of Smartsheet
Customizable workflows
Gantt chart views
Collaborative workspace
File attachments
Project templates
Task dependencies
Resource management
Real-time updates
Mobile apps for iOS and Android
Cons of Smartsheet 
Steeper learning curve for advanced features
Restricted native communication features
Interface complexity for new users
Restricted pre-built templates
Supported Platforms
Smartsheet is accessible via web browsers, making it compatible with various operating systems including Windows, macOS, and Linux. Additionally, they offer dedicated mobile apps for both iOS (iPhone and iPad) and Android devices.
Pricing
$7 per Month
Final Verdict on Smartsheet
Automated workflows and collaboration lie at the heart of Smartsheet's success. The platform facilitates seamless communication and task execution through automated processes that save time and reduce manual efforts. 
Collaborative features encourage real-time interactions, ensuring team members remain aligned and informed throughout the project lifecycle.
7. Monday.com
In the ever-evolving terrain of online management software, a platform redefines how teams collaborate, projects are executed, and tasks are managed with precision – Monday.com. With its original approach, user-friendly interface, and versatile features, Monday.com has appeared as a top online management solutions frontrunner.
Designed to streamline workflows, foster collaboration, and enhance productivity, Monday.com has a reputation for empowering individuals, teams, and organizations to accomplish their goals efficiently and clearly.
Features
Customizable workflows
Visual project management
Task assignment and ownership
Progress tracking
Task dependencies
File sharing and attachments
Time tracking
Collaborative workspace
Top 3 Features of Monday.com
1. Visual Workflow Management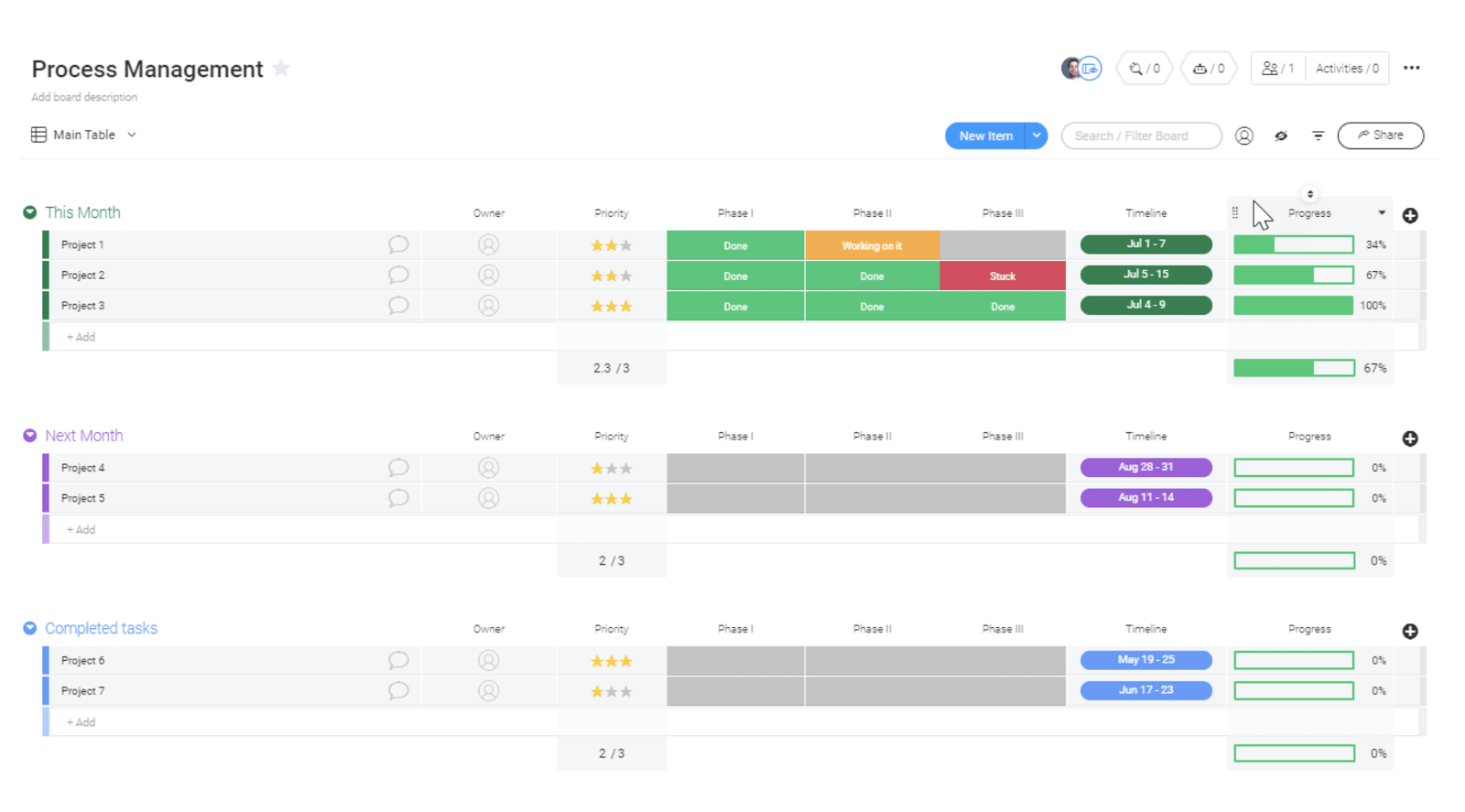 Monday.com excels in providing users with a visual and intuitive platform for managing workflows. Its customizable boards, columns, and card-based interface allow teams to create a workspace tailored to their specific processes. The visual representation enhances clarity and understanding, enabling users to track progress, allocate tasks, and manage projects efficiently.
2. Customizable Workflows and Automation
Monday.com empowers users to design workflows that match their unique requirements. With a range of templates and the ability to create custom boards, teams can adapt the platform to their preferred methodologies. Additionally, automation features streamline monotonous tasks, minimizing physical efforts and ensuring consistent processes.
3. Collaboration and Communication Tools
Monday.com facilitates effective collaboration by providing communication tools directly within the platform. Users can engage in discussions, leave comments, and mention team members on tasks, ensuring seamless communication without needing external devices. This approach fosters collaboration, reduces communication gaps, and enhances project transparency.
Pros of Monday.com 
Intuitive interface
Customizable workflows
Visual project management
Collaboration features
Flexible task views
Automation capabilities
Cross-functional platform
Real-time updates
Cons of Monday.com 
The learning curve for complex workflows
Pricing tiers can be expensive for larger teams
Limited reporting and analytics in basic plans
Supported Platforms
Monday.com is primarily available as a web-based platform, ensuring access from any computer with a web browser. In addition to this, it offers dedicated mobile applications for both iOS and Android devices.
Pricing
$8/seat per Month
Final Verdict on Monday.com
Monday.com is a dynamic and adaptable solution within online task management software. With its robust features and user-friendly interface, Monday.com has successfully addressed the evolving needs of modern teams and organizations. The platform's emphasis on customizable workflows and boards allows users to tailor their workspace to match their unique processes and preferences. 
The power of collaboration is harnessed through seamless team communication tools, allowing for enhanced transparency and streamlined project execution.
Best of the Best 
1. Week Plan
A holistic approach to goal-setting and weekly planning, combined with its role and goal integration, makes Week Plan the most excellent choice for effective task management. This Task Management Platform goes beyond merely tracking tasks by providing a comprehensive set of essential features that cater to various work styles and team dynamics. 
Managing complex tasks becomes effortless with Week Plan's task automation and task dependencies. The platform caters to remote teams and offers time tracking and the ability to track time logs, enhancing productivity and transparency.
2. Todoist
In the bustling landscape of online task management software, Todoist emerges as a standout player, offering a range of features that empower individuals and teams to master their tasks and projects. 
At the core of Todoist's appeal is its intuitive task organization, which lays the foundation for efficient productivity and seamless task management.
3. Asana
Asana is more than an online task management software; it's a strategic ally for managing complexity, optimizing collaboration, and achieving excellence in project management.
With its flexibility, customizable views, and seamless collaboration features, Asana is tailored to meet the demands of modern business environments.
Conclusion
Finding the right online task management software can be a game-changer in a world full of tasks and responsibilities. Among the plethora of alternatives accessible, Week Plan shines as a standout choice. With its emphasis on goal alignment, weekly planning, and task prioritization, Week Plan empowers individuals and teams to manage tasks efficiently and achieve their objectives. Custom tags and business Gmail accounts enable you to categorize tasks effectively while integrating seamlessly with Gmail Accounts for a cohesive experience.
Frequently Asked Questions (FAQS)
1. What are the uses of top online task management software? 
Online task management software helps individuals and teams arrange tasks, set priorities, and accomplish goals efficiently.
2. What makes the best online task management software?
The best software offers goal alignment, intuitive interfaces, collaboration features, and efficient task prioritization.
3. What to look for in the best online task management software?
Look for goal-setting features, collaboration tools, customizable views, and integrations with other devices
4. What is the best app for top online task management?
Week Plan stands out with its goal-focused approach, role and goal integration, and task prioritization features.
5. Which top online task management software is best for you?
The choice depends on your needs, such as personal task management or team collaboration, and your preference for specific features.

More Posts