Looking for the best productivity apps to get more done in 2023? But which productivity apps should you choose? We give you a thorough rundown of five productivity apps and software so you can choose the best one for your ultimate benefit.
In the digital age, where distractions are just a click away, staying focused and organized is essential for students. 
Productivity apps have emerged as invaluable digital companions, helping students manage their time, tasks, and projects efficiently. Whether maintaining a simple to-do list, collaborating on class notes, or planning out larger projects, these apps are designed to boost students' efficiency and effectiveness. 
In this blog, we explore the top 5 productivity apps tailored to meet students' unique needs and how they can serve as a catalyst for academic success.
1. Week Plan
Week Plan is an effective productivity app that helps you and your team become more effective and productive. Inspired by seven habits of highly effective people and the OKR (Objective Key Results) framework, Week Plan lets you prioritize your goals and objectives, key results you plan on achieving, and high-priority tasks that will lead you there.
It arranges your tasks according to the roles, significance, and urgency to ensure that you keep an eye on your high-priority tasks and effectively achieve your weekly goals. Moreover, with Week Plan, you can prioritize your tasks based on their importance to ensure that all your goals are accomplished.
Features
Weekly Task Management
High impact tasks (HITs)
Week View
Easy Scheduling
Quadrant View
Day Summary
Repeating Tasks
Tasks and Subtasks
Workspaces
Comments/Notes
Alerts and Reminders
Top 3 Features of Week Plan 
1. High impact tasks (HITs)
High Impact Tasks of Week Plan contribute significantly toward your long-term goals. HITs are a list of tasks that you deliberately want to accomplish in a specific time period (week, month). HITs are like the core of the Week Plans. It is an ideal way to keep an eye on your top priority tasks so you don't miss them.
2. Tasks and Subtasks
Using this feature, you can create tasks for the day and the rest of the week. If there is an uncompleted task, it will be automatically rolled over to the next day. You can also attach files to tasks.
3. Pomodoro Timer
Week Plan comes with a time tracking feature with a built-in Pomodoro Timer - encouraging the student to cycle through two phases: 25 minutes of intense focus and 5 minutes of rest. The time spent on productive bursts of time is added to the time tracked on tasks.
Pros
Offers a free plan
Flexible
Popular among companies
Available on web, desktop, and mobile
Variety of integration options
Cons
Steep learning curve
No detailed calendar view
Pricing
Monthly subscription - $16.25 per month
Yearly subscription - $156 per year (save $39)
Average Rating
According to the top three software directories, Week Plan's average rating is around 4.5.
Testimonials
Customer Support Options
Support Platforms
Conclusion
Week Plan is one of the best productivity apps that make students more productive and effective. Week Plan allows you to prioritize your goals & objectives, key results you want to achieve, and the high-priority tasks that will get you there. You can mark all your essential tasks as HITs to have a complete overview of all your necessary tasks. 
The tasks and subtasks will automatically move to the next day if not done by the end of the day. Week Plan is best suited for you as a student as it's a feature-rich app that helps you increase your productivity, and you can achieve better results.
2. Todoist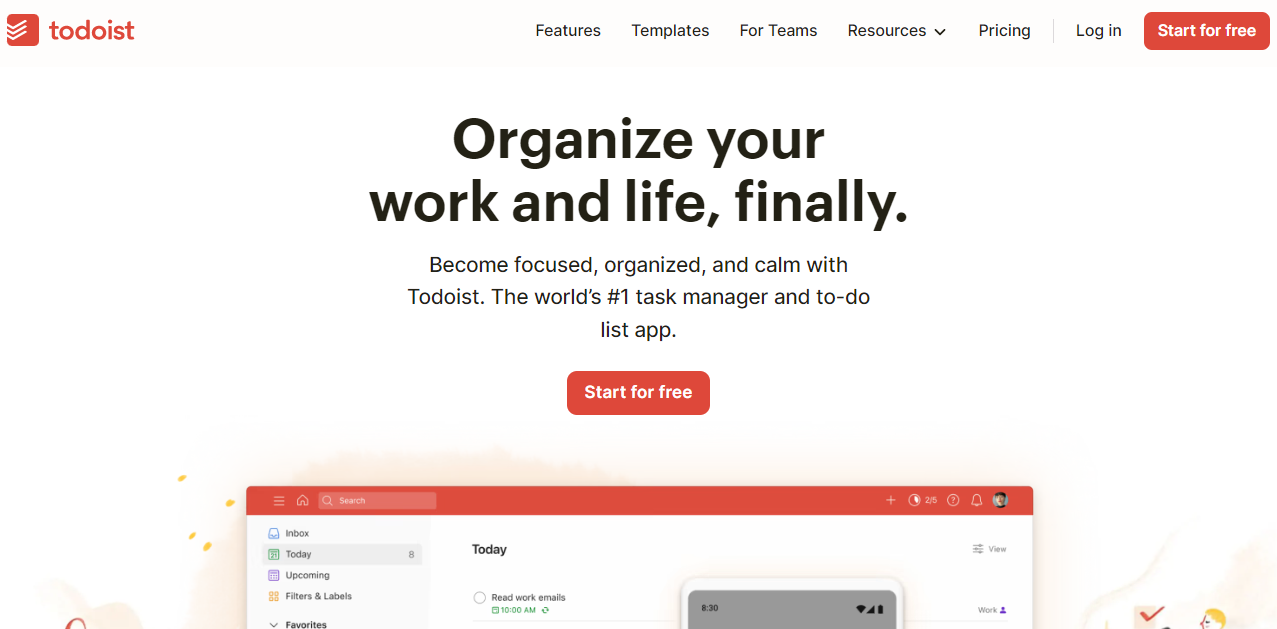 Todoist is the perfect productivity app for scheduling tasks and reminders on your calendar, so you always know what you need to achieve each day, and nothing will slip through the cracks!
The way Todoist can do what it does is through its many integrations. The most notable integrations are their Google and Microsoft integrations, but they also integrate with several other software, including project management tools Monday.com and Jira.
The productivity app has reminders, due dates, and to-dos. This personal productivity app started as a personal organizer and checklist but has evolved to incorporate more users for light responsibility teams–or families and friends.
This is hands-down the best student planner app, and it's been saving students' lives for years.
Features
Create New Projects
Task Management
Commenting/Notes
Subtasks
Customizable Templates
File Management
Timeline View
Real-Time Notifications
Recurring Tasks and Due Dates
Reminders
Task Prioritization
To-Do Lists
Top 3 Features of Todoist
1. Create New Projects
Whether you work full-time, study full-time, or are self-employed, you juggle multiple projects regularly. In these circumstances, breaking your tasks into separate projects would likely be more beneficial with the Todoist project-creating feature.
2. Recurring Tasks and Due Dates
Their intuitive date planning helps you set recurring tasks. Type in a day of the week, and Todoist will assign the job for you.
3. Task Management
Daily, small steps are taken to add to significant accomplishments over time. Todoist lets you set daily and weekly objectives - charting your productivity trends. The list of completed tasks depicts the overall project completion status showing how small steps add to the final goal.
Pros
Offers a free plan
Flexible
Popular among companies
Available on web, desktop, and mobile
Variety of integration options
Cons
Steep learning curve
No detailed calendar view
Pricing
Free Plan
Pro: For power users - it costs $3 per month annually and $4 if billed monthly.
Business: For teams - it costs $5 per user per month if billed annually and $6 if billed monthly.
Average Rating
Todoist's average rating, according to the top three software directories, stands at 4.6.
Testimonials
Customer Support Options
Email/Help Desk
FAQs/Forum
Chat
Support Platforms
Web-based
Mac
Windows
Android
iOS
Conclusion
Todoist is great for task management, including simple checklists and high-level project management. Its clean design makes even the most complex project feel refreshingly simple. In addition, the creation of the interface keeps the experience simple and light. When you start using the app, it takes little time to figure out how to use all the core functionality, such as creating tasks, scheduling due dates, adding comments, and marking tasks done.
3. TickTick
TickTick is a full-fledged task management and productivity application that synchronizes with all your devices seamlessly over the cloud. 
TickTick is a powerful cross-platform and collaborative tool that provides a suite of features to help you schedule, manage time, set reminders about deadlines, make memos, share shopping lists, or develop a new habit – all within a simple, easy-to-manage application. 
The best thing about TickTick is the integrated 'habit tracker feature which helps you build some good habits and track them from the app. And with five calendar views, you can get things done more intuitively. 
Collaboration is very important in a remote working setup, and TickTick even excels in that category by making it easy to share lists and assign tasks on the go.
Features
Collaboration Tools
Document Management
Alerts/Notifications
Prioritization
Project Management
Recurring Tasks
Reporting/Analytics
Task Board View
Task Management
Notes Management
Time Tracking
To-Do List
Top 3 Features of TickTick
1. Recurring Tasks
Setting a task as recurrent is a widely-used feature in TickTick, but it also has a much more helpful yet lesser-known "Repeat Type". For example, if you select Completion Date, the subsequent recurrence will appear when a task was last completed. But if it's set to the Due Date, your next task will appear on time, whether you've completed the current cycle.
2. To-Do List
At its core, TickTick is a to-do list where you organize your tasks in one or more lists and, as you move along, you tick things off the list. It's a straightforward concept, making it great for productivity apps or small programs that help you keep track of tasks.
3. Collaboration Tools
TickTick has a collaboration tool feature in which users can share lists with others, and when you do, you can assign tasks to the person or have them assign tasks to you. The other person can also add new tasks to the shared list. When a collaborator joins or has other activity on the shared list, TickTick notifies you with a notification.
Pros
Cheaper
Easy to use
Friendly user interface.
Lots of delightful productivity extras.
Efficient and useful.
Beautiful gadgets for Android users
Cons
No free calendar sync
Limited free plan.
Kanban view isn't too useful
Pricing
Free (limited features).
$2.99 /month
$27.99 / year gets you access to premium features such as filters, version history, and additional themes.
Average Rating
TickTick's average rating, according to the top three software directories, stands at 4.8.
Testimonials
Customer Support Options
Email/Help Desk
FAQs/Forum
Knowledge Base
Chat
Support Platforms
Android
iOS
Mac
Windows
Web
Conclusion
TickTick is one of the simplest to-do productivity apps that students have tried, and it helps them manage their daily tasks and to-do lists. 
With TickTick, college and university students can manage tasks and time with the ability to log completed tasks, track time per task, and ensure all tasks are completed before their deadline.
4. Trello
Trello is a productivity app with a strong visual bent. This app can organize your professional or personal life on a colorful, customizable digital bulletin board. Trello is unique and can make your research and studies easier because of its flexible features. 
In addition to lots of flexibility, this project management tool can collaborate with other services like GitHub. This allows students to use several of its features to interact easily with each other on academic projects.
Also, students can leverage Boards on Trello to better organize their studies and workflow. Trello has multiple boards that allow you to create lists and assign tasks. A Trello board is more like your regular to-do list. The lists on Trello have cards on which you can attach files, tasks, and labels for multiple projects.
Features
Creation & Assignment
Alerts/Notifications
Activity Dashboard
Calendar Management
Collaboration Tool
Commenting/Notes
Customizable Template
Drag & Drop
File Sharing
Gantt/Timeline View
Idea Management
Kanban Board
Project Tracking
Reporting
Task Scheduling
Top 3 Features of Trello
1. Project Tracking
Once a task is completed, the user can move the cards to the next list representing the next stage of work, or that means completed works. This way, work progress is visible for all, as well as the amount of work being done and what still needs to be done.
2. Kanban Board
Trello's kanban board is the simplest way to move from idea to action. Plan projects and break down each step of the way to completion. See the status of each task in real-time and celebrate each accomplishment. Planning your day-to-day tasks has never been more powerful or enjoyable.
3. Task Scheduling
By using a tool such as a calendar view, Trello allocates tasks transparent and manageable. As a result, work and tasks can be scheduled in advance and monitored effectively.
Pros
Offers a free plan
Drag & drop simplicity
Supports multiple projects
Real-time updates
Allows shared accountability
Simpler to make to-do lists
Built-in automation enabled
Flexible and customizable kanban app
Offers desktop apps and mobile apps
Intuitive interface
Cons
No support for Linux
Minimal security features
Clunky notification system
Pricing
Free Plan
Standard: $5 per user/month if billed annually, $6 if billed monthly
Premium: $10 per user/month if billed annually, $12.50 if billed monthly
Enterprise: $17.50 per user/month - billed annually
Average Rating
Trello's average rating, according to the top three software directories, stands at 4.5.
Testimonials
Customer Support Options
Email/Help Desk
FAQs/Forum
Knowledge Base
Chat
Support Platforms
Windows
macOS
Linux
Browser
iOS
Android
Conclusion
Trello is a fantastic productivity app for students. It doesn't have as many features as other apps on the market, but it's more than adequate for students' projects. 
Trello will surely be able to assist you in making your student life easier the longer you use it, no matter what your projects are. 
Trello includes features to help you organize your study, whether you're a beginner or an experienced user. Trello, with unique templates and AI features, is an excellent solution for managing your studies.
5. Toggl
Toggl is a time tracker app to see how many hours a day you study, work, relax or whatever you like to track. You can improve your time management by knowing how much time you spend looking and which day you study the most or the least.
Toggle, a time-tracking app that keeps you on track and focused, is a great tool to use when working on a large project or scrolling social media feeds. It is easy to use and lets you label your time blocks accordingly, depending on classes or projects.
You will receive a weekly email informing you how much time you spent on specific areas. For example, if you spend too much time on your computer idle, Toggl will send you a notification asking you to erase the time block.
You can download the app and work offline when you need to track time but stay off the computer. The app will automatically sync when you rejoin the internet.
Features
Time Tracking
Time Tracking by Project
Time Tracking by Client
Alerts/Notifications
Productivity Analysis
Project Tracking
Remote Access/Control
Reporting/Analytics
Task Management
Online Time Clock
Online Time Tracking
Payroll Management
Project Management
Top 3 Features of Toggl
1. Reporting/Analytics
Toggl has an excellent reporting feature to review and make sense of your time tracking data. For example, you will get a detailed breakdown of your time on a task over a given period. You can even assign a billable rate to a task to see how time spent translates into profit.
2. Project Management
Toggl is particularly effective for project management, and it can help to increase productivity in a big way. It allows individuals to set time estimates for a project and the individual tasks within that project.
3. Time Tracking
Using the time tracking tools, students and professionals can see whether they are meeting their targets or falling behind. This allows them to keep track of progress and also helps them to create more accurate estimates for future projects as they can see which tasks take longer than expected and which ones are completed quickly.
Pros
Easy to use
Time tracking reminders
Free plan with basic features
Generous free tier of service
Quick and nimble
Long list of supported integrations
Cons
No invoicing, scheduling, or other features not explicitly related to time-tracking
Expensive paid tiers
No invoicing
Lacks proof of work and activity features
Pricing
Free: Plan is free for up to 5 users
Starter: $9 per user per month (paid annually) or $10 per user per month (paid monthly)
Premium: $18 per user per month (annually), or $20 per user per month (monthly)
Enterprise: Flexible pricing depending on team size and needs
Average Rating
Toggl average rating, according to the top three software directories, stands at 4.7.
Testimonials
Customer Support Options
Email/Help Desk
FAQs/Forum
Knowledge Base
Chat
Support Platforms
Android
iOS
Windows
Mac
Linux
Chrome Extension
Conclusion
Toggl Track is an intuitive and easy-to-use service that gives you the tools you need to track time spent on tasks. It's a top pick among time-tracking services for students. Toggl is one of the most comprehensive time monitoring applications, with a wide range of features. It can be handy for students because it has a lot of good project management tools that help them keep track of progress and find ways to increase productivity.
Best of the Best
1. Week Plan
Week Plan is an excellent tool for students who crave structure in their academic lives. It offers an intuitive visual representation of your week, enabling students to organize and prioritize tasks effectively. 
With seamless integration with Google Calendar and Google Drive, students can access class notes and various documents right from the app. Week Plan acts as more than just a list app; it's a comprehensive time management tool designed to align with students' academic goals.
2. Todoist
Todoist stands out as a powerful tool for students with its wide variety of features aimed at simplifying task management. This app enables real-time collaboration on projects and assignments. 
Todoist's integration with cloud services like Google Drive allows students to attach PDF files, class notes, and other important documents to their tasks. Whether you are working on daily tasks or larger projects, Todoist is an excellent tool to keep you organized and focused.
3. Trello
Trello is more than a simple tool; it's a versatile project management tool for students. Trello's visual boards, lists, and cards enable students to organize and prioritize their work in a fun, flexible, and rewarding way. It's perfect for group assignments, offering real-time collaboration. 
Integration with Google Docs and cloud storage services ensures that all essential documents are accessible and up to date, making Trello a staple in the array of productivity tools for students.
Final Verdict
The top productivity apps for students mentioned in this blog are not just tools; they are virtual mentors guiding students through the demands of academic life. 
Whether it's the simple tool for organizing daily tasks or a powerful project management tool for handling larger projects, each app offers its unique array of features. The choice boils down to individual needs and preferences. 
Nevertheless, integrating these productivity tools into one's routine can make a significant difference, helping students stay on top of their work and use their time most effectively.
Frequently Asked Questions (FAQs)
1. Can I sync these productivity tools with Google Calendar?
Yes, most of these student productivity apps, such as Week Plan and Todoist, allow seamless integration with Google Calendar, enabling you to synchronize your tasks and deadlines.
2. How secure is my data on cloud services with these apps?
These productivity tools prioritize security and typically use established cloud services like Google Drive, ensuring your class notes and documents are safe and secure.
3. Can I collaborate on larger projects using these apps?
Absolutely! Apps like Trello are designed as a powerful project management tool, perfect for collaborating on larger projects with your classmates in real time.
4. Do any of these apps offer focus timer features?
Yes, for example, Tick Tick offers a focus timer feature to help students manage their time effectively during study sessions.
5. Are these apps for productivity available for one-time purchase?
Some of these apps, like Toggl, offer a one-time purchase option in addition to subscription plans.
6. Can I store and access PDF files through these apps?
Yes, most of these apps allow integration with cloud storage services where you can save and access PDF files and other document formats.
7. Is there a simple tool for creating daily task lists?
Absolutely! Todoist is a powerful list app that is excellent for organizing daily tasks in a simple and efficient manner.
8. Do these tools offer visual representations of tasks and projects?
Yes, apps like Week Plan and Trello offer a compelling visual representation of your tasks and projects, making planning more intuitive.
9. Can I use these productivity apps to replace physical documents?
With integration to Google Docs and cloud services, these apps can significantly reduce your need for physical documents by allowing digital organization and storage.
10. How do these time management apps help with student productivity?
These apps help students organize tasks, set priorities, and track time spent on activities, enabling more efficient use of time and enhanced focus on academic goals.

More Posts