Embarking on a solo project? It's a daunting task! But don't fret. The right project management software can make your journey much easier. Whether you're tackling numerous tasks or handling intricate projects, these software options are here to keep you on track. Let's dive into the wide range of features, pros, cons, and more of our top picks!
Overview of 10 Best Project Management Software
1. Week Plan
Week Plan is a popular project management software tool tailored for individual users. It provides excellent options and boasts a range of functionality suited to various needs.
Top 3 Features of Week Plan
1. Roles & Goals Prioritization
This unique feature helps align individual tasks with overarching goals, ensuring your energy is focused on critical outcomes.
2. Weekly Calendar Overview
Visualize your week at a glance! This feature seamlessly integrates with Google Calendar, ensuring every appointment and task has its place.
3. Quadrant View (Urgent/Important Matrix)
Prioritize tasks based on urgency and importance, ensuring you address the most critical tasks first.
Pros of Week Plan
Integrates easily with Google Drive and Google Calendar
Effective for both personal projects and client projects
User-friendly interface with a powerful toolset
Cons of Week Plan
It might be overwhelming for absolute beginners
Limited integrations with third-party tools
Advanced features available only in premium plans
Week Plan's Availability
Available on the Web, iOS, Android, Windows, and macOS.
Week Plan Pricing
They have a Pro version starting at $10.83/month.
Final Verdict on Week Plan
Week Plan is an excellent choice for individual users, thanks to its focus on aligning tasks with goals. Whether managing complex projects or day-to-day tasks, it's an adaptable tool that scales with your needs.
2. Trello
Trello is an adaptable tool known for its drag-and-drop card system. It's an excellent choice for a simple yet powerful project management solution.
Top 3 Features of Trello
1. Drag-and-Drop Card System
Easily organize tasks, set priorities, and track project progress with Trello's intuitive card system.
2. Customizable Boards
Tailor your boards to suit any project, from personal tasks to professional plans.
3. Power-Up Extensions
Enhance your boards with advanced features, integrations, and more through Trello's Power-Up marketplace.
Pros of Trello
Flexible and customizable to fit a range of projects
Wide range of extensions and integrations
The free basic plan offers a robust feature set
Cons of Trello
Advanced features often require higher-tier plans
It can be overwhelming for new users due to its range of functionality
Limited workflow customization in the free version
Trello's Availability
Available on the Web, iOS, Android, macOS, and Windows.
Trello Pricing
The free basic version, Business Class, starts at $10/user/month.
Final Verdict on Trello
Trello is a versatile and user-friendly interface that's great for both beginners and seasoned project managers. Its card system visually represents tasks, making project tracking straightforward.
3. Asana
Asana has been a powerful player in the project management arena for a while. Tailored to cater to individual tasks and intricate projects, this software offers a wide range of functionality. Suppose you're a person who loves a structured way of plotting out your day or project. In that case, Asana is the personal project management tool for you.
Top 3 Features of Asana
1. Task & Subtask Organization
At the heart of Asana lies its task management software core. With the ability to break down tasks into smaller, more digestible subtasks, Asana ensures that no detail is overlooked. 
2. Timeline View
One of the key features setting Asana apart is its timeline view. This is a game-changer for anyone looking to map out project timelines or keep track of project schedules.
3. Workspaces
Diverse projects require different environments. With Asana's workspaces, you can separate client projects from your tasks, ensuring that every project is smooth. 
Pros of Asana
Intuitive and user-friendly interface, which even beginners can quickly adapt to.
Offers a variety of features, from essential task lists to more robust project management functionalities.
Seamless integration with tools like Google Drive and Google Calendar, enhancing its project management capabilities.
Cons of Asana
The free version has limited features, compelling users to upgrade for a more comprehensive tool.
It may be defined as advanced features for larger teams or more complex projects.
User interface, while sleek, might be overwhelming for some due to the sheer number of options available.
Asana's Availability
Asana caters to a broad Web, iOS, and Android audience.
Asana Pricing
While Asana provides a free basic version, you'd have to opt for the Premium plan starting at $10.99/user/month to unlock its exceptional features.
Final Verdict on Asana
In the realm of project management tools, Asana stands out with its focus on micro and macro-management. Whether handling individual tasks or managing more extensive projects, its versatility is commendable. 
4. Todoist
Todoist stands out in the crowded space of task management tools with its simplicity, powerful features, and elegance. It has garnered a large user base for personal task management and team collaboration. 
Top 3 Features of Todoist
1. Natural Language Input
Todoist excels at making task entry seamless. With its natural language input, you can type "Meeting with John at 3 pm tomorrow," and Todoist will automatically schedule it accordingly.
2. Projects & Labels
Organize tasks under various projects and further tag them with labels for granular classification. Whether it's your personal chores, team tasks, or side projects, everything has a place in Todoist.
3. Karma Points & Streaks
One unique feature of Todoist is its gamified approach toward productivity. Users earn karma points for completing tasks and maintaining streaks, providing an extra layer of motivation.
Pros of Todoist
Cross-platform availability ensures you can manage your tasks from virtually any device.
Intelligent and efficient recurring task settings.
Deep integration with tools like Google Calendar, Zapier, and more.
Cons of Todoist
Some advanced features like reminders and labels are behind the paywall of the premium version.
It might seem basic for those looking for robust project management tools with Gantt charts and dependencies.
While minimalist and clean, the design might seem too sparse for those who like visually rich interfaces.
Todoist's Availability
Todoist is accessible on Web, iOS, Android, Windows, macOS, and browser extensions.
Todoist Pricing
Todoist offers a free version with basic task management features. Todoist Premium is priced at $3/month (billed annually) for advanced features.
Final Verdict on Todoist
Todoist is more than just a to-do list application. It's a mighty task manager that strikes a delicate balance between simplicity and capability. If you are searching for a lightweight, intuitive tool to keep track of personal tasks or collaborate with a small team, Todoist should be on top of your list.
5. Notion
Notion has rapidly become a prominent player in productivity tools, heralded for its versatility and all-in-one workspace functionality. Individuals and teams can benefit from its modular content creation and organization approach.
Top 3 Features of Notion
1. Modular Content Blocks
At the heart of Notion's appeal is its ability to mix and match various content blocks – from simple text and images to databases and embeds. 
2. Integrated Databases with Templates
Notion's databases, including tables, boards, and lists, are powerful and can be linked, filtered, and sorted. Coupled with templates, they can serve various functions, from CRM systems to content calendars.
3. Collaborative Workspace
Notion allows multiple users to work on pages simultaneously, with real-time editing, comments, and mentions. This makes it suitable for team projects, knowledge bases, and collaborative note-taking.
Pros of Notion
Extremely flexible, catering to many use cases, from personal note-taking to company wikis.
Intuitive drag-and-drop interface making it user-friendly.
Rich integrations and the ability to embed content from various sources.
Cons of Notion
The vast array of features might overwhelm new users.
Performance can sometimes lag, especially with heavily populated pages.
Mobile apps, while functional, sometimes offer a different smooth experience than the desktop version.
Notion's Availability
Notion is widely accessible through its Web platform and dedicated iOS, Android, Windows, and macOS apps.
Notion Pricing
Notion provides a free tier with limited blocks and file uploads. Their Pro plan is priced at $5/month (or $48/year), while team plans start at $10/member/month. They also offer enterprise-level plans with custom pricing.
Final Verdict on Notion
Notion is a Swiss army knife in the productivity space. If you're looking for a unified workspace to combine various tools and methodologies, Notion is unmatched. The initial learning curve may be steep, but the tool's potential is immense once mastered. 
6. Microsoft To Do
Microsoft To Do is a project management application that emerged from the acquisition of Wunderlist by Microsoft. It's designed to help users manage, prioritize, and complete tasks seamlessly integrated with other Microsoft Office tools. 
Top 3 Features of Microsoft To Do
1. Daily Planner with My Day
Microsoft To Do introduces the "My Day" feature. This daily planner suggests tasks for users, encouraging them to plan their day every morning or the night before.
2. Seamless Integration with Microsoft Applications
Being a Microsoft product, it's deeply integrated with tools like Outlook, allowing tasks to be generated from emails and syncing with Microsoft Planner for team tasks.
3. Task Detailing
Microsoft To Do tasks can be broken down with added details, including due dates, reminders, recurrence, notes, and file attachments.
Pros of Microsoft To Do
Simple and intuitive user interface, making it easy for newcomers to get started.
Tight integration with Microsoft Office 365 suite, perfect for businesses and individuals already using Microsoft products.
Supports lists, shared tasks and has cross-platform availability.
Cons of Microsoft To Do
It might need to be feature-rich enough for advanced task management enthusiasts or those used to tools with broader functionalities.
Although improved, some users still need to catch features that Wunderlist had.
Limited customization options compared to some competitors.
Microsoft To Do's Availability
Microsoft To Do is available on the Web, Windows, iOS, and Android platforms, ensuring users can access their tasks from virtually any device.
Microsoft To Do Pricing
One of the strengths of Microsoft To Do is its pricing. It's available for free, and if users are part of the Microsoft 365 subscription, they get added benefits in terms of integration with other Microsoft tools.
Final Verdict on Microsoft To Do
Microsoft To Do is a solid choice for those seeking a straightforward task management tool, especially for users deeply rooted in the Microsoft ecosystem. Its simplicity is its strength, but it might not cater to those wanting more complex project management features. 
7. Any.do
Any.do is a task management and organization application designed to help users streamline their productivity and combine tasks, calendar events, and reminders in one platform. It's recognized for its simplicity and the intuitive combination of lists, tasks, and calendar views.
Top 3 Features of Any.do
1. Integrated Calendar and Task List
Any.do allow users to view tasks and calendar events in a single glance, promoting better time management and ensuring no tasks or appointments are overlooked.
2. Moment Daily Planner
This feature prompts users each day to review and prioritize their tasks for the day, fostering a routine of daily task review and ensuring that users stay on track.
3. Voice Entry and Natural Language Processing
Users can add tasks using voice commands and Any.do will automatically decipher and set up the job, reminders, and due dates based on the command.
Pros of Any.do
Clean, user-friendly interface that blends tasks, lists, and calendars seamlessly.
Offers collaboration features, allowing users to share lists and tasks with others.
Supports location-based reminders, alerting users to tasks when they're physically near a designated location.
Cons of Any.do
Some advanced features are behind a paywall in the premium version.
While it integrates with many calendars, specific integrations sometimes face sync issues.
The variety of features might be overwhelming for users looking for an essential to-do list.
Any. do's Availability
Any.do is available on various platforms, including Web, iOS, Android, and desktop apps for both Windows and Mac.
Any.do Pricing
Any.do offer a free version with basic task management features. Users must upgrade to the premium version for more advanced features like color tags, location-based reminders, and custom themes.
Final Verdict on Any.do
Any.do provide a comprehensive blend of task management and calendar planning in one cohesive platform. For users who value having all their tasks, events, and reminders in one place. While it has a learning curve due to its multifunctional nature, it can be a significant asset in personal productivity once mastered.
8. ClickUp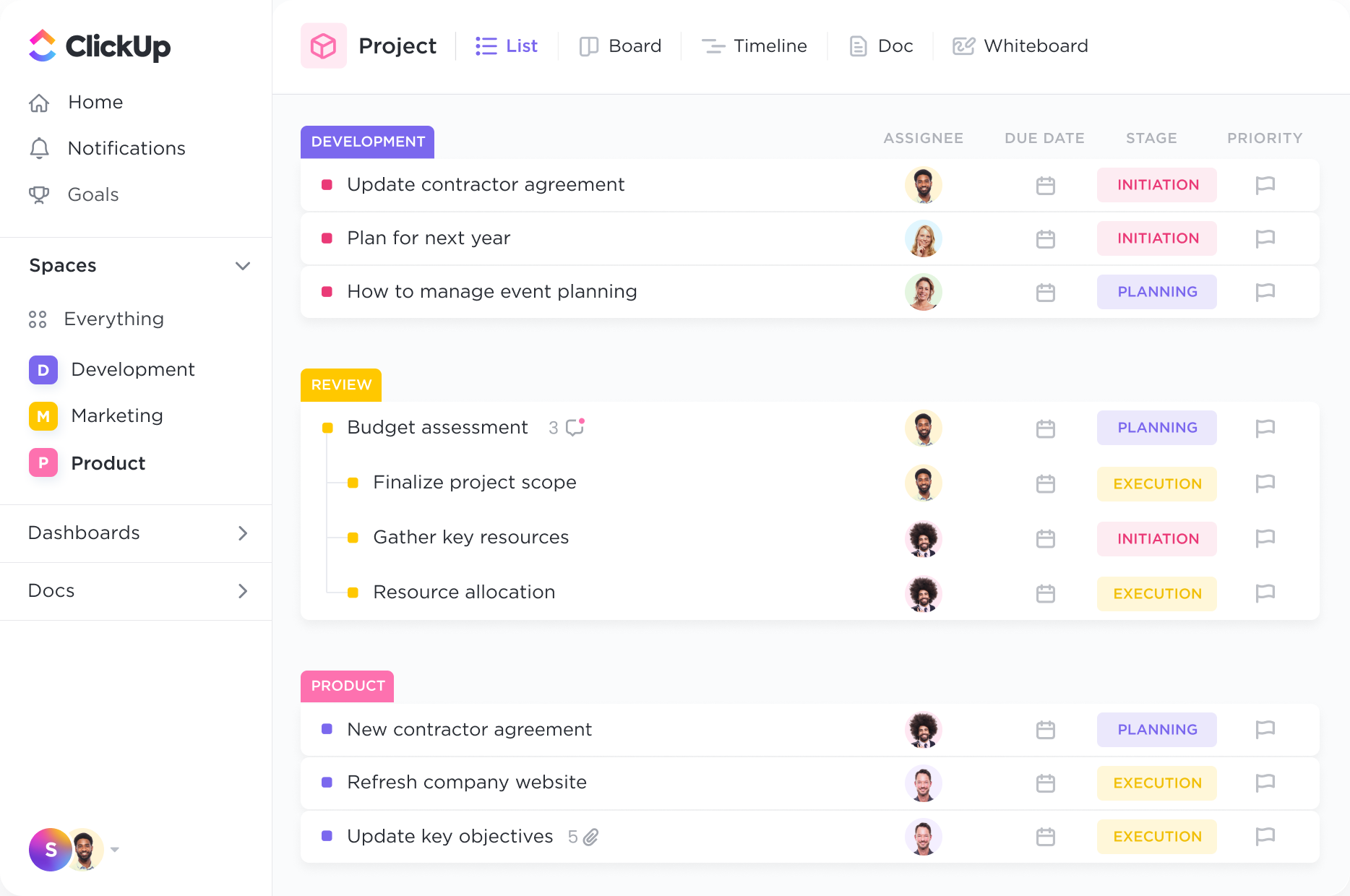 ClickUp is a comprehensive project management and productivity tool catering to individuals and teams. The platform is designed to replace multiple work apps with robust features, allowing for task management, time tracking, goal setting, and document sharing.
Top 3 Features of ClickUp
1. Customizable Views
ClickUp offers multiple ways to view tasks: List, Board, Calendar, Gantt, and Box views. Users can switch between these based on preference and project type.
2. Custom Fields and Task Dependencies
Users can create custom fields tailored to specific project needs. Additionally, task dependencies ensure that tasks are completed in the proper order.
3. Native Time Tracking
ClickUp has an in-built time tracker that lets users track their time on tasks, aiding in productivity analysis and client billing.
Pros of ClickUp
Immensely flexible, allowing for deep customization to fit various work needs.
Integrates well with a variety of third-party applications.
Offers features that cater to a broad spectrum, from essential task management to detailed project planning.
Cons of ClickUp
The sheer number of features and customization options might overwhelm new users.
While it aims to replace multiple apps, some users might find specific tools or integrations lacking.
Occasional bugs and performance issues have been reported, especially during updates.
ClickUp's Availability
ClickUp is a web application offering dedicated iOS, Android, Windows, and Mac apps.
ClickUp Pricing
ClickUp offers a free forever version with basic features suitable for individuals or small teams. Users can upgrade to premium plans based on a per-user pricing model to access more advanced features.
Final Verdict on ClickUp
ClickUp is an ambitious platform that seeks to be a one-stop solution for all productivity needs. While it succeeds in many areas, its vast feature set might only be for some. It best suits users or teams that blend task management, project planning, and other productivity features. 
9. Evernote
Evernote is a powerful tool for note-taking, organizing, project management, and archiving. Over the years, it has attracted a dedicated user base who rely on its feature set to capture ideas, create to-do lists, and store important information.
Top 3 Features of Evernote
1. Robust Note-Taking
Evernote excels in offering diverse note-taking features. Users can type notes, clip web pages, create checklists, and attach files, including images, audio, and documents.
2. Web Clipper Extension
The Evernote Web Clipper allows users to easily save web pages, articles, and PDFs directly into their Evernote account, complete with tags and notebooks for the organization.
3. Advanced Search
Evernote's search functionality is top-notch. It can even search for text within images, making it easier for users to find the necessary information.
Pros of Evernote
Syncs seamlessly across multiple devices, ensuring notes are accessible anywhere.
The organizational structure of notebooks, stacks, and tags helps categorize information effectively.
Allows for collaboration by sharing notes and notebooks with other users.
Cons of Evernote
Some users find the pricing steep, especially compared to other note-taking apps.
The user interface, while functional, has yet to see significant updates and can feel dated to some.
Over time, as notes accumulate, managing and decluttering the app can become challenging.
Evernote's Availability
Evernote is available as a web application, desktop applications for Windows and Mac, and mobile apps for iOS and Android.
Evernote Pricing
Evernote offers a free basic version with limited features. Premium versions, including "Personal" and "Professional" tiers, provide additional capabilities such as offline access to notes, more storage, and enhanced search features.
Final Verdict on Evernote
Evernote remains a trusted choice in the world of project management software. Its rich feature set and cross-device synchronization make it a favorite for many. Evernote is a strong contender for those seeking a reliable and proven tool for capturing and organizing information.
10. Airtable
Airtable functions as a unique hybrid between a spreadsheet and a relational database. It offers users the simplicity of a spreadsheet interface and the complexity of robust database features, making it suitable for various tasks, from project management to content calendars, CRMs, and more.
Top 3 Features of Airtable
1. Customizable Views
Airtable provides multiple ways to view data. Users can opt for a grid view (similar to traditional spreadsheets), kanban boards, calendar views, gallery views, and more, depending on the nature of the data and task.
2. Relational Database Features
Unlike typical spreadsheets, Airtable allows users to create linked records between tables. This feature is helpful for tasks that require relational data structures, such as tracking inventory or managing a CRM.
3. Rich Field Types
Airtable offers various field types, including text, number, date, checkboxes, dropdowns, and attachment fields. 
Pros of Airtable
It offers a user-friendly interface that makes complex data management tasks more accessible.
The marketplace features numerous templates for different use cases, helping new users get started quickly.
Supports integrations with various third-party apps and tools, expanding its capabilities.
Cons of Airtable
As databases become complex, performance might slow down, especially on the free plan.
Some users might find its pricing steep, especially for larger teams or businesses.
The learning curve can be slightly higher for users unfamiliar with relational databases.
Airtable's Availability
Airtable is available as a web application, desktop applications for Windows and Mac, and mobile apps for iOS and Android.
Airtable Pricing
Airtable offers a free basic version with limited records and features. Paid plans include "Plus," "Pro," and "Enterprise" tiers, each providing additional documents, storage, features, and enhanced collaboration capabilities.
Final Verdict on Airtable
Airtable stands out in the productivity tool space due to its unique blend of spreadsheet simplicity and database functionality. For teams or individuals needing a flexible tool to manage varied and relational data without the overhead of a full-blown database system, Airtable proves to be a compelling option.
While Todoist and Notion have robust project management features suitable for individuals, Week Plan has a clear advantage in specific characteristics that elevate the personal project management experience. Week Plan provides a holistic environment for individuals to plan and execute their projects effectively.
Best of The Best - Top 3 Project Management Software for Individuals
1. Week Plan
Week Plan stands out with its holistic approach to personal project management, integrating time blocking, task dependencies, and goal setting for optimal productivity.
With a seamless blend of essential features tailored for individuals, Week Plan ensures users remain organized, focused, and always on track.
2. Notion
Notion offers versatility with its customizable workspace and visual project timelines, making it adaptable to various individual needs.
Notion is an all-in-one tool that caters to novices and experienced users who value flexibility and robust features in their project management.
3. Todoist
Renowned for its simplicity, Todoist offers straightforward task management and offline access for those on the move.
Perfect for individuals who appreciate a no-fuss approach to project management, Todoist delivers efficiency without complexity.
Conclusion
Choosing the right project management tool can be a game-changer. Whether handling personal tasks or intricate projects, the right project management software can significantly boost your chances of success. 
And while there are many great options, we highly recommend giving Week Plan a try. Dive in, and you'll wonder how you ever managed without it!
Frequently Asked Questions (FAQs)
1. What is a Project Management Software for Individuals?
Project Management Software for Individuals is a digital tool tailored to help individuals manage, plan, and track their projects efficiently without team-based functionalities.
2. Why do I need Project Management Software as an individual?
Having Project Management Software helps streamline tasks, set milestones, and ensure you're on track with your personal goals or projects. 
3. Are these tools suitable only for work-related projects?
Not at all! While many people use them for work, they're equally valuable for personal projects like planning a trip, managing a home renovation, or even organizing a big event like a wedding.
4. Is paid Project Management Software better than the free versions?
While free versions offer basic functionalities, premium plans often come with advanced features like time tracking, in-depth analytics, and custom fields, which can be beneficial depending on the complexity of your projects.
5. How secure is my data on these platforms?
Most popular project management software tools prioritize user data security. Always check their security policy and if they comply with standard security certifications.
6. Can I use these tools on my mobile device?
Yes, many of the mentioned tools have dedicated apps for iOS and Android, letting you manage your projects on the go.
7. I'm not tech-savvy. Do you need help navigating these tools?
Most of the tools listed prioritize a user-friendly interface. They are designed to be intuitive, with plenty of tutorials and customer support to guide you if you get stuck.
8. Do these software integrate with other tools like Google Calendar or Google Drive?
Absolutely! Integration with tools like Google Drive and Google Calendar is a standard feature in many Project Management Solutions. This seamless integration ensures you can centralize all your work or personal tasks in one place.
9. Can I collaborate with others, even if it's software for individuals?
While tailored for individual use, many of these tools offer collaboration features, letting you share specific tasks or projects with others if needed.
10. How do I decide which software is right for me?
Your choice depends on your needs. Consider the type of projects you'll manage, your budget, and which features you prioritize. Starting with a free version can give you a feel of the software before committing financially.

More Posts