Hey there! If you're searching for the best digital personal planner apps to streamline your remote work and keep you on track, you've come to the right place. From managing your daily tasks to meal planning, these tools will be your daily companions, ensuring that every part of your day is well-organized and productive. 
Whether you're looking for the best digital planner for personal or professional use, let's dive right in! 
1. Week Plan
With the myriad choices available in the world of the best digital Personal Planners, finding the ultimate one can be daunting. But we've done the legwork for you! We've sifted through countless options and believe a tool like Week Plan can elevate your planning game. Known for its intuitive interface, seamless syncing, and powerful features, Week Plan stands out as one of the best digital personal planners. 
It's especially premier for remote employees. Why? It masterfully incorporates the concepts of role-based planning with a weekly perspective, providing users with a unique way to organize their tasks. This powerful tool also includes the quadrant view, making it easier for users to prioritize tasks. If you're exploring the best digital personal planner, why not give Week Plan a shot?
Features
Quadrant view
Easy scheduling 
Integration with other tools
Workspaces 
Top 3 Features of Week Plan 
1. Role-Based Planning
Define roles in your personal and professional life and allocate tasks accordingly. It guarantees that all parts of your life get the attention they deserve.
2. Weekly Perspective
When you rise above the minutiae of everyday tasks and adopt a weekly perspective, you allow yourself the space to see the bigger picture. Daily distractions often cloud our vision, leading us to react rather than proactively shape our future. Planning and reflecting weekly bridge your daily grind and your long-term goals. 
3. Quadrant View
Derived from the Eisenhower Matrix, tasks are organized based on urgency and importance. This view is instrumental in decision-making.
Pros 
Includes role-based planning for a holistic approach
Offers a unique quadrant view for task prioritization
Designed with a neat and intuitive user interface
Cons 
Some users might find the weekly view limiting if they are used to daily planners
Initial learning curve due to its distinct features
The design might not appeal to fans of traditional paper planners
Supported Platforms
WeekPlan's availability on Android / iOS assures users can access it wherever they go. Primarily a web-based application, it also offers mobile apps for both Android and iOS.
Pricing
Week Plans pricing is $10.83/month.
Final Verdict
Week Plan is a favorite tool for many who seek a balanced approach to their daily lives, often regarded as one of the best digital personal planners. Incorporating role-based planning with a weekly perspective sets it apart from its competitors. If you're searching for a tool that gives an insightful overview while ensuring that all aspects of your life are attended to, Week Plan is an excellent option.
2. Asana
Asana, often considered one of the best digital personal planners, is synonymous with efficient task and project management. This tool offers many features to help you juggle various tasks, especially as a remote employee. With a focus on collaboration, Asana makes assigning tasks, setting deadlines, and monitoring progress simple.
Features
Tasks and subtasks
Automation 
Goals 
Timeline 
Boards view
Calendar view
Reporting dashboards
Forms
Top 3 Features of Asana
1. Task & Project Management
Keep track of everything with the best digital personal planner, from daily tasks to complex projects, ensuring you meet deadlines.
2. Timeline View
Using the Best digital personal planner, visualize how tasks fit together, make adjustments in real-time, and keep projects on track. 
3. Milestones
Amplify your milestones with the leading digital personal planner, fostering the recognition of significant achievements and guaranteeing steadfast project progression. Harness the power of organized planning, tailored reminders, and insightful analytics to blend productivity with celebration seamlessly, making every success a step closer to your ultimate vision.
Pros
Comprehensive task and project management features
Incorporates well with other productivity tools
Efficiently tracks the progress of different tasks and projects
Cons
The interface can seem cluttered with too many tasks
It can be overwhelming for more miniature teams or individuals to use
Premium features are locked behind a higher paywall
Supported Platforms
Asana's availability on Android / iOS, coupled with its web integration capabilities, ensures users remain in sync across devices.
Pricing 
Asana has a free plan. Pricing starts at $10.99/Month.
Final Verdict 
Asana's focus on collaboration and project management makes it a formidable choice for remote employees. Though it may feel overwhelming initially, its features ensure efficient tracking and completion of tasks.
3. Notion
Notion, often regarded as the best digital personal planner, has become the buzzword in digital planning. By fusing notes, tasks, databases, and more into one interface, it's not just a planner - it's an all-in-one workspace. It offers a blank canvas, letting you customize your planning experience to fit your needs.
Features 
Wikis 
Projects 
Templates
Docs 
Connections 
Top 3 Features of Notion 
1. Customizable Workspaces
Not only does Notion excel as a productivity tool, but it also stands out as a canvas for personal growth and creativity. Users can easily design reading lists, habit journals, and private finance trackers. Its modular building blocks empower everyone, whether you're organizing a small team project or planning a family vacation. 
The array of templates available offers a jumpstart, but the true beauty lies in customizing it to one's unique needs. 
2. Hierarchical Content Structure
Nest pages within pages, creating a multi-tiered approach to content. Organize content layers, starting with primary pages as the top tier and branching into sub-pages for detailed topics.
3. Database Functionality
Not just a note-taking app, Notion lets you create tables, boards, and lists to manage and visualize data.
Pros 
Highly customizable, appropriate for both personal and professional use
One tool can replace several others, leading to a consolidated workflow
Regularly updated with new features and improvements.
Cons 
Initial setup might be time-consuming due to its vast range of features
Offline mode has limitations
Some advanced features have a steep learning curve
Supported Platforms 
Notion's availability spans web browsers, iOS, Android, macOS, and Windows, ensuring a seamless digital planning journey.
Pricing 
The pricing for Notion starts at $8/Month.
Final Verdict
For those seeking the best digital personal planner and a truly tailored digital planning experience, Notion is hard to beat. Its customization options are vast, but once set up, it can become the ultimate digital workspace for remote employees.
4. Trello
Trello, often considered one of the best digital personal planners, has a card and board system, making it a favorite among individual planners and teams. With its drag-and-drop interface, it simplifies the process of task tracking. It's beneficial for visual planners who enjoy tangibly organizing tasks.
Moreover, Trello's collaborative features are noteworthy. Team members can comment on cards, assign tasks, set priorities, and get notifications about changes, ensuring smooth communication and collaboration even in remote settings. Its accessibility across devices, from desktops to mobile phones, ensures that users can stay updated and manage their tasks.
Features 
Checklists within cards
Cards 
Power-ups 
Views 
Attachments 
Collaboration and team membership
Top 3 Features of Trello
1. Boards, Lists, and Cards
A board conveys a project or a workflow. It outlines everything happening, from the large picture to the minute segments. Within boards, there are columns called lists. Lastly, cards are individual tasks or items that reside within lists.
2. Power-Ups
Power-ups are integrations and extensions you can enable on your Trello board to connect with other service tools or add advanced features. They range from simple calendar views to more complex integrations like those with Google Drive, Slack, or GitHub.
3. Customizable Backgrounds
Changing the background of a Trello board helps personalize and make the board more engaging. Users can choose from various colors or use custom images better to reflect the theme or mood of the project.
Pros
User-friendly interface that's easy to pick up
Highly visual, making it simple to track task progression
A bunch of integrations are available to enhance its capabilities
Cons 
It might need to be more robust for complex project management.
Some key integrations and features are part of the premium package
Lacks the developed features of dedicated project management tools
Supported Platforms 
With apps available on Android and iOS and compatibility with web browsers, Trello ensures users can manage their tasks regardless of their device.
Pricing 
Trello offers a free introductory plan, pricing starts with $5/Month.
Final Verdict
For those who prioritize visual task management and simplicity, Trello is a fantastic option. It stands out as one of the best digital personal planners for many. While it may lack some developed features, its intuitive nature makes it a choice for many remote employees.
5. ClickUp
With the myriad options available in the world of the best digital personal planners, finding the ultimate one can be daunting. But we've done the main work for you! Billing itself as the "one app to replace them all," ClickUp is arguably the best digital personal planner. It offers many productivity tools, making it a powerhouse in digital planning. 
From to-do lists to document creation and even email, ClickUp aims to be your central hub for productivity.
Features 
Custom views (List, Board, etc.)
Dashboards 
Templates 
Docs & Wiki
Chats 
Automation
Goals
Top 3 Features of ClickUp
1. Diverse Views
Ideal for those who prefer a short, linear view of tasks. Each task can be extended to view sub-tasks, checklists, and other related details. Inspired by the Kanban methodology, this view depicts tasks as cards that can be dragged and dropped between columns (usually representing workflow stages).
2. Goal Tracking
Users can set precise, measurable objectives within ClickUp. These can be related to task completion, milestones, or other metrics. Each goal can be broken down into shorter targets or necessary results.
3. Integrations
ClickUp seamlessly incorporates popular time-tracking tools, making it easier for users and teams to log hours directly within tasks. Integration with platforms like Google Drive, Dropbox, and others means users can attach files to tasks directly from their cloud storage, streamlining collaboration.
Pros 
A comprehensive tool with a range of features for various tasks
Flexible with customizable views and structures
Offers a feature-rich free version
Cons
With so many elements, it can be overwhelming for new users.
It might be more than what an individual user needs for essential planning
Some users report occasional bugs and performance issues
Supported Platforms 
ClickUp assures accessibility across devices with its web version, desktop apps for Windows and macOS, and mobile apps for Android and iOS.
Pricing 
While ClickUp offers a generous free plan, pricing stars at $7/Month.
Final Verdict 
ClickUp, often regarded as one of the best digital personal planners, with its myriad features, is tailored for those looking for an all-in-one solution. While it might be overkill for someone needing just an essential planner, for holistic productivity management, it's top-notch.
6. Slack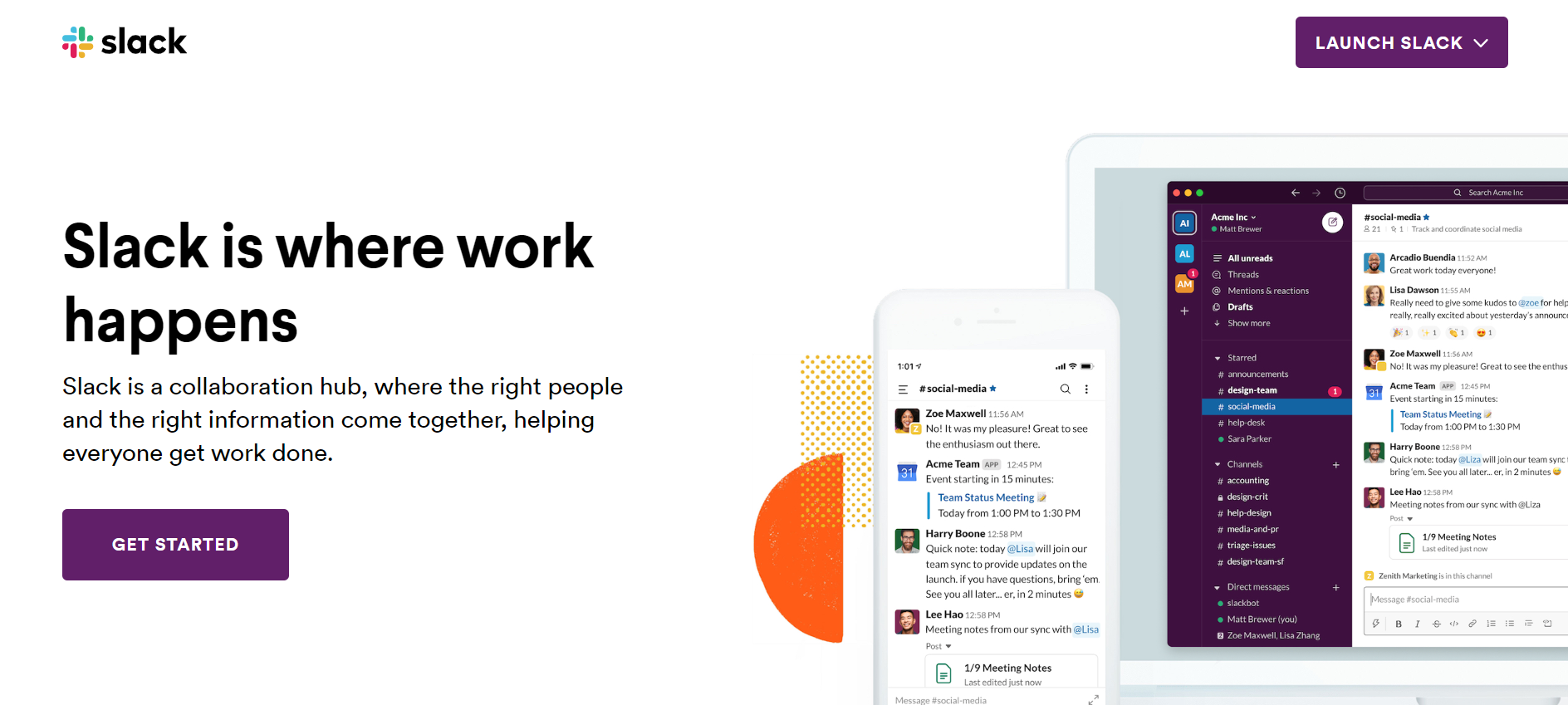 Slack's versatility is a testament to the evolving nature of modern workplace tools. Beyond simple text-based conversations, its decadent array of app integrations and plug-ins allows teams to customize their workspace to suit their needs.  
Features
Channels
Direct messaging
Voice & video calls
Security 
File sharing
Search
Workflow builder
Top 3 Features of Slack 
1. Channels
Any team member can join a public channel, view its conversation history, and participate in meetings. They're great for topics or projects with broad relevancy across the organization.
2. Integrations
Slack provides integrations with numerous third-party applications, from project management tools to CRM software. You can get notifications and updates or interact directly with these apps within Slack.
3. Search Functionality
Slack's search is created to be very precise, permitting users to find specific messages, files, or conversations from weeks or months past. Filters can narrow search results by date, person, or even within particular channels.
Pros 
It makes communication seamless, especially for remote teams
Plenty of bots and integrations to automate tasks and reminders
Slack threads allow for organized conversations
Cons 
While it has planning capabilities, it's primarily a communication tool
It can become cluttered if not correctly managed
Notifications can be distracting if not set up correctly
Supported Platforms 
Slack ensures you're always connected with apps for Android, iOS, Windows, macOS, and Linux, in addition to its web version.
Pricing 
Slack offers a free version, pricing plan starts at $7.25/Month for advanced features and integrations.
Final Verdict 
While Slack might not be a traditional planner, its communication capabilities integrated with other tools make it indispensable for remote teams. It bridges the gap between planning and execution by facilitating team communication.
7. Evernote
Beyond its essential functionalities, Evernote's versatility is evident in its cross-platform synchronization capabilities. Whether using a smartphone, tablet, laptop, or desktop, your notes are seamlessly accessible and updated across all devices. This feature is particularly crucial in today's dynamic world, where professionals and students operate on multiple devices daily. Evernote's tagging system is also a game-changer. Instead of sifting through a myriad of notes to find a particular piece of information, users can categorize and tag their messages, making retrieval a breeze.
Features 
Tasks 
Sync and organize
Search 
Spaces
Notes 
Web clipping
Calender 
Document scanning
Top 3 Features of Evernote 
1. Note-Taking
Evernote permits users to type notes, create bullet-point lists, or even add handwritten notes (handy on devices with touch screens or stylus support). With the Evernote Web Clipper extension for web browsers, users can easily save web articles, online receipts, or any web content directly to their Evernote account.
2. Organization
For an added layer of organization, notebooks can be grouped into piles. For instance, a student might have a stack titled "Semester 1" with separate notebooks inside for each course.
3. Templates
Evernote offers a mixture of built-in templates designed for various tasks and needs. These can vary from structured note formats for meetings, interviews, and travel itineraries to planners and goal-setting sheets.
Pros
Syncs across all devices, ensuring you always have access to your notes
Web clipper allows you to save and categorize content from the internet
Supports handwritten notes and sketches
Cons 
The free version has limitations, especially concerning device syncing
Over the years, it has become more bloated with features, making it less intuitive for some
Competing tools offer similar features for free
Supported Platforms 
Evernote is available across iOS, Android, Windows, macOS, and the web platforms.
Pricing 
Evernote offers a basic free plan, with its personal plan priced at $10.83/Month.
Final Verdict
Evernote's longevity in the productivity space speaks for itself, and many consider it among the best digital personal planners. While it has faced competition in recent years, its robust note-taking and organization features ensure it remains a top choice for many.
8. Google Keep
Google Keep is a straightforward note-taking app perfect for quick thoughts, reminders, and checklists. Its simple interface and integration with other Google services make it a favorite for those deeply invested in the Google ecosystem. While it might not offer the extensive planning features of dedicated planner apps, its ease of use and seamless sync across devices makes it a top choice for those who want a digital personal planner without the frills. 
Plus, its color-coding system, voice memo feature, and collaborative capabilities further cement its place as a versatile tool for organizations. Whether you're jotting down a quick thought or planning your week, Google Keep provides a reliable platform for all your planning needs.
Features
Color-coded notes
Link reminders 
Checklists
Doodles 
Labeling
Share notes
Top 3 Features of Google Keep 
1. Color-Coded Notes
Google Keep allows users to assign different colors to their notes. This color-coding makes it more comfortable to identify notes at a glance, especially if you have many.
2. Labels and Pinning
Similar to tags in other platforms, labels in Google Keep allow users to categorize notes based on topics or themes. You can designate numerous titles to a single note, making it versatile in terms of categorization. Pinning is a handy feature for essential notes you want to access frequently or keep at the top of your note list.
3. Voice Notes
Google Keep lets users quickly record voice notes, which can be extremely useful when you're moving, in the middle of a task, or when typing isn't suitable.
Pros 
Syncs seamlessly with your Google account.
User-friendly interface for quick note-taking
Collaborate on notes with other Google users
Cons 
Lacks advanced features of dedicated note-taking apps
Not ideal for complex planning or project management
Limited formatting options
Supported Platforms 
Being a Google product, Keep is available across Android, iOS, and web browsers.
Pricing 
Google Keep is available for free.
Final Verdict
Google Keep is an excellent choice for those looking for a straightforward note-taking and reminder tool without the bells and whistles. It does its job efficiently and integrates well with other Google services. Google Keep might be a contender for those searching for the best digital personal planner.
Best of Best Section
1. Week Plan
By focusing on role-based planning, Week Plan encourages users to think about their roles in different spheres of life (like parent, employee, friend, etc.) and plan tasks accordingly. It can lead to a more balanced and fulfilling life.
2. Asana
Known for its project management capabilities, Asana is suitable for multiple projects running simultaneously. Its intuitive interface integrates with many other tools, making it an ideal choice for individual and team planning.
3. Notion
Its flexibility is Notion's major strength. Whether you're a student, a professional, or just someone trying to get a handle on personal tasks, Notion's modular setup allows for a high degree of personalization, catering to varied planning needs.
Conclusion
Discovering the best digital personal planner can be daunting, with many choices available. We've sifted through countless options and believe a tool like Week Plan can elevate your planning game. Known for its intuitive interface, seamless syncing, and powerful features, Week Plan stands out as a top contender in digital personal planners. 
Frequently Asked Questions (FAQs)
1. Why should I use a digital planner instead of a traditional paper planner? 
Digital planners are more environmentally friendly, easily editable, and sync across devices. Plus, they often have advanced features like reminders and integrations with other apps.
2. Can I use these planners on my Android device? 
Absolutely! All the planners we've reviewed offer Android apps, ensuring you can plan on the go.
3. Is it secure to store my personal information in digital planners? 
Most digital planners prioritize user security, using encryption and stringent data protection protocols. However, always review the privacy policy and ensure you use strong, unique passwords for each account.
4. How do I choose the best planner for me? 
It depends on your needs. If you prioritize note-taking, Evernote or Google Keep might be best. For task management, Asana or Trello could be ideal. Consider your primary tasks, and try a few options to see which feels most intuitive.
5. Can I collaborate with my team using these digital planners? 
Yes! Many tools, like Trello, Slack, and Asana, are designed with team collaboration. They allow multiple users to access, edit, and comment on shared tasks or boards.
6. Do these digital planners work offline? 
Most of these planners offer offline capabilities, allowing you to make changes without an internet connection. However, an active connection is needed to sync data across devices or access cloud-stored data.
7. Is there a learning curve associated with these digital planners? 
Some tools, like Notion and ClickUp, can have a steeper learning curve due to their myriad features. However, most offer tutorials, and with regular use, navigating them becomes second nature.
8. How often should I back up my digital planner data? 
Regular backups are always a good idea. While many of these tools automatically back up your data to the cloud, it's wise to occasionally export and save it elsewhere, monthly or quarterly, for added security.

More Posts