In today's fast-paced digital era, having a reliable time planner for students is essential for those looking to boost their academic success. With many options available, choosing the perfect digital planner can be overwhelming. But worry not! We've done the heavy lifting for you. Let's dive into the top time planner for students with digital options to help streamline your academic journey.
1. Week Plan
Week Plan is often touted as the highest-rated Time Planner for students, and with good reason. Designed specifically with students in mind, it offers features that cater uniquely to their needs. Beyond just being a daily planner app, Week Plan provides a holistic approach to managing academic and personal life effectively.
Features 
Top 3 Features of Week Plan 
1. Roles Feature
Allows students to define and differentiate between their academic, personal, and social roles, enabling focused planning for each aspect of their lives.
2. Weekly Planning
Week Plan emphasizes the importance of planning your week. It aids in balancing your study sessions, personal activities, and other daily tasks.
3. Quadrant View
It helps students prioritize their tasks based on urgency and importance, a powerful tool to maintain a balanced school life.
Pros 
Intuitive and clean user interface
Integrates with other popular productivity tools
Robust reminder system, ensuring you never miss a deadline
Adaptable to both daily and long-term planning
Constant regular updates enhance its array of features
Cons
It might take some time for first-time users to adopt
The focus on weekly planning might not cater to everyone's taste
Some features might feel overwhelming to new users
Supported Platforms
Week Plans available on Android and iOS make it accessible to millions of students.
Pricing
Week Plans pricing is $10.83/month.
Final Verdict
Week Plan, as a time planner for students, offers a harmonious blend of daily planning and long-term vision setting. Its unique approach ensures that students meet their academic goals and find time for personal growth. This student planner app is essential for anyone looking to balance their studies and personal development.
2. Todoist
Todoist is a popular task management application and a time planner for students that allows users to organize and prioritize their tasks and projects. Founded by Amir Salihefendić in 2007, Todoist has gained a significant user base and is known for its clean design, cross-platform availability, and powerful features.
Features 
Tasks and projects
Prioritization levels
Recurring tasks
Status tracking 
Collaboration and task assignment
Third-party integrations
Cross-platform availability
Kanban board
Top 3 Features of Todoist
1. Task Prioritization
Todoist empowers users to categorize tasks by priority, ensuring that critical tasks receive the attention they deserve. This feature acts as a guiding beacon, clarifying which tasks should take precedence, thus enhancing overall productivity.
2. Productivity Visualization
While Todoist offers a clean and intuitive interface for managing tasks and projects, it also has integrated components to help users visualize their productivity over time. One of the most significant productivity visualization features of Todoist is the "Karma" system.
3. Project Organization
Organizing tasks is pivotal to success, and Todoist takes it a step further by offering 'Project Organization.' This feature allows users to create projects and sub-tasks, providing a structured hierarchy to their task lists. It's like having a dedicated workspace for your goals, ensuring clarity and order in your workflow.
Pros
Intuitive and user-friendly interface
Extensive integration options with other apps and platforms
Regular feature updates and improvements
Cons
Premium features require a subscription
No native time-tracking feature
Supported Platforms
Todoist stands out as a versatile task management tool available on many platforms. Whether you are an Android or iOS user, prefer working on Web browsers, macOS, or Windows, or even rely heavily on browser extensions, Todoist has got you covered.
Pricing
A free version is available—price plan starts at $4/month billed annually.
Final Verdict
Todoist is a versatile task management and time planner for students tool that caters to a broad audience, from professionals to students. Its intuitive design, robust features, and seamless integrations make it an indispensable asset for those seeking to optimize their productivity. Whether managing a complex project, planning a study schedule, or looking for a dedicated time planner specifically for academic needs, Todoist's adaptability ensures that users remain organized, on track, and ahead of their tasks. 
As the digital age demands more from individuals regarding multitasking and time management, tools like Todoist are not just convenient – they're essential.
3. Any.do
Any.do is a task management and organization app designed to help users, including as a time planner for students, stay organized and get more done. Much like Todoist, it's used by millions of people worldwide for personal and professional purposes.
Features 
Task management
Calendar integration
Scheduling 
Task scheduling 
To-do lists
Prioritization 
Collaboration
Productivity tools 
Top 3 Features of Any.do
1. Calendar Integration for Students
Any.do shine with its integration prowess, seamlessly blending tasks and calendar events into one comprehensive view, making it an ideal time planner for students. This integration ensures students have a holistic perspective of their commitments and tasks, enabling efficient time management without the hassle of juggling between different apps.
2. Moment Feature
Every day is a new opportunity and with Any. do's 'Moment Feature', students are equipped to harness it effectively. By presenting a daily review promptly, this feature aids students in strategizing and organizing their tasks for the day, ensuring they remain proactive and purpose-driven in their student life.
3. Task Sharing
In the era of collaborative endeavors, Any.do's 'Task Sharing' feature is indispensable for students. Whether collaborating on a group project or organizing study sessions, students can easily share and delegate tasks to others. This collaborative approach fosters teamwork and streamlines communication and accountability in their academic pursuits.
Pros
Clean and uncluttered interface
Location-based reminders
Inbuilt grocery list feature
Cons
Some advanced features are only in the premium version
The interface might be overly simplistic for some
Supported Platforms
Any.do is a versatile task management application accessible on multiple platforms, including Android, iOS, Web, and as a convenient Chrome Extension. This broad availability ensures users can seamlessly access and organize their tasks and lists across their preferred devices and browsers.
Pricing
A free version is available. Premium at $3/month.
Final Verdict
Any.do stands as one of the premier task management platforms in today's digital landscape. Its sleek design and many features ensure that users—from professionals to homemakers—can streamline their tasks and schedules efficiently. Its commitment to continuous improvement, as evidenced by regular updates and user feedback implementation, showcases its dedication to user productivity and satisfaction. 
In a world where time management is paramount, tools like Any.do not only simplify our lives but also enhance our ability to achieve more, making every day more productive and meaningful."
4. Trello
Trello is a visual collaboration and time planner for students tool that offers a shared perspective for teams, study groups, or individual students on any academic or extracurricular project in a fun, flexible, and rewarding way. It's best known for its card and board system, often likened to a digital whiteboard filled with sticky notes.
Features 
Boards, Lists, and Cards
Due dates 
Power-Ups 
Automation
Checklists 
Top 3 Features of Trello
1. Board-based Planning
Trello revolutionizes task organization through its innovative board-based planning system, making it an ideal student time planner. Users can structure their tasks, projects, and workflows using boards, lists, and cards. This visual approach allows for intuitive task management, helping individuals and teams, including students, to quickly grasp the big picture while also drilling down into specific details.
2. Power-Ups
Trello's 'Power-Ups' elevates its functionality to a new level, making it a valuable student time planner. It offers many capabilities, from syncing with your calendar for timely reminders to enabling voting on card priorities. With 'Power-Ups,' Trello becomes more than just a task management tool; it's a versatile platform that adapts to your unique needs and preferences, catering to students' specific time management needs.
3. Collaboration
Collaboration is at the heart of Trello's design, making it an excellent time planner for students working on group projects or managing their study schedules. Multiple users can seamlessly collaborate on a board, making teamwork more efficient. Whether a small study group or a large project team, Trello's collaborative features ensure that everyone, including students, can contribute, communicate, and track progress effortlessly.
Pros
Highly customizable
Scalable for individual or team use
Generous free tier
Cons
It can get cluttered with extensive use
Some power-ups require a subscription
Supported Platforms
Trello is a versatile platform that offers accessibility across multiple devices and platforms. Whether on the go with your Android or iOS mobile devices or working from your desktop, Trello ensures a seamless experience. Android, iOS, Web
Pricing
A Free version is available. Also, pricing starts at $5/user/month.
Final Verdict
Trello stands out as a versatile and intuitive tool, ideal for team collaborations and individual planning and organization. Its visual board and card system offer a straightforward way to manage tasks, track progress, and prioritize responsibilities, especially as a student time planner; whether for academic planning, group projects, or personal task management, Trello's adaptability and extensive integrations make it an invaluable asset for anyone seeking an organized and efficient approach to their endeavors.
5. Google Calendar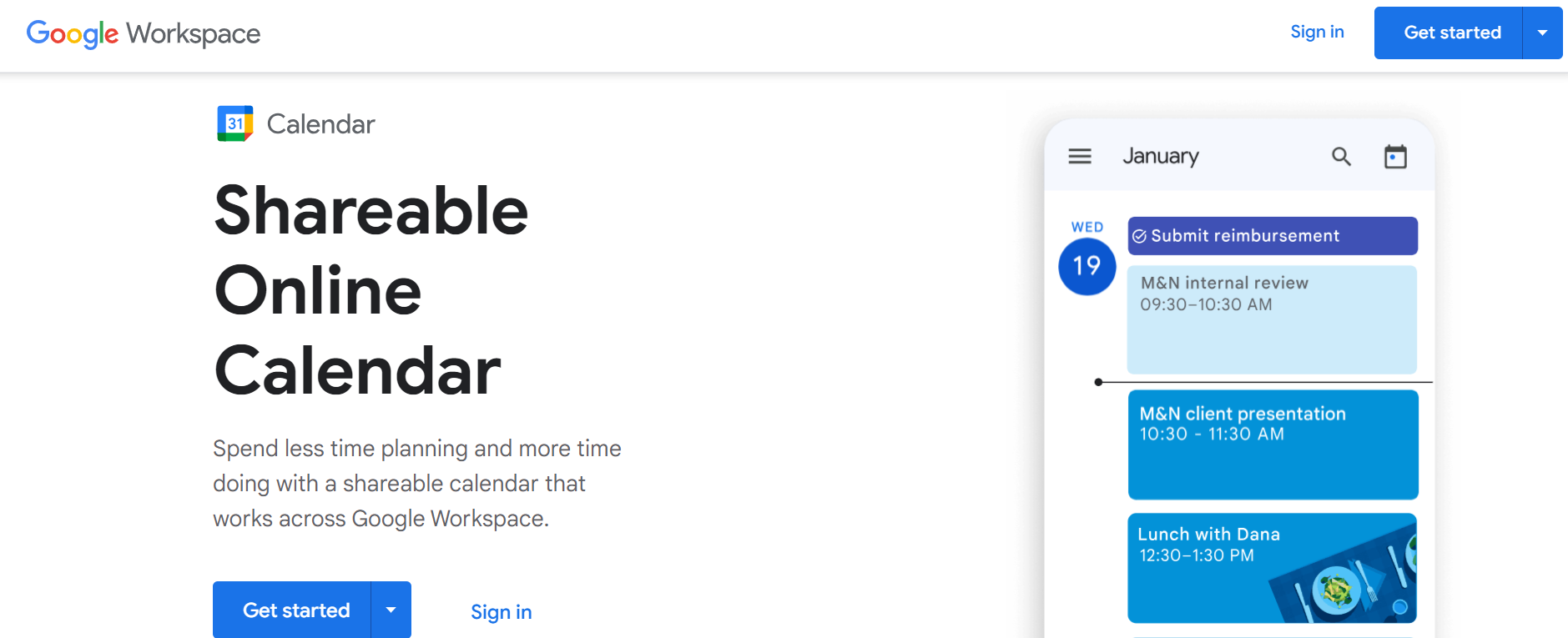 Google Calendar is one of the most accessible and widely used calendar platforms in the digital world, making it a practical time planner for students. Designed with user-friendly functionality, it seamlessly blends with other Google services, providing individuals, businesses, and students with an efficient scheduling and time management tool.
Features 
Events and appointments
Reminders
Alerts
Notifications 
Multiple calendar views (Day, Week, Month, etc.)
Calender sync
Integration with other Google services
Goals setting
Top 3 Features of Google Calendar
1. Event Creation
Google Calendar simplifies event scheduling to an art, making it an ideal time planner for students. You can effortlessly create events, set reminders, and receive timely notifications. Whether it's a business meeting, a birthday celebration, a doctor's appointment, or organizing study sessions and assignments, Google Calendar ensures you never miss a beat in your busy student life.
2. Shared Calendars
Collaboration has never been more convenient for students. With Google Calendar's 'Shared Calendars' feature, you can easily share your academic calendar with colleagues, friends, or family. It fosters seamless coordination for group projects, study groups, and extracurricular activities, allowing everyone to stay on the same page and make scheduling a breeze.
3. Combined with Google Suite
Google Calendar is a powerhouse of integration, seamlessly intertwining with other Google services like Gmail and Google Tasks. This synergy streamlines your student workflow, making it incredibly efficient. Your academic calendar, emails, assignments, and to-do lists are all interconnected, ensuring you have everything at your fingertips for effective time planning as a student.
Pros
Completely free
Reliable and widely used
Cross-platform synchronization
Cons
Lacks advanced project management features
Limited customization
Supported Platforms
Google Calendar is available on Android, iOS, and the Web, making it accessible across various devices and platforms. Whether on your mobile device, tablet, or desktop computer, Google Calendar ensures you can easily manage your schedule, events, and appointments wherever you are.
Pricing
Google Calendar has a free plan and the priced plan starts at $6/per month. 
Final Verdict
With its intuitive interface and extensive integration capabilities, Google Calendar remains a favorite choice for those seeking a reliable scheduling tool, including as a time planner for students. Whether for personal use, business coordination, or student planning, it delivers consistency and adaptability in our ever-evolving digital age.
6. Evernote
Evernote emerged as a trailblazer in note-taking, organization apps, and time planners for students. Its powerful tagging and searching functionalities allow users, especially students, to capture ideas, store information, and categorize notes with unprecedented ease.
Features 
Sync and organize 
Web clipping
Document scanning
Calendar 
Tasks 
Search (including within images)
Top 3 Features of Evernote
1. Note-taking for Students
Evernote is your versatile digital notebook, perfect for students looking to manage their time and study effectively. It allows you to capture ideas, create detailed checklists, and maintain a well-organized collection of notes. With the added tagging functionality, you can efficiently categorize and retrieve your notes, ensuring no valuable information slips through the cracks in your student time planner.
2. Web Clipper
Evernote simplifies saving web content with its 'Web Clipper' feature. You can store web pages, articles, and PDFs directly into your Evernote repository. It eliminates the need for multiple bookmark folders. It ensures that all your essential web finds are neatly organized alongside your other notes, making it a valuable tool for students managing their research and study materials.
3. Templates
Evernote recognizes that note-taking needs can vary greatly, especially for students. It offers a selection of templates designed for different purposes to cater to this diversity. Whether you're jotting down lecture notes, planning your study schedule, or tracking your academic goals, Evernote's templates streamline the note-taking process, ensuring that your notes are well-structured and aesthetically pleasing while serving as an essential time planner for students.
Pros
Powerful search capabilities
Multimedia note support (pictures, voice notes)
Cross-device syncing
Cons
It can be overwhelming for new users
The free version has synchronization limits
Supported Platforms
Evernote is a versatile note-taking and organization tool available on multiple platforms, making it accessible across various devices and operating systems. Whether you prefer to use it on your Android smartphone, iOS tablet, macOS computer, or Windows PC, Evernote ensures a seamless and synchronized experience, allowing you to stay productive and organized no matter your chosen platform.
Pricing
A free version is available. Pricing starts from $10.83/month.
Final Verdict
From personal reflections to business-related notes and time planning for students, Evernote offers versatility that caters to various user needs. Its continued innovations and commitment to user experience make it a trusted ally in the world of digital note-taking and time management for students.
7. Notion
Notion is more than just a productivity tool; it's a workspace that offers a blend of note-taking, database creation, and project management functionalities. Its modular block system allows users to customize their workspace to fit their specific requirements, from simple lists to complex databases. 
Notably, it can also be a practical time planner for students, ensuring they manage their academic tasks efficiently.
Features 
Budget management 
Databases (Tables, Boards, Calendars, etc.)
Page templates
Collaboration and real-time syncing
Status tracking 
Kanban boards
Customizable views
Top 3 Features of Notion
1. All-in-one Workspace
Notion offers students a one-stop workspace that effortlessly blends note-taking, to-do lists, and databases. This integrated structure means students can keep their study materials, ideas, and tasks in one spot, reducing the nuisance of juggling various apps and promoting a complete and organized way of studying.
2. Customizable Pages
With Notion, your study space becomes a playground for creativity and efficiency. The 'Customizable Pages' option lets students shape their individual spaces using adaptable building blocks. It allows you to set up your space just as you want, whether for project designs, organizing study materials, or individual task lists.
3. Collaborative Workspaces
Notion strongly believes in teamwork. Its 'Collaborative Workspaces' element makes group projects more accessible. By sharing notes and working together simultaneously, students can combine their knowledge, ensuring assignments move forward without a hitch and group ideas thrive in a teamwork setting.
Pros
Highly customizable and flexible
Extensive template library
Generous free plan
Cons
Steeper learning curve
Mobile apps can feel slower compared to desktop
Supported Platforms
Notion is a versatile productivity tool available across various platforms, making it exceptionally accessible to users in multiple environments. Whether you're using a web browser, an iOS device, an Android smartphone or tablet, a macOS computer, or a Windows PC, Notion ensures a seamless and consistent experience. 
Pricing
A free version is available. Pricing starts at $8/month.
Final Verdict
As an all-in-one workspace solution, Notion has revolutionized how individuals and teams, including students looking for a time planner, approach productivity. Its flexible design and multifaceted features testify to its rising popularity among casual users and enterprises.
8. TimeTree
TimeTree, a time planner for students, families, friends, and teams, offers a fresh perspective on shared calendaring, focusing on collaboration and open communication. Designed for families, friends, couples, and groups, it provides a shared space to keep track of events, appointments, and tasks in a communal setting.
Features 
Shared calendar
Multiple calendar views
Events and notes
Comments and photos on events
Calender chats 
Notifications
Top 3 Features of TimeTree
1. Shared Calendar
TimeTree offers a 'Shared Calendar' feature, making teamwork and coordination effortless. It's ideal for study groups, project teams, or any student group with overlapping timetables. Everyone in the group can view, change, and keep track of events and assignments, ensuring everyone knows what's happening.
2. Multiple Calendars
Life is full of activities, and TimeTree understands this with its 'Multiple Calendars' feature. Students can have distinct calendars for different parts of their lives, from school assignments and personal events to extracurricular activities. This flexibility allows them to handle their tasks and responsibilities clearly and effectively.
3. Memos
Sometimes, important dates or events need extra details. TimeTree makes this easy with its 'Memos' tool. Students can attach notes to specific days, giving more information or reminders for themselves or friends who see the calendar. This tool clarifies things and ensures everyone knows the significance of particular dates or events.
Pros
User-friendly interface
Great for planning with others
Chat feature for each event
Cons
Fewer integrations compared to competitors
It might be overkill for individual use
Supported Platforms
TimeTree ensures that your schedule is never out of reach by providing seamless accessibility across multiple platforms. Whether you're on a computer using the web interface, on the go with your Android device, or immersed in the Apple ecosystem with an iOS device, TimeTree keeps you organized and connected. 
Pricing
A free version is available. Premium features at $4.49/month.
Final Verdict
With its emphasis on shared experiences and collaborative planning, TimeTree stands out as a communal time-management tool and a practical time planner for students. Its unique approach to scheduling promotes transparency and connectivity among its users, solidifying its place in the world of collaborative tools.
Week Plans unique roles feature and quadrant view set it apart, making it the best choice for students seeking a balanced planner to manage their busy student life.
Best of Best Section
1. Week Plan
Offers an unmatched blend of features tailored for students to excel academically and personally.
2. Todoist
With its robust task prioritization, it's ideal for those who love structured daily routines.
3. Any.do
Cross-platform synchronization ensures you're constantly updated, irrespective of the device.
Conclusion
Selecting the perfect planner can be the difference between achieving your goals and falling short. With Week Plan emerging as a front-runner, it's the golden ticket for those looking to supercharge their academic journey. So, why wait? Dive into innovative planning practices today, and let Week Plan lead the way!
Frequently Asked Questions (FAQs)
Q1. Why should students consider digital planners over physical planners?
Digital planners offer synchronization and reminders, making them more dynamic than paper planners.
Q2. How can a student planner app boost academic performance?
It helps organize study habits, manage time effectively, and meet deadlines.
Q3. Can I use these apps beyond my academic life?
Absolutely! They're versatile enough to cater to both your academic and post-school life.
Q4. How often should I update my digital planner?
Daily planning is critical. It's best to update it daily or at least once a week for a comprehensive review.
Q5. Is it worth paying for a student digital planner when there are free alternatives? 
While free versions offer essential lists and features, paid versions usually provide enhanced functionalities that can be pivotal for academic success.
Q6. Do these apps offer dark mode for late-night study sessions?
Many of them do, like Week Plan and Todoist, ensuring minimal strain on your eyes during late-night planning.
Q7. How secure are my data and plans on these apps? 
Most apps prioritize user security, ensuring your data remains private and secure.
Q8. Can I share my plans with friends or study groups? 
Many apps, like Trello or Google Calendar, allow shared planning, making group projects and study sessions a breeze.

More Posts