Now, you can turn over your life by turning pages! Don't believe us? With outstanding books for goal setting, you can now speed up your goal-setting process. 
Books on goal planning written by several well-known authors can be of tremendous value. Let us take a look at some good books for goal setting that can help train your brain to be optimistic and sharp.
1: Big Potential By Shawn Achor
Image source shawnachor.com
We're starting our list with one of the best books for goal setting that focuses on the power of positive reinforcement. This book summarizes how we often measure anyone's potential to thrive and achieve according to the wrong parameters. 
When you pass judgment on someone, you merely drag yourself down by putting your energy into something unpleasant. Therefore, it is critical to self-actualize your accomplishments and prepare positively for your personal goals.
This book helps those looking for motivation in the wrong places to improve themselves and their way of life by identifying potential through smart goals.
About the Author:
This remarkable book is written by Shawn Achor. He has delivered over 50 lectures to famous doctors, business executives, and book enthusiasts worldwide. He has meticulously written this book on how effective networking and prioritizing social connections can help you grow. 
Main Motto:
"Long-term goals for success and happiness should be to create soulful connections with people rather than to push people down for your own success."
Pricing:  
Hardcover: $15.99
Kindle : $4.99
Ratings: 
GoodReads: 4.2/5
FourMinute Books: 5/5
Amazon Books: 4.7/5
Conclusion
"Big Potential" by Shawn Achor is a must-read for those seeking to improve their approach to success and personal growth. The book provides valuable insights on positive reinforcement, smart goal setting, and the importance of social connections in achieving happiness and well-being. With its strong ratings and practical advice, this book offers a transformative perspective on realizing one's potential and nurturing meaningful relationships.
2: Atomic Habits By James Clear

Image source Amazon.com
Another fantastic read is Atomic Habits by James Clear, also listed as the #1 New York Times Bestseller. 
The author of the book "Atomic Habits: An Easy & Proven Way to Build Good Habits & Break Bad Ones" has brilliantly described via his writing how using simple and easy methods, you can form new goals and habits while breaking bad ones. Most importantly, this self-help book demonstrates how small yet smart goals can quickly help you achieve remarkable results.
About the Author:
According to James Clear, this book is a compilation of his notes and goal-setting techniques that he has created over time. Throughout his life, he has valued long-term goals and planning. James Clear wrote this book after three years of rigorous research and writing. It focuses mainly on the goal-setting theory of habit formation.
Main Motto:
"Habits are like the atoms of our lives; each one is a fundamental unit that contributes to your overall improvement."
Pricing:
Ratings:
GoodReads: 4.4/5
FourMinute Books: 5/5
Apple Books 4.5/5
Conclusion
"Atomic Habits" by James Clear is essential for anyone seeking a practical approach to effective goal setting and personal transformation. As a #1 New York Times bestseller, the book offers accessible and proven methods for forming new habits, breaking bad ones, and leveraging small, intelligent goals to achieve significant results. From years of research and experience, James Clear provides valuable insights into habit formation and long-term planning.
3: Ikigai By Hector Garcia
Image source sloww.co
We frequently establish unrealistic objectives for ourselves and believe we need more room for progress when we fail to meet them. This international bestseller focuses on the power of positive habit-building.
This book has been shown to help people picture their goals and work on their personalities and actions to live a more motivated life. And instead of becoming overwhelmed by the eventual goal, aim for it and take tiny steps toward it daily.
About the Author:
Ikigai was initially written in Spanish by Hector Garcia and Francesc Miralles and published in English by Penguin Books in 2017.
Main Motto:
"When confronted with a big goal, try to break it down into parts and then attack each part one by one."
Pricing:
Ratings:
GoodReads: 4/5
FourMinute Books: 4.3/5
Waterstones: 4.5/5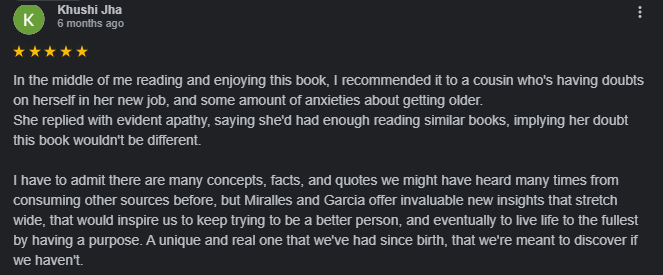 Conclusion
This book is a valuable resource for those seeking to find balance, purpose, and happiness in their lives. By embracing the concept of Ikigai and breaking down goals into manageable steps, readers can make meaningful progress without feeling overwhelmed. This book works similar to a life planner as it provides a fresh perspective on personal growth, backed by the wisdom of Japanese culture, and is essential for anyone looking to enhance their well-being and live a more fulfilled life.
4: The Book of Mistakes By Skip Prichard
Image source goodreads.com
Do you ever wonder why certain people remain successful and attract good things into their lives? This book is what you need to answer all of your questions on how to better your daily life through planning. This fictional novel focuses on positive goal setting. You will learn about nine rookie blunders you may make daily that will encourage you to achieve your objective.
About the Author:
Skip Prichard has written several meaningful books. He has thoughtfully illustrated how our habits hold us back and how, through clever goal-setting and planning, we may harness the potential of a joyful living.
Main Motto:
"Success is the result of consistently and purposely doing the uncomfortable."
Pricing:
Ratings:
GoodReads: 4.2/5
Audiobooks: 3.6/5
Amazon Books: 4.6/5
Conclusion
"The Book of Mistakes" by Skip Prichard is a compelling read for those seeking insights on improving their daily lives and achieving success through effective planning and goal setting. The book provides valuable lessons on overcoming obstacles and embracing positive habits by identifying nine common errors that may hinder personal progress. This fictional novel offers a unique and engaging approach to personal development, making it an ideal choice for anyone looking to unlock their full potential and achieve a successful future.
5: The Power of Positive Thinking By Norman Vincent Peale
Image source goodreads.com
This book is among the best books for goal setting and your best chance if you want to train your mind to establish good, long term objectives and become a go-getter in life. This book by Norman Vincent Peale, an international bestseller, has set records for being the most constructive force in urging individuals to break their destructive patterns.
This goal-setting book can help you keep your mind fresh while also keeping you motivated and disciplined. A cheerful attitude can influence individuals around you, and they may adopt beneficial habits after being inspired by you. This book also helps you prioritize your favorite goals and get past your bad habits using amazing goal setting exercises.
About the Author:
Norman Vincent Peale is known as the "Father of Positive Thinking" and is one of the most widely-read authors in the world. He was also recognized as a "minister-to-millions" when serving as a preacher at Collegiate Church.
Main Motto:
 "Problems are to the mind what exercise is to the muscles, they toughen and make strong."
Pricing:
Ratings:
GoodReads: 4.2/5
Takealot.com: 5/5
Abebooks: 4.2/5
Conclusion
"The Power of Positive Thinking" by Norman Vincent Peale is an influential book for those looking to cultivate a positive mindset and achieve long-term goals in life. This international bestseller offers practical goal-setting exercises and insights on maintaining motivation, discipline, and a positive attitude to inspire others. By reading this timeless classic, you will learn how to prioritize your goals, overcome bad habits, and harness the power of positivity to enhance your life and personal growth.
5: Goal Setting By Stephanie Philip

Image source Amazon.com
This book is for you if you wish to learn about the facts and logic that define any principle. "Goal Setting: 7 Principles for Achieving Remarkable Success" is an excellent book for anyone looking to set attainable and long term goals. This book displays basic neuroscience and psychology ideas to assist you in grasping what it takes to develop an effective goal-setting method.
The primary selling feature of this book is that it is based on a unique P.E.R.F.E.C.T. concept. Each letter represents a different idea that clarifies one of the seven prerequisites for helping you create the life you want.
About the Author:
This book is written by Stephanie Philp, who is an amazing satirist. She used an amalgamation of good humor and facts in her book and cleverly explained the goal-setting theory. Many have read her amazing book on goal setting, leaving each one of them inspired for life.  
Main Motto:
"A clear and practical way to successfully set your own individual goals. This task of "setting goals" explained in an easy way"
Pricing:
Ratings:
GoodReads: 5/5
Insideyourmind: 5/5
Amazon books: 5/5
Conclusion
"Goal Setting: 7 Principles for Achieving Remarkable Success" by Stephanie Philp is an essential read for anyone seeking to establish clear, attainable goals and improve their lives. The P.E.R.F.E.C.T. concept offers a unique and engaging framework for understanding effective goal-setting strategies, backed by neuroscience and psychology. Combining humor with valuable insights, this book provides a practical and enjoyable approach to personal growth and achievement.
The TakeAway
The journey to personal growth and success can be greatly enhanced by the guidance and wisdom found in these aforementioned books. Each book offers a unique perspective on goal setting, habit formation, and the power of positivity, helping readers unlock their potential and transform their lives. With their practical advice, research-backed insights, and engaging writing styles, these books are invaluable resources for anyone seeking to achieve remarkable success.
Lastly, while reading these books is a powerful first step toward personal growth, it's also essential to explore other resources such as online planners for enhancing goal-setting practices. Week Plan is one of the best personal planners that helps you set your goals and accomplish your tasks before their deadlines. With our planner, you can better organize your goals while also creating the perfect work-life balance. Explore our planner today and streamline your goal setting processes.
Frequently Asked Questions (FAQs)
1: What common traits of successful people can I learn from these books?
A: The best books for goal setting teach essential traits commonly found in successful people. These traits include effective goal setting, positive thinking, breaking down tasks, forming good habits, and maintaining discipline. Adopting these traits can help you become more successful in your life.
2: How can these books help me achieve outstanding success in my career?
A: The best books for goal setting provide valuable insights and strategies that can assist you in attaining outstanding success in your career. They help you set clear career goals, develop plans to achieve them, and maintain motivation throughout the process. By following their advice, you can reach new heights in your career.
3: How do the best books for goal setting differ from other self-help books?
A: The best books for goal setting focus specifically on setting and achieving goals, developing productive habits, and maintaining a positive mindset. These books provide targeted advice and strategies, whereas other self-help books may cover a broader range of topics related to personal development and well-being. By reading the best books for goal setting, you can gain specialized knowledge to help you reach your objectives.
4: How can the best books for goal setting improve my time management skills?
The best goal-setting books teach practical techniques to optimize your time management skills. By providing tools and strategies for prioritizing tasks, setting deadlines, and minimizing distractions, these books help you make the most of your time and enhance your productivity.
5: Can the best books for goal setting help me improve my work-life balance?
Yes, the best books for goal setting can assist you in achieving a better work-life balance. They offer advice on setting boundaries, delegating tasks, and prioritizing self-care to ensure you can excel in your personal and professional life without sacrificing one for the other.
6: How can these books help me develop better habits for long-term success?
The best books for goal setting guide identifying and replacing unproductive habits with more effective ones. In addition, they emphasize the importance of consistency, discipline, and patience in building new habits, which can contribute to long-term success in all aspects of your life.
7: Are the best books for goal setting suitable for all personal and professional development stages?
Yes, the best books for goal setting cater to individuals at various personal and professional development stages. Whether you are just starting your career, seeking advancement, or looking to improve your overall quality of life, these books offer valuable insights and tools to help you set and achieve your goals.
8: How does an online goal planner help in goal setting?
An online goal planner is a practical tool that reinforces the principles and strategies learned from goal-setting books. Online planners help users apply the theoretical knowledge acquired from books to their everyday lives by providing a user-friendly platform to track, monitor, and adjust goals. This increases the likelihood of success in one's personal and professional goals.

More Posts