If you're tired of traditional paper planners and looking to transition into digital planning, you've come to the right place. Whether you're a business professional juggling complex projects or a creative person sketching out your next masterpiece, digital planner apps have become a powerful tool for daily planning. 
With the help of an Apple Pencil, you can jot down handwritten notes, create a daily schedule, and even manage your meal planning. From daily to monthly planners featuring customizable templates, there's something for everyone. 
This article delves into six must-try iPad digital planners redefining how professionals organize their work and personal lives, complete with daily tasks, project planner sections, and a monthly calendar. Let's start your digital planning journey and transform your everyday life.
Overview of 6 Best iPad Digital Planners
**1. **Week Plan
As the top choice on our list, Week Plan acts as a unique iPad digital planner that puts an emphasis on organizing your weekly goals and daily tasks rather than just task listing. Designed as the perfect planner for professionals, it provides a wide range of features that aid in both daily and weekly planning. Week Plan helps you maximize your week by focusing on what truly matters. With its goal planners and habit tracker functionalities, this digital planner app allows you to prioritize your tasks better.
Features
Priority planning
Weekly view of tasks
Goal setting
Project management
Task tracking
Habit tracking
Time blocking
Role-based task assignment
Collaboration tools
PDF Annotation
Top 3 Features of Week Plan
1. Priority Planning
Week Plan is designed around the concept of helping you prioritize tasks that align with your most important goals. It encourages you to divide your tasks based on roles, making balancing personal and professional responsibilities easier.
2. Project Management
This tool allows you to manage multiple projects in one place. With its project planners, you can easily break down projects into tasks, assign roles, and track progress.
3. Time Blocking
The Week Plan iPad digital planner caters exclusively to professionals by offering a feature known as 'Time Blocking.' With busy schedules and countless tasks, professionals often find their daily planners filled with overwhelming responsibilities.
Pros
Effective prioritization of tasks
Seamless integration with Google Calendar
Role-based task assignment enhances productivity
Collaboration tools for team projects
PDF annotation feature for comprehensive planning
Cons
Might be overwhelming for beginners due to multiple features
Mobile app interface is not as intuitive as the desktop version
Limited options for customization
Requires a learning curve to use effectively
Week Plan Pricing
Week Plan is starting with $8.66 monthly.
Week Plan Availability
Week Plan is available on iOS, Android, Windows, and MacOS.
Final Verdict on Week Plan
Discover a new way to manage your professional life with Week Plan's iPad digital planner. Its unique features cater to every aspect of a high achiever's life. Embrace Week Plan and take control of your productivity like never before.
2. Notion Digital Planner
A highly versatile iPad digital planner, Notion is an all-in-one planner that combines note-taking, task management, and daily planning. It provides a digital planner template that helps you organize your monthly planning, daily schedule, and project planning. From tracking habits to keeping tabs on your favorite recipes, Notion has features to make your digital planning more effortless and productive.
Features
Note-taking
Project management
Task lists
Calendar view
Database capabilities
Custom templates
Collaboration tools
Kanban board
File embedding
Integration with other tools
Top 3 Features of Notion
1. Note-Taking
The core strength of Notion lies in its powerful note-taking capabilities. It allows you to create nested pages within pages, providing a hierarchical structure that can keep even the most complex information well-organized.
2. Custom Templates
Notion offers a variety of custom templates that help in crafting the perfect planner for professionals. These templates can be used for task lists, project management, weekly planning, and more.
3. Customizable Wiki Creation
Notion stands out in the digital planner market by providing professionals with the option to create customized wikis. 
These can be an invaluable asset for project management, storing meeting notes, or even setting up a knowledge base for your team. You can build a wiki tailored to your business needs, allowing everyone to access and contribute to the information.
Pros
Highly customizable and flexible
Powerful database capabilities
Supports rich media content
Collaboration features for teamwork
Wide range of templates
Cons
The interface can be complex for new users
Mobile app is slower compared to the desktop version
Limited offline capabilities
Requires a learning curve for effective usage
Formatting options are limited
Pricing
Plus:$8 per user per month/ billed annually
Business: $15 per user per month/ billed annually
Conclusion
Notion presents an all-in-one planner with the power to organize all your work and ideas efficiently. If customization and flexibility top your priority list, Notion is your go-to digital planner for iPad.
3. GoodNotes 5 Digital Planner
GoodNotes 5 is one of the most loved digital planner apps for iPad, offering a broad spectrum of features that serve the needs of professionals, students, and creative people alike. 
Apart from being a superior note-taking app, it doubles as a digital journal where you can document your daily lives or keep a bullet journal. 
With GoodNotes 5, you can create a custom digital planner that suits your individual needs - be it for daily tasks, meal planning, or managing business tasks. The app also supports PDF files and offers excellent PDF annotation capabilities. 
Features
Handwriting recognition
PDF annotation
Customizable templates
Notebook organization
Document scanning
iCloud sync
Presentation mode
Lasso tool for moving and resizing objects
Pen and highlighter palette
Search functionality across notes
Top 3 Features of GoodNotes 5
1. Handwriting Recognition
GoodNotes 5 shines with its handwriting recognition feature. This tool can convert your handwritten notes into text, making it easier to search and organize them.
This fusion of traditional note-taking and modern technology not only makes note-taking easier but also makes searching and organizing your notes a breeze. GoodNotes 5's Handwriting Recognition feature is a testament to how a digital planner app can transform your professional life.
2. PDF Annotation
Professionals often deal with PDFs, and GoodNotes 5 makes it easier to work with them. You can annotate, highlight, and add handwritten notes to your PDF files.
3. Customizable Templates
GoodNotes 5 offers various templates, including lined, grid, and music notation, which can be customized as per your needs. It gives you the freedom to create a personal planner that best suits your professional needs.
Pros
Excellent handwriting recognition capabilities
Ability to import and annotate PDF files
Notebook-style organization feels intuitive
Variety of pen and color options for note-taking
Seamless sync across devices via iCloud
Cons
No collaboration features
The organization of notes could be improved
Limited functionality in the free version
Search function sometimes fails with handwritten notes
Requires an iPad with Apple Pencil for best experience
GoodNotes Pricing
GoodNotes starts with a user-friendly free trial; other custom pricing details can be found on GoodNotes web.
Final Verdict on GoodNotes
With GoodNotes, enjoy the ease of traditional handwriting and the power of digital note-taking. For those who prefer a personal touch to their notes while leveraging technology, GoodNotes is the ideal choice looking for iPad digital planners.
4. Evernote Digital Planner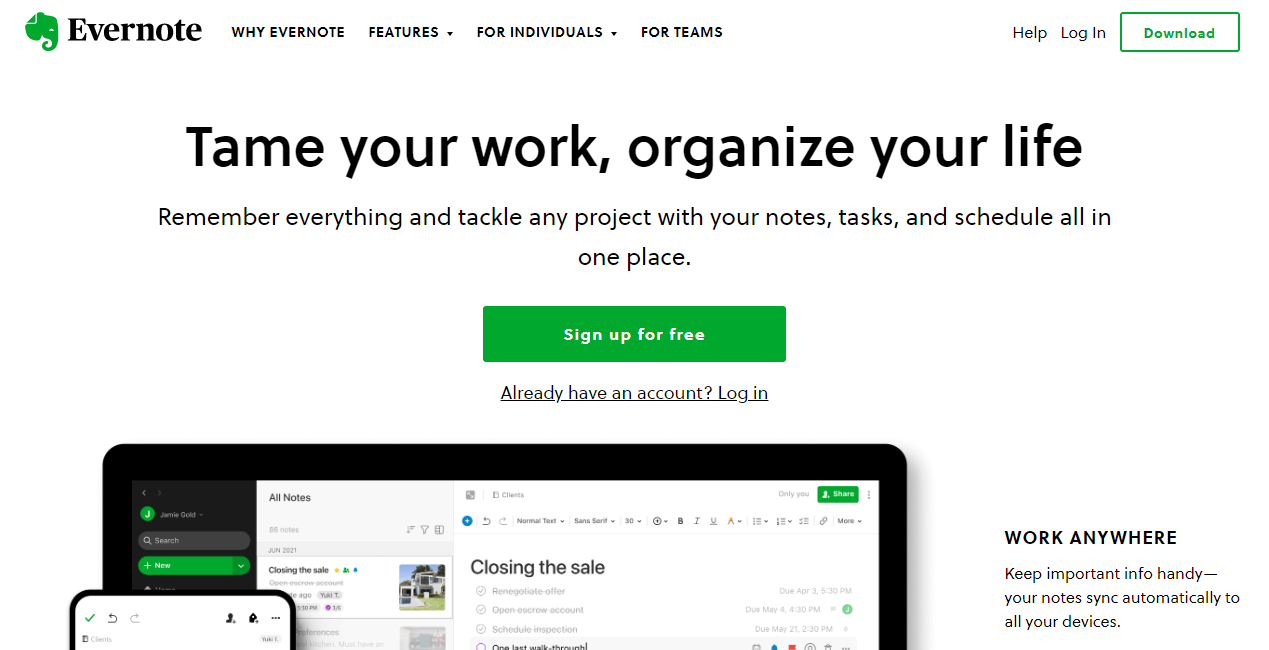 Evernote is not just a simple note-taking app, but a powerful iPad digital planner that can transform your daily schedule management. 
This digital planner app comes with a wide range of features, from daily planners to meal planners, that assist in managing everyday tasks more efficiently. 
The app is designed with productivity tools like goal planners and a task list to ensure maximum productivity. 
Whether you are a business owner needing to take meeting notes or a student requiring an essay planner, Evernote has got you covered. 
Features
Note-taking
Web clipping
Document scanning
Task management
Template library
Presentation mode
Integration with other apps
Collaboration tools
Audio recording
Handwriting recognition
Top 3 Features of Evernote
1. Note-taking
Evernote offers comprehensive note-taking features that include text, images, audio, and more. This makes it a versatile tool for professionals needing to capture a wide range of information.
2. Web Clipping
The Web Clipper allows you to save articles, PDFs, and web pages directly to your Evernote. It's a handy feature for research and reference.
3. Web Clipper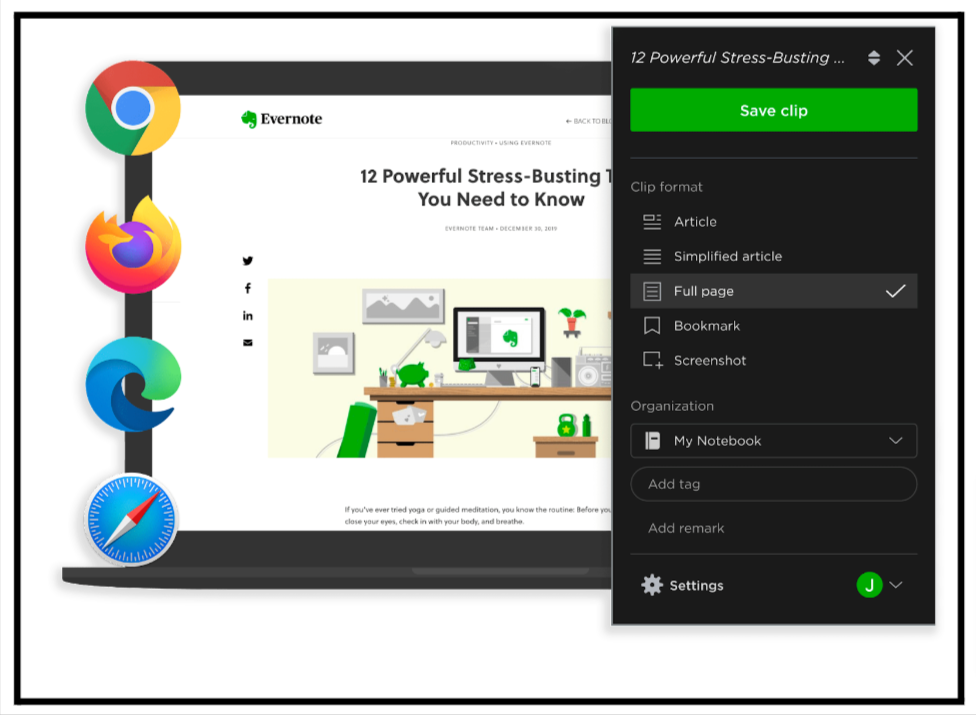 One key feature that Evernote brings to the digital planner landscape is its Web Clipper tool. With it, professionals can save and organize relevant web content seamlessly. 
Whether it's an inspiring blog post, helpful tutorial, or important news piece, the Web Clipper makes it easy to capture and store this information in your Evernote account. You can tag these clippings for efficient categorization, allowing you to retrieve them effortlessly when needed. 
Pros
Powerful search functionality, including inside images and documents
Ability to capture and organize web content
Collaboration features for teamwork
Rich media note-taking (text, images, audio)
Integration with tools like Google Drive, Microsoft Teams, and Slack
Cons
Free version has limited features
The interface can be less intuitive for new users
The sync feature can be slow at times
No native calendar integration
Handwriting recognition feature is not as strong as some competitors
Evernote Pricing
Evernote's personal monthly subscription costs $14.99 and professional subscription costs $17.99 monthly; for large teams it costs $24.99 monthly.
Evernote Availability
Evernote is available for Windows, Mac, iOS, Android, and the Web.
Final Verdict on Evernote:
Evernote is more than a digital planner; it's a comprehensive note-taking platform that keeps you on track. Harness the power of Evernote and elevate your productivity to new heights.
5. Trello Digital Planner
Trello is more than a project planning tool. As an iPad digital planner, it offers a different approach to organizing your tasks and goals. 
Its card-based interface acts as your personal planner, providing an intuitive way to manage your daily tasks, weekly planning, and even your grocery list. 
While it may not have traditional paper planner features, its digital planning capabilities are nothing short of impressive. Whether it's business planners or meal planners you need, Trello has a wide range of features that make it a versatile choice for everyone.
Features
Kanban boards
Task lists
Card attachments
Checklists
Due dates and reminders
Labels and tags
Collaboration tools
Integration with other apps
Calendar view
Customizable backgrounds
Top 3 Features of Trello
1. Kanban Boards
Trello's Kanban boards offer a visually engaging way to manage projects. You can create cards for tasks, organize them into lists, and move them around as they progress from one stage to another. It's an excellent tool for professionals needing to manage multiple projects or tasks.
2. Collaboration Tools
Trello shines when it comes to teamwork. It allows multiple people to work on the same board, making it easier to collaborate on projects. You can also comment on cards and tag team members, enhancing communication.
3. Card Aging
Trello's unique Card Aging feature brings a visual element to your task tracking, which can be particularly beneficial for professionals managing numerous tasks or projects. 
As tasks remain unfinished, the associated cards gradually fade, visually indicating the time elapsed since they were last updated. 
This provides a quick, at-a-glance understanding of task status and priority, aiding in effective daily planning and task management.
Pros
Intuitive card-based interface
Collaboration features for team projects
Flexible organization with labels and tags
Integration with tools like Google Drive and Slack
Due dates and reminders keep tasks on track
Cons
No native time tracking feature
Mobile app lacks some features of the desktop version
The free version has limited features
No offline mode
Trello Pricing
Trello starts with free plan and also offers standard, premium, and enterprise subscription options which is costs $5/user/monthly, $10/user/monthly and $17.50/user/monthly.
Trello Availability
Trello is available for Android, MacOS, Web, Windows, and mobile.
Final Verdict on Trello
Trello brings a visual twist to the iPad digital planner with its intuitive card-based interface. If collaborative projects are your everyday ordeal, Trello could be the perfect tool to streamline your workflow.
6. Asana Digital Planner
Asana, a top-rated digital planner for iPad, provides a robust platform for personal planning and project management. 
This app is perfect for anyone who needs to manage a wide array of tasks in their daily lives. With Asana, you get access to project planners, habit tracker tools, and even a daily planner app feature for managing your day tasks. 
Ideal for professionals and students alike, it even offers an option to import tasks from other tools like Google Docs or Google Calendar, making it a one-stop-shop for all your digital planning needs.
Features
Task management
Project tracking
Timeline view
Custom fields
Calendar integration
Collaboration tools
Workflow automation
Goal tracking
Integration with other apps
Portfolios for project overview
Top 3 Features of Asana
1. Task Management
Asana is a robust task management tool. It allows you to create tasks, assign them to team members, set due dates, and add custom fields. This makes it an excellent tool for professionals who need to manage multiple tasks and projects.
2. Timeline View
This feature helps you plan your projects visually and see how tasks fit together over time. It's useful for professionals who need to manage complex projects with multiple dependencies.
3. Milestone Tracking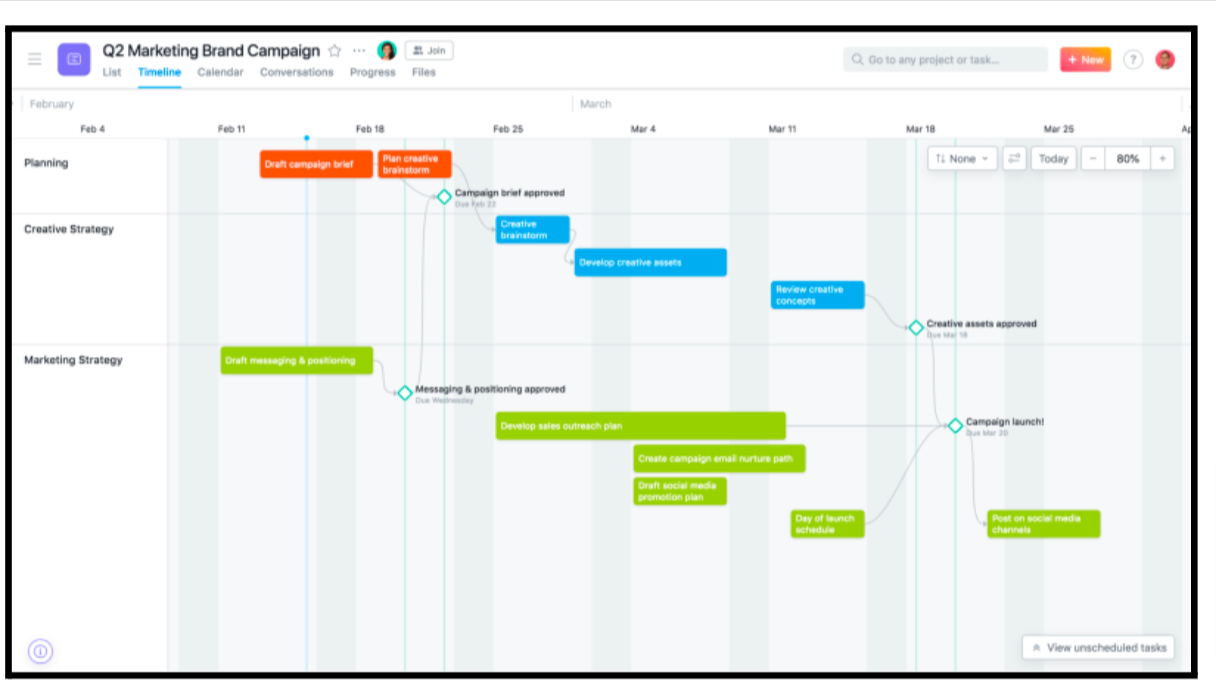 As you complete tasks and move closer to your milestones, Asana provides visual updates to keep you motivated and aware of your progress. 
This level of oversight encourages forward movement and keeps your team aligned and focused on shared objectives. 
If you're looking for a tool that not only assists in task listing but also facilitates comprehensive project planning, Asana's Milestone Tracking feature is a perfect fit.
Pros
Powerful task and project management features
Collaboration tools for teamwork
Timeline view for project planning
Integration with apps like Google Drive, Slack, and Microsoft Teams
Custom fields for specific task information
Cons
Can be overwhelming for beginners due to multiple features
Mobile app interface is not as intuitive as the desktop version
Timeline view is not available in the free version
Limited options for task prioritization
Workflow automation is only available in premium plans
Asana Pricing
Asana starts with premium subscription $10.99 per user/monthly billed annually ($ 13.49 billed monthly) and for Business $24.99 per user/monthly billed annually (US$ 30.49 billed monthly).
Asana Availability
Asana is available for Android, MacOS, Web, and Windows.
Final Verdict on Asana.
Robust task and project management features make Asana a formidable tool for professionals. With Asana, watch your team's productivity soar as you manage tasks and projects effortlessly. Asana can be the go-to choice for professionals and large teams looking for a robust iPad digital planner
Best of the Best - Top 3 iPad Digital Planners
1. Week Plan
Week Plan is the only planner offering time blocking, which is a proven method for scheduling tasks and boosting productivity. 
Though customizable templates are not its strong point, Week Plan's balanced blend of priority planning, time blocking, and role-based task assignment more than compensates for this, making it the top choice among the iPad digital planners for professionals.
2. Notion
Notion follows Week Plan closely with its powerful features, including goal setting, project management, and task tracking. It also allows customizable templates, enabling users to tailor their digital planning experience. 
However, it falls behind Week Plan as it lacks priority planning, time blocking, and role-based task assignment features, which are critical for achieving maximum productivity.
3. GoodNote 5
GoodNotes 5 ranks third for its unique offering of handwriting recognition and PDF annotation, appealing to those who prefer handwritten notes or need to work extensively with PDF files.
While it also provides customizable templates, it lacks in areas such as priority planning, role-based task assignment, and time blocking, which puts it as a strong contender for digital planner for iPad.
Conclusion
In the fast-paced world of professionals, every second counts. Optimize your time and stay ahead with Week Plan's iPad digital planner, your ultimate productivity companion. Don't just dream about achieving your goals; make them a reality. Download  Week Plan today and embark on your journey towards a more organized, productive, and successful professional life.
Frequently Asked Questions (FAQs)
1. Why should I use an iPad digital planner over traditional paper planners?
Digital planners for iPad have many advantages over traditional paper planners. They're customizable, easy to update, and offer a range of features like task tracking, goal setting, priority planning, and PDF annotation. This makes them a versatile tool for managing daily tasks, project planning, and personal planning. Also, digital planners are environmentally friendly and can be synced across devices.
2. How can an iPad digital planner improve my productivity?
An iPad digital planner can drastically improve your productivity by organizing your daily schedule in an effective manner. Features like priority planning help you focus on the most important tasks first, while time blocking can assist in preventing procrastination. These digital planners often come with reminder and alert features ensuring you never miss a deadline.
3. Are there iPad digital planners suitable for students?
Yes, many digital planner apps offer features suitable for students. For instance, Week Plan's task tracking and time blocking are perfect for keeping track of assignments and study schedules. Notion also offers customizable templates that can be tailored for course outlines or essay planners.
4. Can I collaborate with others using an iPad digital planner?
Yes, several iPad digital planner apps like Week Plan, Notion, Evernote, Trello, and Asana have collaboration tools that allow you to share tasks, project plans, and notes with others, making them perfect for team projects or business planning.
5. How can I access my iPad digital planner on other devices?
Most iPad digital planners offer syncing capabilities across multiple devices. This means that your planner can be accessed from your smartphone, computer, or even Android devices. However, the availability of this feature can depend on the specific planner app you choose.

More Posts