Gone are the days of laboriously scribbling numbers on paper or struggling with manual entry spreadsheets. In the digital era, harnessing the power of technology can make the daunting task of financial planning using robust online monthly budget planners. 
With a myriad of online monthly budget planners at your fingertips, you can simplify your finances, track your spending habits, and carve a clear path to your financial goals with a simple click. 
Let's dive into the list of top planners and unveil the magic an online monthly budget planner holds for your financial journey.
1. Mint
Looking to get a grip on your finances? Mint is an excellent online monthly budget planner to help you keep track of your money. With Mint, you can create a monthly budget that aligns with your financial goals. 
Connect your bank accounts, credit cards, and even loan payments so that you can see your spending habits and cash flow in one place. 
The budget calculator and budget spreadsheets help you plan for everything from household supplies to childcare costs. 
With Mint's 256-bit bank-grade encryption, rest assured your data is safe. With this efficient monthly budget planner, manage your money, track your spending, and achieve peace of mind.
Features
Automatic categorization of transactions
Budget creation and tracking
Bill reminders and payment tracking
Free credit score updates
Custom savings goals
Investment tracking
Data synchronization across devices
Debt payoff calculator
Spending plan guidance
Alerts and advice based on spending habits
Top 3 Features of Mint
1. Automatic Categorization of Transaction
Mint's online monthly budget planner automatically categorizes your transactions from linked credit and bank accounts, making it easier to understand your spending habits and manage your monthly budget.
Furthermore, this approach allows you to pinpoint 'leaky' areas in your budget, such as excessive dining out or underestimating your utility bills. 
By reducing the guesswork, Mint allows you to precisely target your financial efforts, streamlining your journey to financial health.
2. Free Credit Score Updates
Regular credit score updates help you stay on top of your credit health, a unique feature among many online monthly budget planners. 
Track your monthly income against your actual monthly expenses and keep tabs on everything from utility bills to entertainment expenses.
More so, you'll gain access to detailed credit analysis, giving insights into the factors affecting your credit score. 
Mint's credit monitoring also includes personalized tips for improving your score, empowering you with knowledge, and putting you in control of your financial future.
3. Custom Savings Goals and Investment Tracking
The feature also compares your asset allocation to ideal models, providing actionable insights that help optimize your investment strategy. 
With Mint's investment tracking, you can better understand your financial picture, making investment decisions that align with your financial ambitions.
This excellent online monthly budget planner allows you to set up custom savings monthly goals, a handy feature for planning future expenses or big purchases. You can track your progress over time and adjust your spending habits to meet your monthly goals faster.
Pros
Comprehensive view of all financial accounts
Automatic transaction categorization saves time
Provides real-time updates and alerts
Offers free credit score tracking
Cons
Some users find the budgeting features less intuitive
Occasional categorization errors
No option to manually enter transactions
Contains ads
Customer service can be slow
Pricing
Sign up required, free to use
Conclusion
Mint stands out as an effective online monthly planner for those seeking an all-in-one budgeting solution. With wide range of features of this budget app combined with its user-friendly interface makes it a valuable tool for anyone seeking to enhance their personal financial management.
2. You Need A Budget (YNAB)
Ready to give every dollar a job? YNAB is your perfect online monthly budget planner. Designed to help you break the paycheck-to-paycheck cycle, YNAB offers personalized spending plans. 
With this popular budgeting app you can now assign income into categories like monthly expenses, monthly goals, and debt tracking and keep log of your actual income and spending. 
Utilize the budget templates to organize your cash envelopes and plan your spending, helping you monitor seasonal expenses and save for your financial goals. 
With YNAB's Google Sheets integration, you can easily monitor and adapt your budget on any device. Get on top of your finances with this robust online monthly budget planner.
Features
Zero-based budgeting system
Debt payoff planning
Real-time access to data
Goal tracking
Reports to monitor spending trends
Investment tracking
Bank syncing
Direct import of transactions
Multi-platform availability
Online classes and workshops for budgeting guidance
Top 3 Features of YNAB
1. Goal Tracking
YNAB's goal tracking encourages systematic savings and spending, helping you steadily move toward your financial objectives. 
Putting a clear, achievable plan in place ensures your money is working effectively towards your financial aspirations.
YNAB's primary feature is its unique budgeting philosophy - giving every dollar a job. This method encourages you to account for every dollar of income, making it an effective tool for proactive budget planning.
2. Real-time Access
YNAB's real-time access means you can make instantaneous budgeting decisions on the go.
The accessibility of your financial data ensures that you can always make informed, conscious spending choices that align with your monthly budget.
This online monthly budget planner feature saves you the trouble of manual entry. Transactions from your bank accounts are automatically imported and categorized.
3. Age Your Money
YNAB helps establish long-term financial security and stress-free money management by encouraging a buffer between income and expenses.
A monthly spending plan by an online monthly budget planner cultivates financial stability and prevents you from falling into costly debt traps. 
YNAB also provides extensive educational resources to enhance resource cultivation. The app offers free online classes and workshops to help users understand its method and improve their financial habits.
Pros
A unique budgeting approach encourages financial responsibility
Offers comprehensive educational resources
Ability to split transactions across multiple budget categories
Direct import of bank transactions reduces manual entries
Allows for multiple budget setups
Cons
Very Costly
The learning curve for its budgeting philosophy
Requires regular maintenance for best use
No bill management feature
Some users report difficulties with bank syncing
Pricing
Annual Plan: $8.25/month ($99 paid annually) 
Monthly Plan: $14.99/month
Conclusion
YNAB offers an exceptional online monthly budget planner that fosters a proactive approach to managing your finances. Its unique four-rule methodology makes it an excellent choice for those looking to gain better control over their spending habits.
3. Empower Personal Wealth (formerly Personal Capital)
Take charge of your personal capital with Empower Personal Wealth, an effective online monthly budget planner. 
With its intuitive online monthly budget planner, you can keep track of your monthly costs, track your bank account balance, and get a clear picture of your monthly income and spending. 
Use the expense tracker to monitor your personal expenses and use the savings tracker to visualize your progress towards your savings goals. 
Whether you're planning for household budget or school supplies, this online monthly budget planner has got you covered. Achieve your financial goals with this effective budget planning tool.
Features
Cash flow analysis
Budgeting tools
Investment checkup
Retirement planner
Fee analyzer
Net worth calculator
Education planner
Portfolio performance tracking
Spending tracker
Savings planner
Top 3 Features of  Empower Personal Wealth
1. Cash Flow Analysis
Empower Personal Wealth provides a clear view of your income and expenses. This feature of online monthly budget planner helps you understand your spending habits and manage your budget better.
Having this information at your fingertips can guide your budgeting, investing, and debt payoff strategies. 
This feature of online monthly budget planner offers a holistic view of your financial health, providing the foundation for an effective and realistic financial plan.
2. Investment Checkup
This tool by online monthly budget planner analyzes your investments and provides recommendations to optimize your portfolio, an outstanding feature for investors.
WIth online monthly budget planner's investment checkup, you'll be able to see projected investment returns. This will help you adjust your strategy as needed to maximize your potential earnings. 
This online monthly budget planner helps you navigate the complex investing world, ensuring your investment strategy remains aligned with your risk tolerance.
3. Retirement Planner
The online monthly budget planner projects your retirement savings based on your current savings rate, providing a valuable tool for long-term financial planning.
This way retirement planner promotes proactive financial planning, enabling you to make strategic adjustments in response to potential life changes. 
Online monthly budget planner is a powerful ally in securing your financial future and achieving a comfortable and well-planned retirement.
Pros
Comprehensive wealth management tools
Great for investment tracking
Useful retirement planning tools
Ability to track net worth over time
Offers both desktop and mobile access
Cons
Not as detailed for budgeting compared to other apps
Interface might be overwhelming for new users
Some features require a minimum investment
Personal Capital's advisory services are expensive
Limited budgeting categories
Pricing
Conclusion
Empower Personal Wealth serves as an excellent tool for wealth management and retirement planning. However, for detailed budgeting needs, it may not be as comprehensive as some other options. Its investment-focused features make it more suitable for users seeking long-term financial planning solutions.
4. EveryDollar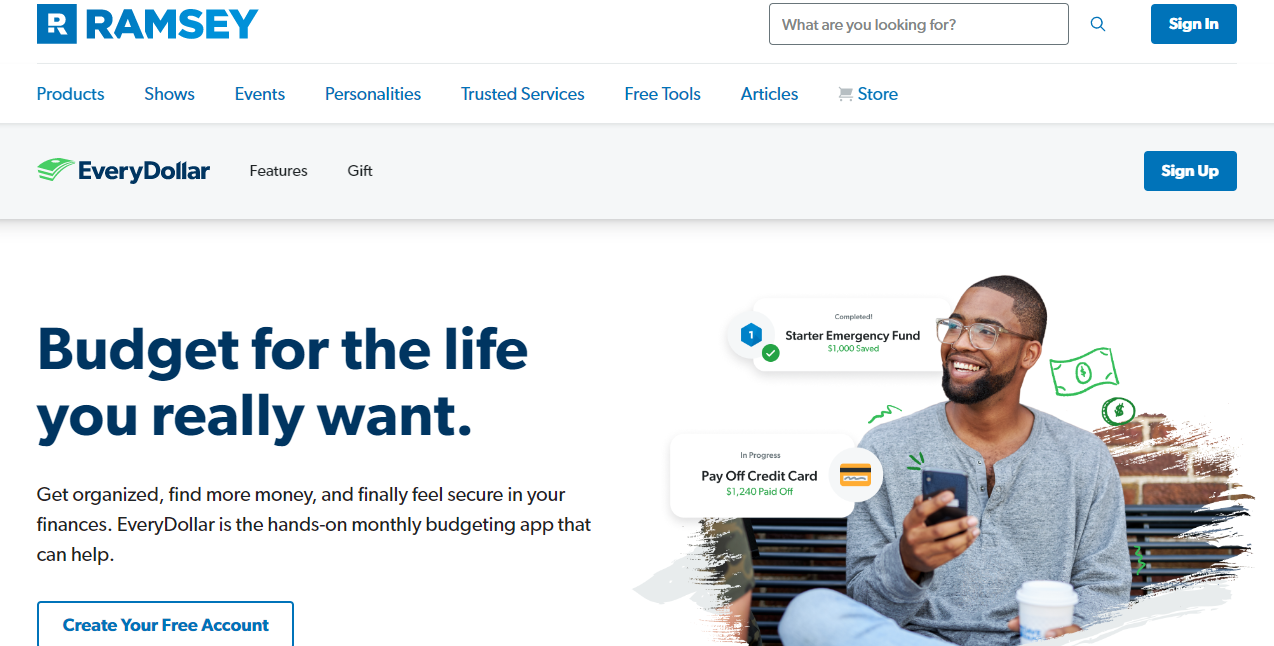 EveryDollar is an excellent online monthly budget planner that can help you plan your spending down to the last cent. 
With its easy-to-use monthly budget tracker and budget printable, you can create an ideal budget that aligns with your lifestyle and financial goals. 
From tracking monthly mortgage payments to managing internet access costs, you can plan your monthly spending. 
This online monthly budget planner binder lets you see where every dollar goes. For peace of mind, make EveryDollar your choice of monthly planner.
Features
Zero-based budgeting
Custom budget creation
Tracking of expenses and income
Goal tracking
Debt payoff tracker
Access on both mobile and desktop
Real-time updates to budget
Can split transactions across budget items
Integration with Dave Ramsey's Baby Steps
Fund rollovers
Top 3 Features of EveryDollar 
1. EveryDollar Plus (Premium Version)
Besides the free version, EveryDollar offers a premium version called EveryDollar Plus. 
This premium feature connects to your bank account, tracking transactions in real time. 
It eliminates the need for manual entries and offers a more streamlined experience, saving you time and ensuring you always have up-to-date information on your budget status. 
Automating transaction imports allows you to focus more on strategizing and less on data entry.
2. Fund Allocation
This online monthly budget planner allows for a more personalized and realistic monthly budget, accommodating for unique aspects of your lifestyle. 
This flexibility ensures that every dollar is accounted for and working towards your goals. With this online monthly budget planner, you can create categories and track your progress throughout the month.
3. Debt Payoff Tracker
If you're focused on eliminating debt, EveryDollar's debt payoff tracker is useful. You can input your debts, interest rates, and monthly payments to plan your debt-elimination strategy.
This online monthly budget planner helps you stay motivated and focused, keeping your financial plans front and center.
Pros
Intuitive and easy-to-use interface
Encourages proactive budgeting with zero-based budgeting system
Allows for customized budget creation
Integrates with Dave Ramsey's financial philosophy
Tracks both expenses and income
Cons
Basic version lacks automatic transaction import
Requires manual input of transactions in the free version
No bill-pay or investment tracking in free version
Premium version is very costly
Some users report glitches with the mobile app
Pricing
 Basic: Free
14-day trial for Premium
Premium: $79.99 (billed annually) & $12.99 (billed monthly)
Conclusion
EveryDollar is an intuitive and effective online monthly budget planner that facilitates the zero-based budgeting method. Its integrations with Dave Ramsey's financial philosophy make it an ideal choice for individuals committed to proactive budgeting.
5. PocketGuard
Take control of your finances with PocketGuard, the online monthly budget planner designed to keep your spending habits in check. 
This planner lets you categorize your income and track your monthly spending against your actual income. It also provides a spending plan to manage your personal expenses. 
With the added feature of an expense tracker, you can keep tabs on everything from your utility bills to childcare costs.
Features
Real-time tracking of bank transactions
Automatic creation of personalized budgets
Ability to track bills and subscriptions
"In My Pocket" feature shows spendable cash
Savings goal tracking
Debt payoff planning
Ability to track cash and manual transactions
Regular reports on spending habits
Custom categories for transactions
Access on both mobile and desktop
Top 3 Features of PocketGuard
1. "In My Pocket" Feature
This unique feature of a online monthly budget planner shows how much you can safely spend after accounting for bills, goals, and pre-planned spending, providing a practical tool for managing your monthly budget.
This online monthly budget planner ensures you have a clear and accurate understanding of your available spending money at all times. 
With a online monthly budget planner you can efficiently avoid overspending and keep a steady track of your budget.
2. Automatic Creation of Personalized Budgets
PocketGuard automatically creates personalized budgets based on your income, goals, and bills. It helps you stick to your spending limits without manually creating a budget.
3. Bill and Subscription Tracking
This feature of a online monthly budget planner provides a handy overview of all your recurring bills and subscriptions, allowing you to keep track of these expenses and potentially identify areas where you can save.
This feature promotes consistent, responsible financial behavior by preventing late payments and the associated fees. 
This online monthly budget planner is a practical tool that fosters punctuality in financial obligations, freeing you from the worry of missing due dates.
Pros
Clear view of how much money is left after bills
Useful for tracking recurring bills and subscriptions
Automatic categorization of transactions
Provides insights on spending habits
Allows tracking of cash transactions
Cons
No desktop version available
Some users report difficulties with transaction categorization
Customer service is reportedly slow
Limited features in free version
Premium version can be expensive for some users
Pricing
Conclusion
PocketGuard is an efficient tool that tracks bank transaction tracking and automatic budget creation. Its unique "In My Pocket" feature offers a clear picture of your disposable income, making it a useful option for those struggling to stick to their budget.
**6. Goodbudget **
Want to allocate your money to different envelopes? Goodbudget is the online monthly budget planner for you. This planner offers a digital approach to the classic cash envelope system. 
With Goodbudget, you can create a joint budget, manage your monthly income and expenses, and keep track of your monthly costs. 
This online monthly budget planner offers budget sheets and a monthly budget spreadsheet to organize your finances. With its debt tracker, you can plan your debt payoff effectively. Goodbudget brings peace of mind to budget planning with its efficient tools and resources.
Features
Envelope budgeting method
Syncing across multiple devices
Ability to share budget with household members
Tracking of income and expenses
Financial reports and spending history
Debt payoff planning
Regular and irregular expense tracking
Customizable envelope budgets
Savings goal tracking
Ability to schedule future transactions
Top 3 Features of Goodbudget
1. Envelope Budgeting Method
Goodbudget uses a modern take on the classic envelope budgeting system. Each digital envelope represents a category of your budget, helping you control your spending habits.
This online monthly budget planner offers a straightforward visualization of your finances, ensuring you don't overspend in any category. 
With this classic budgeting technique from a online monthly budget planner, you can avoid financial stress and gain confidence in your spending decisions.
2. Sync Across Multiple Devices
The feature ensures you, and anyone else on your budgeting team, are always on the same page. This is an excellent feature for couples or families who need to track joint spending and budgets.
This feature makes Goodbudget a great tool for households, as it allows everyone to access and manage the shared budget.
3. Customizable Envelope Budgets
This feature of a online monthly budget planner offers flexibility, as you can create envelopes based on your unique needs and spending habits. It can be a great help in managing your monthly budget effectively.
Pros
Great for shared budgeting with family or roommates
Encourages proactive budgeting with envelope system
Allows for customization of envelopes to suit personal needs
Cross-device sync for real-time budget updates
Provides clear visualization of spending and saving
Cons
Requires manual entry of transactions
Learning curve for those unfamiliar with envelope budgeting
Limited envelopes in the free version
No bill tracking or reminder feature
Lacks investment tracking features
Pricing
Basic Plan: Free
Plus:  $8 per month ($70 per year)
Conclusion
Goodbudget is an innovative online monthly budget planner for household budgeting with its envelope budgeting system. While it requires manual entry of transactions, it excels at shared budgeting, making it ideal for families or roommates.
Best of Best
1. Mint
With its comprehensive budgeting and expense tracking features and the advantage of being free, Mint stands out as one of the best online monthly planners.
Mint takes you beyond basic budgeting and towards comprehensive financial management. Its user-friendly interface makes it an optimal choice for beginners and its financial alerts ensure you never miss any critical financial information.
2. YNAB
Known for its proactive approach to budgeting, YNAB comes in second. Its four-rule methodology is effective for anyone looking to understand their spending habits better.
YNAB focuses on proactive budget planning, encouraging you to assign a job to every dollar you earn. 
With its unique approach to budgeting, YNAB is an excellent tool for those looking to transform their financial habits.
3. EveryDollar
With its easy-to-use interface and focus on zero-based budgeting, this tool takes the third spot. Although the free version requires manual input of transactions, the premium version offers automatic import.
EveryDollar's unique selling point is integrating budget planning with investment tracking.
This feature makes it a standout choice for users who want to manage their daily budget while keeping an eye on their long-term financial growth.
Final Verdict
Online monthly budgeting tools, such as Mint, YNAB, Empower Personal Wealth, EveryDollar, PocketGuard, and Goodbudget, are valuable assets in managing personal finances. Each offers unique features that cater to different financial needs, from detailed budgeting to investment tracking. 
Choose the one that best aligns with your financial goals to ensure you make the most of your monthly budget
Frequently Asked Questions (FAQs)
1. How does an online monthly budget planner enhance my budgeting process?
An online monthly budget planner simplifies budgeting by automating various tasks. It lets you track your income and expenses, categorize your spending, and set financial goals. Using these online monthly budget planners, you can gain insights into your spending habits and take steps to manage your money more effectively.
2. Why is it necessary to use an online monthly budget planner?
Using an online monthly budget planner helps to avoid common mistakes in manual budget management. It provides an organized system that automatically tracks your income and expenses, updates your budget in real time, and offers insights to improve your financial health.
3. Can online monthly budget planners help me manage my credit card usage better?
Absolutely! These tools can track your credit card spending, help you set a limit, and provide timely reminders for payments. This can prevent late fees, reduce overall debt, and improve your credit score.
4. How do online monthly budget planners assist in setting and achieving savings goals?
These planners provide features like savings goals where you can set targets for specific objectives. Tracking your progress and providing regular updates motivate and help you stick to your savings plan.
5. Can these online monthly budget planners help reduce my monthly costs?
Yes, by providing a clear picture of your spending habits, these tools allow you to identify unnecessary expenses. You can then strategize to reduce these costs, ultimately saving money in your monthly budget.
6. How do online budget planners secure my financial data?
Most online budget planners employ advanced security measures like 256-bit bank grade encryption to protect your data. Your bank accounts and credit card details are safe and secure, offering you peace of mind while managing your finances.
7. What features should I look for in an excellent budget planner online?
Your ideal budget planner should offer you a comprehensive budgeting template to record daily and yearly expenses, provide monthly reviews of your finances, and offer goal setting options for your money goals. A compact planner would be a plus for easy navigation. Some might even provide budgeting tips for a more balanced budget.
8. What are the benefits of a premium membership with online financial planners?
Premium memberships with online financial planners often provide added benefits. You get access to an enhanced budgeting style with an advanced budget planner, options to track your debt repayment schedule, and seamless integration with financial institutions. Additionally, premium members may receive a personal budget book or budget tracker book.
9. Are there any affordable and simple budget planning tools integrated with Google Sheets?
Yes, several inexpensive budget planners on the budget planners list integrate with Google Sheets, offering you a simple budget planning tool. These platforms allow recording expenses directly into your Google Sheets, making it a perfect planner for those who prefer traditional paper planners but want to digitize their process.
10. How can I use a budget workbook to manage my monthly bills and work towards my financial goals?
A budget workbook, like those found in excellent budget planners, allows you to record and track your monthly bills, daily expenses, and yearly expenditures. It facilitates goal setting, helping you to stay focused on your money goals. This becomes particularly useful for debt repayment and maintaining a balanced budget.

More Posts