Ever found yourself drowning in a sea of tasks without knowing where your time went? Enter simple time tracking software. These digital wonders help keep you organized and accountable for every second. 
So, without further ado, let's dive into our curated list of the best time tracking software you should consider!
Overview of 10 Best Simple Time Tracking Software
1. WeekPlan
WeekPlan is not just another time tracker; it's a game changer. With its user-friendly design and outstanding features, it stands tall as the top pick. WeekPlan is the ultimate tool when it comes to balancing and prioritizing tasks. 
Top 3 Features of WeekPlan
1. Time Tracking & Prioritization
At its core, WeekPlan assists in not only tracking time but also prioritizing tasks. This ensures that your most critical studies always get the attention they deserve.
2. Role-Setting for Tasks
Assign roles or define the importance of tasks. This keeps clarity in teamwork and ensures everyone knows their role.
3. Integration with Popular Tools
Whether Google Calendar or other tools, WeekPlan has your back with its advanced integration capabilities.
Pros of WeekPlan
Intuitive interface, making it user-friendly.
Extensive customization options.
Efficient role-setting for tasks enhances teamwork.
Cons of WeekPlan
It takes a bit to get used to for complete beginners.
The basic free version might have limited features for larger teams.
Advanced features are available only in premium plans.
WeekPlan's Availability
You can access WeekPlan on Web, iOS, and Android platforms.
WeekPlan Pricing
The app offers multiple pricing tiers, starting with a basic free version. Premium options vary from $1 to $26 per user/month.
Final Verdict on WeekPlan
WeekPlan is a simple time tracking tool that offers much more than time management. With its array of features tailored for individual users and teams alike, it's a must-have tool for anyone serious about time efficiency.
2. Toggl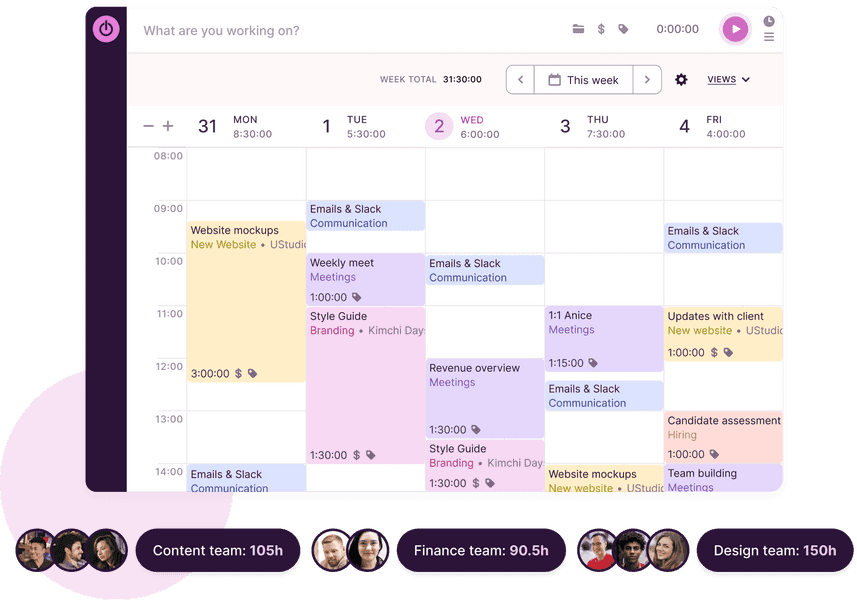 Toggl makes tracking your work hours as simple as a click! Toggl, with its streamlined features, provides real-time insights into your work patterns. It's an essential tool for freelancers, teams, and anyone keen on optimizing their work hours.
Top 3 Features of Toggl
1. One-Click Timer
Initiating a task timer is just a click away. This ensures you can start tracking your time immediately.
2. Detailed Reporting Features
With Toggl, you get in-depth insights into your work habits, helping you understand where you might lose precious minutes.
3. Team Time Tracking Capabilities
Collaborating with a team? Toggl lets everyone clock in their hours, ensuring total transparency.
Pros of Toggl
User-friendly interface with easy navigation.
Extensive reporting capabilities to assess productivity levels.
Offers integrations with various other tools.
Cons of Toggl
Limited features in the free version.
Some users might find advanced features slightly complex.
It might not be ideal for larger teams without an upgraded plan.
Toggl's Availability
Available on the Web, iOS, Android, Windows, Mac, and Linux.
Toggl Pricing
Toggl offers a generous free version. However, for those wanting more, premium plans range between $10 to $20 per user/month.
Final Verdict on Toggl
For those who wish for a simple tool that offers basic time tracking combined with some powerful features, Toggl is your go-to. It's particularly beneficial for freelancers and small teams.
3. Harvest
Harvest is an intuitive time tracking software designed for efficient project management. This tool offers seamless time and expense tracking and quick report generation, facilitating synchronization for remote teams. It is ideal for businesses looking to optimize time and resource utilization and provides clarity on task durations and profitability.
Top 3 Features of Harvest
1. Time and Expense Tracking
An essential feature of any simple time tracking software is the ability to track time efficiently. Harvest takes it a step further by also allowing for expense tracking. 
2. Reporting Tools
Generating detailed reports is a breeze with Harvest. The software provides visual depictions, allowing businesses to understand employee productivity better. 
3. Invoice and Payment Tracking
Financial management is integral to any business. Harvest's invoicing feature ensures you can create, send, and track invoices, helping you manage your project budgets better. 
Pros of Harvest
Simple user interface, ensuring that even beginners can use it with ease.
Integration with various project management tools enhances its functionality.
Real-time monitoring of tasks helps in better time management.
Cons of Harvest
Some users might find the invoicing module limited.
Larger teams might require additional features for more complex projects.
Limited functionality in the basic plan may only be sufficient for some business needs.
Harvest's Availability
Available on Web, iOS, and Android platforms, making it accessible for users across different devices.
Harvest Pricing
Harvest comes with a starting price of $12 per seat/month, offering a balanced mix of advanced features at a competitive rate.
Final Verdict on Harvest
Harvest is an exemplary time tracking software, especially for businesses prioritizing time and expense management. The detailed reports, combined with the ease of use, make it a popular choice among many. Whether you're a single user or handling a team, Harvest promises to precisely streamline your time tracking processes.
4. TimeDoctor
TimeDoctor is a comprehensive solution for those seeking accurate time tracking focusing on employee productivity. Recognized for its real-time task monitoring and meticulous work verification through screenshots, this tool is essential for teams wanting to maintain high levels of transparency.
Top 3 Features of TimeDoctor
1. Real-time Task Tracking
TimeDoctor provides instant insights into what tasks are being worked on and how much time is dedicated to them, promoting efficient time management.
2. Screenshots for Work Verification
This unique feature allows managers to verify the work's authenticity, ensuring team members are genuinely productive.
3. Distraction Alerts
The software gently nudges users when it detects periods of inactivity or browsing non-work-related sites, ensuring time is effectively utilized.
Pros of TimeDoctor
Accurate time tracking
Distraction alerts enhance productivity
Detailed reports for thorough insights
Cons of TimeDoctor
Some users may find screenshots invasive
It has a learning curve for new users
Pricier compared to some competitors
TimeDoctor's Availability 
Available on the Web, iOS, Android, Windows, Mac, and Linux.
TimeDoctor Pricing 
TimeDoctor pricing starts at $9.99 per user/month.
Final Verdict on TimeDoctor 
TimeDoctor is a multifaceted tool for remote teams and businesses prioritizing transparency. Its detailed tracking features and productivity-enhancing alerts make it a top pick for those focused on optimizing team output.
5. RescueTime
In the realm of efficient time tracking, RescueTime establishes a unique footprint. This tool doesn't just keep tabs on your time; it analyzes your activities and helps pinpoint areas where you could be more productive. It is designed to run quietly in the background, so it collates data on the apps and websites. It breaks your take, delivering a holistic view of your work patterns. 
Top 3 Features of RescueTime
1. Automatic Time Tracking Based on Activities
RescueTime runs in the background, meticulously logging your time based on your activities. Whether answering emails, attending meetings, or browsing the Web, the software categorizes your actions. It offers a detailed breakdown of how you spend your hours.
2. Detailed Reports on Productivity
One of the crowning jewels of RescueTime is its comprehensive reporting mechanism. At the end of the day or week, you receive visual reports highlighting your most productive times, frequent distractions, and overall performance. 
3. Distraction Blocking
RescueTime's distraction-blocking feature lets you shut out distracting websites during your focus periods. Suppose you've unintentionally scrolled through social media when a deadline looms. In that case, this feature will be your new best friend.
Pros of RescueTime
Intuitive interface that's user-friendly even for beginners.
Offers an accurate breakdown of productive vs. unproductive time.
Capability to set daily goals to improve time management skills.
Cons of RescueTime
It needs manual time entry, which might hinder some users.
The categorization of productivity sometimes needs tweaking to align with personal definitions.
Some users might find the detailed tracking a tad invasive.
RescueTime's Availability
RescueTime is accessible across a diverse array of platforms. Whether operating on Web, iOS, Android, Windows, Mac, or Linux, you can harness its features to supercharge your productivity.
RescueTime Pricing
While RescueTime does provide a free version, its premium iteration comes in at $12 per month, packed with enhanced features tailored for serious productivity enthusiasts.
Final Verdict on RescueTime
RescueTime emerges as a beacon for those struggling with productivity bottlenecks. It's automated tracking, coupled with insightful reports, provides an eagle-eyed perspective on work habits. While it may take a moment to fine-tune the categorizations to personal preference, once set, it's a formidable ally in the pursuit of efficient workdays. 
6. Hubstaff
Hubstaff is a comprehensive time tracking software that is not only about monitoring hours but also about enhancing productivity. With a wide range of features, from tracking with screenshots to GPS tracking, it offers businesses a multifaceted approach to monitoring their teams and incredibly remote workers.
Top 3 Features of Hubstaff
1. Time Tracking with Screenshots
One of the standout features of Hubstaff is its ability to take random screenshots. This allows for increased accountability, especially for remote teams. Managers can ensure that the hours logged in are genuinely productive.
2. GPS Tracking
For businesses with field agents or employees working out of the office, the GPS tracking feature ensures employees are where they claim to be during work hours. It provides a way to monitor location-based tasks efficiently.
3. Online Timesheets
Hubstaff's online timesheet capability is both accurate and straightforward. Employees can easily log their hours, and managers can review and approve them, streamlining payroll processes and ensuring everyone gets paid correctly.
Pros of Hubstaff
Comprehensive-time tracking with random screenshot capability for increased accountability.
GPS tracking is invaluable for businesses with employees working in the field.
Intuitive online timesheets make payroll processes more straightforward and efficient.
Cons of Hubstaff
Some users might find the screenshot feature intrusive.
It can overwhelm users who want an essential time tracking tool.
GPS tracking may drain the battery faster on mobile devices.
Hubstaff's Availability
Hubstaff is accessible across multiple platforms, including Web, iOS, Android, Windows, Mac, and Linux.
Hubstaff Pricing
Pricing for Hubstaff varies based on features and the number of users. It ranges from $7 to $20 per user/month, providing options that fit various business needs and budgets.
Final Verdict on Hubstaff
When it comes to in-depth employee monitoring and detailed time tracking, Hubstaff stands out. Especially for businesses with remote or field-based teams, its comprehensive features, from GPS tracking to screenshot-based monitoring, ensure that teams remain productive and accountable. 
7. Timely
At the intersection of intuitive design and robust functionality, Timely merges the world of automated time tracking with a user-friendly experience. This app blends the convenience of AI with the power of manual control, offering a seamless way to track work hours.
Top 3 Features of Timely
1. Memory Tracker
Harness the power of automation with Timely's Memory Tracker. This feature automatically logs your activities throughout the day, ensuring no billable hour goes unnoticed.
2. Visual Timeline
Ditch the old-school timesheets and embrace a more visual representation of your day. Timely's Visual Timeline lets you see your entire workday at a glance, making it easy to allocate and adjust time entries.
3. Project Time Management
Efficiently manage multiple projects with Timely's Project Time Management. Allocate time, set budgets, and monitor project health all from one central location.
Pros of Timely
Timely's artificial intelligence automatically suggests time entries, reducing manual input.
The visual timeline offers a refreshing approach to time tracking, which is appealing and functional.
Dive into insights with detailed reports, aiding in better decision-making.
Cons of Timely
While it offers automation, there is still a learning curve to get the most out of its features.
The pricing can be on the higher side for larger teams.
As with all automated tools, recorded hours can occasionally be discrepancies.
Timely's Availability
Timely can be accessed on various platforms, including Web, iOS, and Android.
Timely Pricing
While Timely offers a 14-day free trial for users to get acquainted, its paid plans start from $8 to $20 per user/month.
Final Verdict on Timely
Timely presents a harmonious blend of automation and user control, making it a formidable choice in time-tracking tools. While it shines with its AI features and visual appeal, potential users should weigh its cost against the specific needs of their teams or projects.
8. Hours
Hours steps into the digital arena with a unique blend of simplicity and efficiency, redefining how we perceive time tracking. It prioritizes an intuitive interface, ensuring users spend less time tinkering with the app and focusing more on their tasks.
Top 3 Features of Hours
1. Timekeeping Wheel
Hours introduces the Timekeeping Wheel, a groundbreaking feature that visually captures and represents the time you've dedicated to different tasks, allowing for easy adjustments with a swipe.
2. Smart Reminders
Say goodbye to missed billable hours or overlooked tasks. Smart Reminders in Hours ensure that you're prompted to record time, mainly when the app detects idle periods or changes in activity.
3. Collaborative Time Tracking
Whether you're a freelancer or part of a big team, Hours' Collaborative Time Tracking promotes transparency and efficiency by allowing members to share, view, and comment on each other's time logs.
Pros of Hours
Hours boasts a clean, intuitive design that even tech novices can easily navigate.
With its cloud-based structure, users can be sure their data is updated in real time across all devices.
Gain a clear perspective on where your time is spent with in-depth analytics and reports.
Cons of Hours
The Timekeeping Wheel, while innovative, might not appeal to everyone, especially those accustomed to traditional time-entry methods.
No offline mode, which can be restrictive for users without constant internet access.
Integration with other software is limited.
Hours Availability
Users can access Hours on iOS devices and through a web browser, ensuring flexibility and ease of access.
Hours Pricing
Starting with a generous free tier, Hours offers premium plans beginning at $10 per user/month, which unlocks advanced features such as unlimited reporting and enhanced support.
Final Verdict on Hours
With its refreshing take on time management and its emphasis on user experience, Hours emerges as a strong contender in the market. Its unique features, like the Timekeeping Wheel, set it apart. Still, prospective users should consider its limited integrations and reliance on internet connectivity before diving in.
9. QuickBooks Time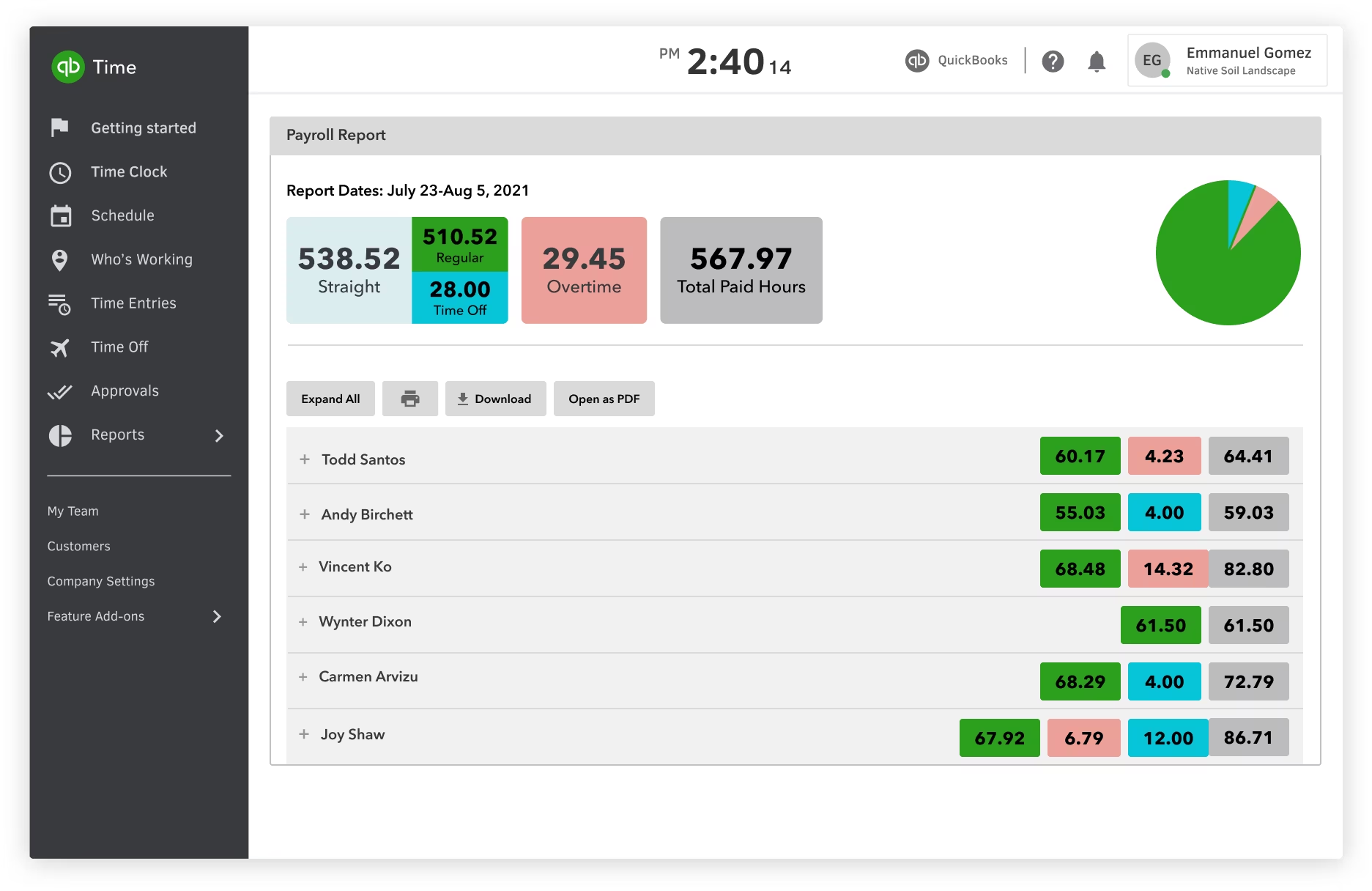 QuickBooks Time, formerly TSheets, seamlessly combines robust time tracking features with the financial prowess QuickBooks is renowned for. This Integration enables businesses to streamline payroll, invoicing, and job costing with precision and ease
Top 3 Features of QuickBooks Time
1. Comprehensive Time Tracking
QuickBooks Time offers Comprehensive Time Tracking suited for individuals and teams. Whether you're clocking in from a desktop or using the mobile app on the go, you can be confident your hours are accurately recorded.
2. GPS Location Tracking
A boon for businesses with remote or field-based employees, GPS Location Tracking allows managers to monitor where and when work is being done, ensuring accountability and efficient deployment of resources.
3. Real-time Reporting
Understanding your business operations is pivotal. With Real-time Reporting, QuickBooks Time provides insights into labor costs, overtime, and project profitability, aiding in informed decision-making.
Pros of QuickBooks Time
Seamless Integration with other QuickBooks products, simplifying payroll and accounting processes.
Customizable for a range of industries, from construction to retail.
Robust Employee Scheduling tools that reduce conflicts and ensure optimal staffing.
Cons of QuickBooks Time
Some users may find its feature-rich environment a bit overwhelming initially.
Though valuable for some, GPS tracking might raise privacy concerns for others.
Pricing can be on the higher side for small businesses or freelancers.
QuickBooks Time's Availability
Users can access QuickBooks Time across multiple platforms via iOS, Android, and web browsers.
QuickBooks Time Pricing
While there is no free tier, QuickBooks Time offers a 14-day free trial. Pricing starts at a $20 base fee plus $8 per user/month. Still, it provides scalable solutions to fit the needs of diverse businesses.
Final Verdict on QuickBooks Time
QuickBooks Time is a heavyweight in the time tracking arena, especially for those already invested in the QuickBooks ecosystem. Its multifaceted features and deep integrations make it a top pick for businesses looking for a comprehensive solution. 
10. Clockify
In a realm of digital tools aimed at elevating productivity, Clockify emerges as a versatile time tracking software. Tailored for individuals and teams, this platform is about versatility, offering functionalities that seamlessly adapt to diverse professional landscapes. 
Top 3 Features of Clockify
1. Unlimited Time Tracking
With Clockify, there are no caps. Track an endless number of hours, projects, and users, all without shelling out a single cent.
2. Team Management
Whether you're leading a small team or steering an enterprise, Clockify's team management tools ensure everyone stays aligned, productive, and accountable.
3. Detailed Reporting
Dive deep into your time analytics. Clockify presents data-rich reports that can be filtered, grouped, and exported per your preferences, giving you a granular look at productivity.
Pros of Clockify
Clockify's robustness isn't just limited. It's available across Web, iOS, Android, mac, and more platforms.
Enhance your Clockify experience by integrating it with other tools you love. It supports a plethora of third-party applications.
Clockify provides a highly customizable interface. Adjust it to mirror your workflow and not the other way around.
Cons of Clockify
With many features, new users need time to adapt to the platform.
While the essential components are expensive, premium features come at an additional cost.
Due to its feature-rich nature, some users might find the interface slightly overwhelming.
Clockify's Availability
Catering to a global audience, Clockify ensures accessibility across different platforms. Whether you're on Web, iOS, Android, or macOS, Clockify is right there with you, providing every minute counts.
Clockify Pricing
While it offers a free version packed with essential features, premium tiers are also available. These tiers unlock advanced functionalities, catering to the nuanced requirements of larger teams and enterprises. 
Final Verdict on Clockify
For those on the hunt for comprehensive time tracking software, Clockify is a commendable contender. With its generous free version and advanced tracking features, the platform is particularly suited for those who need a holistic view of their time management across various projects and teams. 
Week Plan edges out with its straightforward approach, user-friendly features, and the inclusion of a free tier. Though Toggl Plan and QuickBooks Time are robust in their offerings, Week Plan emphasizes simplicity, making it a preferred choice for businesses that need efficient and uncomplicated time-tracking.
Best of The Best - Top 3 Simple Time Tracking Software
1. Week Plan
Week Plan stands out with its intuitive design, automating tedious tasks and making time tracking painless and efficient. The emphasis on a user-friendly interface and features such as auto time tracking and employee scheduling puts Week Plan at the forefront of simple time tracking solutions. 
2. Toggl 
Toggl Plan offers a clean and straightforward time tracking approach, with easy integration into other tools. While it may lack advanced features like auto time tracking, its ease of use and free tier availability make Toggl Plan a favorite among startups and small businesses looking for hassle-free time tracking.
3. QuickBooks Time
QuickBooks Time, a trusted name in the industry, offers robust time tracking combined with seamless integration into QuickBooks. Ideal for businesses already using QuickBooks, this software provides detailed reporting and GPS tracking. Though its user interface is feature-rich, it might require a slight learning curve. 
Conclusion
In the bustling world of business, time indeed equates to money. Having reliable and simple time tracking software can be the difference between streamlined processes and countless hours wasted. While our exploration revealed several noteworthy contenders, Week Plan consistently proves to be a cut above the rest with its dynamic features and user-centric approach. 
Whether you're a startup, a freelancer, or an established business, understanding where your time goes can provide invaluable insights. We recommend giving Week Plan a try, appreciating its intricacies, and maximizing its offerings to achieve efficiency and productivity in your endeavors.
Frequently Asked Questions (FAQs)
1. Why do I need simple time tracking software?
A simple time tracking software helps you efficiently track, manage, and allocate your time. Whether you're a freelancer wanting to bill clients accurately or a business aiming to understand team productivity, such a tool is invaluable.
2. Aren't all time tracking tools the same?
Not exactly. While the primary function might seem similar, different tools offer varying features, interfaces, and integrations. It's essential to choose one that fits your specific needs.
3. How does Week Plan differentiate from other time tracking tools?
Week Plan stands out due to its intuitive interface, robust features tailored for individuals and teams, and seamless integration capabilities with other popular software.
4. Is a steep learning curve involved when adopting a new time tracking software?
This largely depends on the software. However, many modern time tracking tools, especially Week Plan, prioritize user experience and simplicity, ensuring you can get started with minimal hassle.
5. Can I integrate my time tracking software with other tools I use?
Top-tier time tracking tools offer integration capabilities with popular productivity and business software. Week Plan, for instance, offers integrations with several platforms, amplifying its utility.
6. Is it expensive to invest in a time tracking tool?
Prices vary based on features, scalability, and brand. However, considering the insights and efficiencies gained, many businesses and freelancers find it a worthwhile investment.
7. What if I only want to track my personal time and not for a business?
That's perfectly fine! Many time tracking tools, including Week Plan, cater to individual users who want insights into their daily routines or habits.
8. How secure is my data with these tools?
Reputable time tracking tools prioritize user data security. It's always advisable to read the software's privacy policy and ensure they comply with global data protection standards.
9. Can I track time offline or only when connected to the internet?
Many tools offer offline time tracking that syncs data once reconnected to the internet. This ensures uninterrupted Tracking irrespective of your connectivity.
10. Are mobile versions available for these time tracking tools?
Yes, most top-rated time tracking software offers mobile versions or apps, allowing you to track time on the go.

More Posts