Never miss a deadline again with these 8 best daily routine planners for increased productivity. Read this blog to know which daily planner works best for you.
Are you tired of keeping up with your daily essential tasks? Do you too often forget your to-do list and procrastinate until the last minute? Get ready to thank us because we have a list of the best daily routine planners to help you boost your productivity.
Whenever you have a productive day, you feel so happy. With the best daily routine planners, you can make every day effective.
Best daily routine planners are always a good idea when you want to get back on track. There are numerous paid planners and free daily planners online that you can use directly on your desktop by downloading the app or online on search engines like Google.
These best daily planners are specially designed to make you more productive. With multiple features and exciting templates, you can prioritize tasks, set due dates, attach specific reminders, and assign labels to essential duties.
1. Week Plan
First, we have a Week Plan, one of the best daily planners to maintain high activity and productivity. Week Plan's daily routine planner allows users to plan their week ahead of time and set reminders for their personal goals. 
This helps you make a solid, streamlined plan for dividing your time accordingly. This daily routine planner is ideal for those who want to seamlessly integrate essential tasks across teams.
Week Plan has a wide range of features, allowing users to prioritize complex projects and track the time accordingly. This way, you can ensure that your high-impact tasks do not overlap and that your essential duties are completed on time.
With one of the best daily routine planner apps, you can create a routine that works best for you. With so many exceptional features, Weekplan makes it easier for its users to stay on top of the productivity curve and target all their goals conveniently.
Features
Email integration
Comment conversation
Weekly reports
Time tracking and scheduling
Communities for teamwork
Goal and priority setting
First-class calendar
Task Prioritization
Personal and Professional Goals Setting
Daily, Weekly, and Monthly Views
Google Drive Integration
Top 3 Features
1. First Class Calendar 
You can log your team's cumulative performance and work-related tasks with Week Plan's first-class calendar. With a daily task overview and logged shared tasks, you can ensure all your team members are on the same page. You can also integrate your digital calendars with Week Plan and check your team's activity through the task calendar feature.
2. Objectives Key Results (OKR)
Every SaaS company has set specific goals that can be measured with several KPIs (key performance indicators). With Week Plan, you can now focus on all your high-impact tasks (HIT) and make a name for yourself.
3. Pomodoro Timer
If you procrastinate even on the most critical tasks, then the Pomodoro timer feature is for you. You can now track time in two phases of activity and rest and set time limits for individual tasks according to their priority. This way, you can complete all your tasks on time without missing deadlines.
Pricing
The monthly plan starts at $10.83
The yearly plan starts at $104
Supported Platforms
iOS
Android
Windows
Mac OS
Ratings
Capterra: 4.5 rating
G2: 4.3 rating
Conclusion
To conclude, it's safe to say that, Week Plan is a powerpack daily routine planner, that can help you achieve even your toughest tasks with ease. Our amazing planner is specially designed to make you productive and never let you miss any due date.
2. Friday
Friday app is another amazing daily routine planner to help enhance planning your repetitive tasks. Friday is an adaptable planner app with an impressive approach to task management.
But this is not it; the most fantastic part is that the Friday app is time-sensitive. It assists you in reducing distractions by blocking all unwanted notifications until the task is completed. It also allows you to schedule tasks on a sheet that you can visualize with a calendar view and organize all your deadlines and essential tasks in one place.
The Friday app also displays your weekly work summary to show your productivity during your work week. This helps to create good habits and organizational skills.
Features
This planner is loaded with unique features such as;
Time-sensitive notifications
Daily Recaps according to your goal
Weekly Summary of work
Displays Goals
Automatic Task Updates
Content Calendar
Gantt Chart
Time blocking capabilities.
Top 3 Features
1. Productivity Enhancers
If you are a person who likes to plan your week and stay productive, then the Friday app can help you achieve your productivity goals. You can make your mark with unique features like Chrome extension, productivity hacks, and inspirational quotes, you can make your mark.
2. Project Management Templates
With unique project management templates. You can do more while putting in the least effort. These multiple templates can be used for project management, people management, and marketing.
3. App Integrated Tools
The highlight feature of this best daily routine planner is its integrated app. Interesting daily planners, goal-setting software, and team management tools are auto-integrated into the Friday app planner.
Pricing
Two-week free trial period
Free Plan: Multiple calendar integrations and unlimited access to core features
Individual and Teams packages for small and growing businesses starting a $4-$6 per month
Supported Platforms
Ratings
Saasworthy.com: 4.9 rating
Producthunt: 4.8 rating
Conclusion
Although, the Friday app is amazing and has multiple captivating features, it has been discontinued further. This can be quite saddening for you if you've shortlisted it for our best daily routine planner list. But, we hope you can find another interesting best daily routine planner too in our list.
3. Todoist
Todoist, being one of the best daily routine planners, is quite fantastic and helps organize all types of essential tasks, whether personal or professional, with ease. Moreover, Todoist allows you to manage your time according to the priority of your studies.
What makes Todoist the best daily routine planner is that it allows multiple app integrations, making it a hub to get all your productive notifications. This program is ideal for enterprises that must handle many jobs. Todoist is an easy-to-install software that can be downloaded this app on any device and keep up with all your essential tasks.
This online planner allows its users to increase their productivity by minimizing work stress. By allowing them to determine task priority by labeling them, Todosist makes sure everything gets done on time.
Features
You can set due dates
Maintain recurring and completed tasks
Suitable for highly organized management systems
Progress tracking
Reports and Reminders
Organize boards and task ladders
Get tangible goal reports
Top 3 Features
1. Prioritize Important Tasks
Now you can simplify your work goals, using Todoist online planner. With its easy centralized work calendars and setting priority levels, you can now prioritize tasks and create meeting notes. Even if you often forget your to-do list, you can set reminders for important tasks.
2. Quick Add and Edit
If completing your big tasks feels tough right now, you can break down those tasks into smaller sub-tasks. Recurring due dates are also great, as you can get back to your missed tasks whenever you find the time.
3. Personalized Layout
Build an amazing layout according to your own personalized workflow. With amazing Kanban-style boards and layouts, you can set themes to fit your layouts. Labels and filters can also be added to prioritize the tasks and enhance life balance.
Pricing
Free Plan: Add up to 5 active projects, 3 filters, and 5 collaborations on projects
Pro and Business: Multiple active projects and reminders, suited for power users and teams
Supported Platforms
Web-Based
Windows
Mac
iOS
Android
Ratings
Capterra: 4.6 rating
G2: 4.4 rating
Conclusions
Todoist is a great app for those who are into to-do lists. You can now create a great structure to get your work done in time. Getting started on achieving your goals is difficult, with amazing features of Todoist, you can now focus on the right things.
4. ClickUp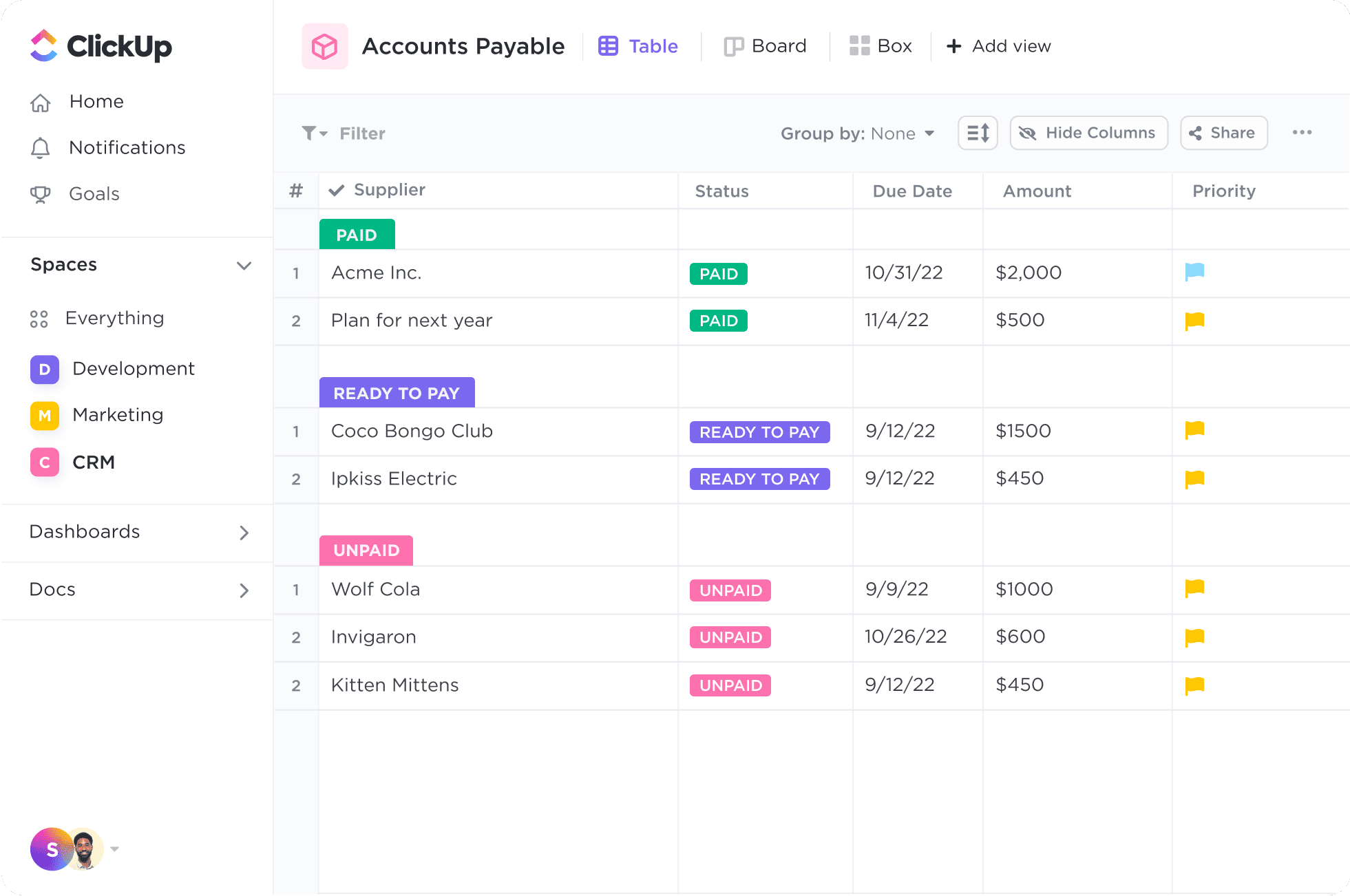 Many people searching to streamline their personal or professional tasks prefer ClickUp as their adaptable planner app. It is also ranked as one of the best daily routine planners.
ClickUp is excellent if you want to keep track of your team's progress and manage their to-do list. It also helps to label the task and create easy-to-set reminders. ClickUp also gives your team insights and weekly reflections to keep them updated on their goal-accomplishing practices.
By receiving weekly insights via email, your team gets the latest updates and notifications on their important tasks or to-do lists. So whether you want to keep track of your daily grocery list or want to make your team's weekly task sheet, ClickUp has impressive features to cover it all.
Features
Calendar view
Labeling of tasks
Create Mindmaps
Checklists and To-do Lists
Set Reminders
Rescheduling tasks
Top 3 Features
1. Organize your Tasks
When your space is decluttered, your mind is also free and you can easily focus on the task at hand. You can now clean all your online task clutter by organizing everything using folders, tasks, and lists. This will help you clear all your visual clutter and set realistic daily goals.
2. Checklists and To-do lists
Change complex tasks into easy-to-handle to-do lists and complete all your pending work on time. Being a SaaS company owner is not easy, and having all your collaborative tasks organized lets you view everything in a place with comprehensible checklists.
3. Customizable Lists
We all like to do our work in a planned way when it comes to essential tasks. You can now save time and make all your work automated with ClickUp as your customizable planner and customize your daily routine through lists and boards.
Pricing
Free forever plan is a great highlight offered at $0
Multiple plans suited for individual members and even small businesses
Supported Platforms
Web-Based
Windows
Mac
iOS
Android
Rating
Capterra: 4.7 rating
G2: 4.7 rating
Conclusion
Clear out your vision and focus on the right thing with ClickUp. With so many amazing plans to suit your need. Now you can take the lead and complete all your tough tasks by breaking them into easy and attainable boards.
5. TickTick
TickTick is an incredible daily routine planner to help you plan your tasks under boards. This adaptable planner app has several advanced features to help enhance daily routine planning. 
Whether you want to go grocery shopping, to a lecture or meeting, and your boss or teacher says something, or you think of something on your own, expecting to remember it but not being able to.
With TickTick you can now make meeting notes and create checklists to assist you in getting started on your work without missing any deadlines.
If you want your team to stay productive and complete all their responsibilities on time, you must inform them of their progress and how they should complete their work. With the task management feature, you can keep all the collaborative tasks in check.
After accomplishing your goals, you will tick off your commissions. This will help you stay organized and productive.
Features
Multiple calendar views
Task Priority Tags
Push Notifications and Reminders
Easy To-do lists and checklists
Goal Accomplishment Scores
Recurring Tasks
Voice Input Settings
Numerous Calendar Views
Top 3 Features
1. Auto-Sync
When you have to use multiple devices at work, it's impossible to get a hold of everything. Using Ticktick, you can now have an automatic sync for your important tasks all over your connected devices. This way, you can never miss any deadline.
2. Voice Input
You might have often listened to people go in public like, "Ok Google" or "Hey Siri" to mark any update or perform any task, when they can't use their hands. Similarly, Ticktick allows you to det your tasks with voice input making it easier for everyone to use.
3. Alert
With this unique feature, you can forget about forgetting your work for the second time also. Using alerts, you can have repeated alerts on your pending and overdue tasks to help you complete them as soon as you can.
Pricing
Free Sign Up
An annual Premium plan for $27.99 (less than $2.4/month)
Supported Platforms
Web-Based
Windows
Linux
Mac OS
iOS
Android
Ratings
Capterra: 4.8 rating
G2: 4.5 rating
Conclusion
Ticktick-lists and planners is an app that might have a funny name but it will brighten up your life. With amazingly loaded and innovative features, Ticktick is a powerpack to make all your worries go away. Now change and create your tasks on the go and always stay connected with device sync.
6. Any.do
Any.do is another famous daily routine planner with several intricate themes and a compact calendar view to make it easy to organize your essential daily tasks. In addition, this fantastic app allows routine sync of all your to-do lists to all connected devices.
You can easily access and change your task sheets on the go. Any.do allow its users to select their task time and set reminders so they remember everything. Therefore, Any.do.do is an excellent app for you if you are a working mom or a student, as it helps you never forget anything.
Although Any.do does not offer that many features, it is still ranked as one of the best daily routine planners due to its team productivity-boosting capabilities. Any.do is an excellent app for creating to-do lists on the go.
Features
Auto-Sync connected devices
Easy Editing of To-do Lists
Set a Common family calendar
Color-coded priority tags
Easy Reminders
Top 3 Features
1. Multiple App Integration
Any.do is an amalgamation of several different apps such as Slack, WhatsApp, Gmail, Google Calendar, Microsoft Teams, and Zapier. This helps you receive different notifications in one place, making it easier to keep track of every task.
2. Templates for Everything
Using different auto-build templates, you can keep everything organized, and focus on what matters to you the most. Any.do gives an option of 100+ templates for beginners to get their planning started.
3. Daily Planner
The Daily Planner feature helps users prioritize their tasks for the day. You can now schedule tasks according to your digital calendar and use this fantastic planner application to enhance productivity. You can also track your events with tasks under the boards.
Pricing
Personal: $0
Premium: $3 per month/ billed annually
Teams: $5 per month/ billed annually
Supported Platforms
Web-Based
Windows
Android
Rating
Capterra: 4.4 rating
G2: 4.1 rating
Conclusion
Being one of the best daily routine planners, Any.do is amazing and greatly helps to maintain productivity. But, it's not compatible with Mac OS or iOS devices, making it not the first choice for iPhone users. However, this app is great for desktops, as it has several app integrations.
7. Trello
To ensure the correct workflow, it is crucial to have transparency among your team members. Here's where Trello comes in; it is also ranked as one of the best daily routine planners.
It's a fantastic app since it helps you reduce distractions, allowing you to focus on what matters most. The presence of Kanban boards distinguishes Trello. 
These boards are specifically intended to promote a smooth workflow for the team. The team members shift these movable boards based on the task's state.
These bulletin boards can also be built and archived. This minimizes communication barriers because you can see what your team is working on now. Trello is ideal for small-scale shared and group tasks.
Features
Manage Shared Tasks
Create Boards, Lists, and Task Cards
Add Comments
Allows collaborative tasks
Kanban-style board
App Integration
Set colored priority tags or labels
Top 3 Features
1. Kanban-style Boards
The most notable feature in Trello is Kanban-style boards. These unique movable cards are there to help you set different tasks as separate boards. This way, you can easily track the progress of these individual tasks. 
2. Define Roles
You can create separate workspaces for each member of your team, avoiding the issue of mixing various people and their work using the task management feature. You can easily construct responsibilities by allocating workspaces and work to each member as an Admin.
3. Set Priority
You may believe that having multiple teams working on a single workspace will make defining a particular task priority harder. But that's not all; with unique labels, you can now simply assign priority labels such as urgent, moderate, or low to various jobs and complete your work on time with a customizable planner.
Pricing
Free
Standard: $5
Premium: $10
Supported Platforms
Web-Based
Chrome
Safari
Firefox
Edge
Rating
Capterra: 4.5 rating
G2: 4.4 rating
Conclusion
With unique cards, lists, and boards, you can now enhance the workflow of your team members and get everything done in time. It, however, does not offer any time tracking services or calendar view like other daily routine planners.
8. ZenDay
Lastly, we would like to discuss ZenDay, another excellent daily routing planer app and one of the best planner apps. Android users frequently use ZenDay to ensure all their important tasks are aligned and organized.
ZenDay is a compact and on-the-go adaptable planner app that helps to reduce procrastination and unproductivity. By setting a due date or a time you might take to accomplish any goal, you can make sure you stay on your timeline and don't postpone any of your tasks.
ZenDay will also automatically reschedule your important tasks for the next day if you still need to complete them on the assigned day. This reduces the hassle of setting manual reminders or missing your daily tasks. But, of course, you can always get back to your tasks the next day.
With App integrations and an intuitive interface, ZenDay is one of the most popular task management apps, allowing you to create banners according to task priority and duration..
Features
3-D app design and display
Automated rescheduling of tasks
Easy to edit due dates
Daily tasks overview
Calendar view tasks
Separate lists
Top 3 Features
1. Improved Timeline Display
ZenDay app is great if you want your tasks to look and feel aligned. This app is great to plan your to-do lists and commitments in a single time and place.
2. Sync all Calendars
Do everything in time when you can access all your lists and calendars in one place. This feature of the ZenDay app helps you set your deadlines and reminders while debriefing your daily tasks and helping you get back to pending ones in time.
3. Dynamic Layout
One unique feature of this app is that it keeps your tasks "afloat," making them look like bouncing bubbles, allowing you to enhance your work layout.
Pricing
ZenDay is a free daily planner
This app uses in-app purchases to unlock features.
Features range from $3 to $11 each.
Supported Platforms
Web-Based
Windows
Mac OS
Android
Rating
Google Play: 4.1
Apple Apps: 4.3
Conclusion
To conclude, we must say that every daily planner app has its own pros and cons. If you want your tasks to appear in a floating way with several task-determining percentages, then ZenDay is the app for you. You can easily download its app on your devices and get your work started in an organized way.
Best of the Best
1. Week Plan
Week Plan stands out as a comprehensive task manager designed around effective time management principles and higher-level objectives. 
Its unique approach to task management aligns personal tasks and professional goals with your overall vision, ensuring a balanced day-to-day routine and a life balance. 
Week Plan supports advanced features like the quadrant view that allows prioritizing tasks based on urgency and importance. It also offers an intuitive digital calendar to integrate personal events and a journal feature to reflect daily goals.
2. Trello
Trello utilizes a Kanban-style board for organizing tasks under boards, providing an innovative approach to daily routine planning. 
Trello excels in collaborative tasks and lets users attach meeting notes directly to task cards. The tool comes with a customizable planner with weekly and monthly planners. 
This adaptable planner app is suitable for both real-life events and professional commitments. It also has App integrations that boost productivity, making integrating with other online planner tools and calendar apps easy.
3. ClickUp
ClickUp offers a robust and versatile range of features, making it a comprehensive online planner for all your needs. Its task management feature is exceptionally advanced and suitable for personal and professional use. 
It provides a unique blend of digital calendars, daily goals, and task scheduling capabilities that significantly help maintain a life balance. The planner application is built with productive times in mind, allowing you to set daily and weekly routines. 
Additional perks include a dark mode and a customizable interface that you won't find in most other planner apps.
Bottom line
You must stay productive if you want to analyze your tasks and ensure all your work is done on time. In this blog, we have listed many different paid daily planners and free daily planners. These can help you stay organized and ensure your team's workflow is completed on time.
Week Plan is one of the top-ranked daily routine planners. It helps to ensure you are given all the top features at a very affordable cost. Week Plan allows users to create lists and boards, sync their calendars, and have unique email integration to ensure that all notifications are received on time.
Frequently Asked Questions (FAQs)
1. How do app integrations work in Week Plan?
Week Plan supports various App integrations through APIs, allowing seamless synchronization with other digital calendars, task management systems, and collaboration tools.
2. Can Todoist's natural language processing be customized for different languages?
Yes, Todoist supports multiple languages, and its natural language processing engine can adapt to different linguistic structures for task scheduling.
3. What is the quadrant view in Week Plan, and how does it aid in task prioritization?
Quadrant view by Week Plan is based on the Eisenhower Matrix, which helps prioritize tasks based on urgency and importance. This feature enhances your approach to task management.
4. Does ClickUp support Gantt Charts for project planning?
Yes, ClickUp has an in-built Gantt Chart feature, providing a visual timeline for projects, and enabling better planning and tracking of tasks.
5. How secure is my data in these planner apps?
Most reputable planner apps like Week Plan, Todoist, and ClickUp employ robust encryption and data protection to secure your data.
6. What are the backup and data recovery options in these apps?
Most planner applications offer cloud-based backup options, and some, like ClickUp, offer additional data export features for local backups.
7. Can you import tasks from other planner apps into Week Plan or Todoist?
Yes, both Week Plan and Todoist offer import features, allowing you to easily migrate tasks from other task management systems.
8. Do these apps offer API access for custom functionalities?
ClickUp and Week Plan offer API access, allowing users to create custom functionalities or integrate with other systems.
9. Is real-time collaboration supported in these planner apps?
Real-time collaboration is supported in Todoist and ClickUp, where multiple users can work on collaborative tasks and share meeting notes instantly.
10. What kind of analytics or reporting features do these apps offer?
ClickUp provides detailed analytics and reporting features that allow you to track task completion rates, time spent, and productivity levels. Week Plan also offers some analytics centered around goal-tracking

More Posts