Ready to supercharge your daily routine and knock that to-do list out of the park? Tablets have evolved into powerful devices capable of performing various tasks. Whether you're a busy student, an entrepreneur, or just someone looking to get more out of your day, the right productivity software for tablets can make a difference. 
This article will explore the top 10 best productivity software for tablets, analyzing their features, pros and cons, and all the essentials you need to know.
Overview of 10 Best Productivity Software for Tablets
1. Week Plan
Week Plan is more than just a task organizer; it's a full-fledged productivity tool built to align with your long-term goals and weekly objectives. This gem allows you to do everything from setting goals to time blocking and task prioritization, offering a holistic approach as a productivity software for tablets.
Top 3 Features of Week Plan
1. Goal Setting
One of the best things about Week Plan is its emphasis on goal setting. You can lay out your goals for the week, month, or even the year, helping you keep focused and aligned with your objectives.
2. Time Blocking
Week Plan takes your calendar and transforms it into a productivity powerhouse. Time blocking helps you allocate specific blocks of time to tasks, ensuring that you're not just making a to-do list but making time to do them.
3. Task Prioritization
Not all tasks are created equal. Week Plan has a task prioritization feature that lets you arrange your tasks according to their urgency and importance.
Pros of Week Plan
The goal-oriented framework encourages long-term planning.
High customization options.
Seamless synchronization across devices.
Offers robust third-party integrations.
Cons of Week Plan
It may take some time to get used to all the features.
The free version has limitations.
Not ideal for simple to-do lists.
Week Plan's Availability
Available on iOS, Android, Web, and Windows.
Week Plan Pricing
Free with in-app purchases; Premium plans start at around $1/week.
Final Verdict on Week Plan
Week Plan is the tablet's top productivity software because of its goal-oriented approach and vast feature set. It is a central dashboard for all your productivity needs, making it a one-stop shop for anyone looking for productivity software for tablets.
2. Microsoft Office
A long-standing titan in productivity software for tablets, Microsoft Office offers an all-encompassing suite for document creation, spreadsheet management, and presentation design. 
Top 3 Features of Microsoft Office
1. Document Creation 
From resumes to reports, Microsoft Word offers robust word processing features to help you easily create polished documents.
2. Spreadsheet Management 
Excel is the go-to software for crunching numbers, managing data, and creating pivot tables to analyze your business metrics.
3. Presentation Design 
PowerPoint provides a variety of templates and features to design captivating presentations for academic, professional, or personal purposes.
Pros of Microsoft Office
Industry-standard software suite
Advanced formatting and review options
Seamless integration between apps
Extensive range of templates
Cons of Microsoft Office
Some features can be overwhelming for beginners.
Subscription required for premium features
Microsoft Office's Availability
Available on iOS, Android, Web, Windows, and macOS.
Microsoft Office Pricing
Free basic versions; Microsoft 365 subscription starting at $69.99/year for individuals.
Final Verdict on Microsoft Office
Microsoft Office remains the industry standard for productivity software for tablets, offering various tools that cater to multiple needs. The pricing options make it accessible, while the comprehensive features ensure you have all you need to stay productive.
3. Notion
When it comes to note-taking and task management with a customizable touch, few can rival Notion. This versatile tool is a blank canvas for your thoughts, tasks, and projects, allowing you to tailor your workspace to your needs as a productivity software for tablets.
Top 3 Features of Notion
1. Note-taking
Notion excels in note-taking, offering a rich text editor and multimedia embedding, making it a superior choice for capturing your thoughts and ideas.
2. Task Management
Keep track of tasks, deadlines, and projects with Notion's flexible task management system. You can organize your workload how you like it, from to-do lists to Kanban boards.
3. Customizable Workspaces
Your workspace in Notion can be as straightforward or as complex as you want. You can create an environment tailored to your workflow with various templates and customization options.
Pros of Notion
Highly customizable
Robust note-taking and editing features
Easy to collaborate with teams
Multiple view options for tasks and notes
Cons of Notion
The steeper learning curve for beginners
Some features behind the paywall
Notion's Availability
Available on iOS, Android, Web, macOS, and Windows.
Notion Pricing
Free with in-app purchases; Paid plans start at $4/month.
Final Verdict on Notion
If you're looking for a workspace that adapts to you rather than the other way around, Notion is your go-to. Its competitive pricing and diverse features make it a powerful contender in productivity software for tablets.
4. Google Workspace
If you're searching for a suite that masters real-time collaboration, look no further than Google Workspace. Formerly known as G Suite, this all-in-one package seamlessly integrates various office applications, such as Docs, Sheets, and Slides, allowing for efficient and collaborative work.
Top 3 Features of Google Workspace
1. Real-time Collaboration 
Google Docs allows multiple users to work on the same document at the same time. Real-time updates and commenting features make it easier than ever to collaborate on text-based projects.
2. Spreadsheet Collaboration 
With Google Sheets, you can collaborate on spreadsheets in real time, making it ideal for everything from budgeting to project management. Built-in chat and commenting functionalities allow for seamless communication.
3. Slide Creation 
Creating compelling presentations becomes a collaborative effort with Google Slides. Multiple team members can edit slides simultaneously, adding text, images, and animations to tell a coherent story.
Pros of Google Workspace
Intuitive and user-friendly interface
Real-time collaboration across all applications
Robust sharing and permissions settings
Compatible with a variety of file formats
Cons of Google Workspace
Limited offline capabilities
Business features require a paid subscription.
Google Workspace's Availability
Available on iOS, Android, and Web.
Google Workspace Pricing
Free basic versions; Business plans start at $6/user/month.
Final Verdict on Google Workspace
Google Workspace offers robust collaborative features, making it a top choice for businesses and teams looking for productivity software for tablets. The pricing is competitive, and the platform's broad range of functionalities meets various needs in the modern workspace.
5. Trello
Trello is your go-to solution for teams that thrive on visualization and streamlined project management. Its robust features also came to our list of best productivity software for tablets. This vital tool uses board-based project management, task cards, and collaboration features to make tracking your projects as simple as dragging and dropping.
Top 3 Features of Trello
1. Board-based Project Management
Trello's main draw is its board-based approach to project management. Each board represents a project or workflow; within each, you can create lists to represent different stages or aspects of that project.
2. Task Cards
Each task within a project is represented by a card, which can contain descriptions, attachments, due dates, and more. Cards move from one list to another, representing their status in the project timeline.
3. Collaboration
Collaboration is a breeze in Trello. Team members can comment on cards, attach files, and even integrate with other tools to keep everyone on the same page.
Pros of Trello
Highly visual and intuitive interface
Flexible and customizable to fit various workflows
Easy to collaborate and communicate within teams
Integrates well with other productivity tools
Cons of Trello
It can become cluttered for complex projects.
Advanced features require a paid subscription.
Trello's Availability
Available on iOS, Android, and Web.
Trello Pricing
Free with in-app purchases; Business plans start at $10/user/month.
Final Verdict on Trello
Trello is a versatile project management tool that suits teams of all sizes. Its visual approach makes it easy to get a quick overview of a project's status, and the tiered pricing structure allows teams to scale up as they grow.
6. Evernote
Are you overwhelmed with managing multiple notes, bookmarks, and ideas? Evernote is here to rescue you. Known for its versatile note-taking features, web clipping capabilities, and support for handwritten notes, this app aims to be your all-in-one productivity software for tablets.
Top 3 Features of Evernote
1. Note-taking
Evernote excels in note-taking with various formats and styles, ranging from simple text notes to more complex layouts with attachments and checkboxes. It offers many templates to get you started.
2. Web Clipping
The web clipping feature allows you to save and store articles, pages, or even just snippets from the web directly into your Evernote account. This makes it incredibly easy to refer back to information without sifting through browser bookmarks.
3. Handwritten Notes
If you're a fan of jotting down notes by hand, Evernote's handwritten notes feature is for you. You can use a stylus or your finger to write directly on your device's screen, and these handwritten notes will be stored alongside your typed ones.
Pros of Evernote
Supports a wide range of note types and formats
High-quality search function that can even search text within images
Extensive organizational features like tags and notebooks
Cons of Evernote
The free version has limited features and storage.
The interface can be overwhelming for new users.
Evernote's Availability
Available on iOS, Android, Web, macOS, and Windows.
Evernote Pricing
The free basic version is available; Premium plans start at $7.99/month.
Final Verdict on Evernote
For those who need a comprehensive solution for managing a wide variety of notes and web clippings, Evernote offers one of the most feature-rich platforms. Its capabilities extend beyond simple note-taking, making it a strong contender for anyone looking to organize their digital life through productivity software for tablets.
7. Adobe Acrobat
When it comes to dealing with PDFs, Adobe Acrobat is arguably the gold standard. Renowned for its robust PDF Viewing, PDF Editing, and e-signature features, Adobe Acrobat offers an all-in-one solution for professionals and casual users.
Top 3 Features of Adobe Acrobat
1. PDF Viewing
Adobe Acrobat offers a powerful PDF viewer that allows easy navigation, zooming, and document searching. Advanced features like 'Read Out Loud' and 'Night Mode' enhance the user experience further.
2. PDF Editing
Need to make changes to a PDF document? Adobe Acrobat's editing features allow you to manipulate text, adjust layouts, and even insert images without sweat. The software makes it simple to update any PDF document.
3. e-Signatures
Signing documents has always been challenging, thanks to Adobe Acrobat's e-signature feature. You can quickly add your signature to PDFs by drawing or uploading an image. Secure and compliant, this feature is invaluable for professionals who regularly deal with contracts and legal documents.
Pros of Adobe Acrobat
Comprehensive PDF toolset
Reliable and secure e-signature capabilities
Intuitive user interface
Cons of Adobe Acrobat
The full range of features requires a subscription.
Some features can be complex for novice users.
Adobe Acrobat's Availability
Available on iOS, Android, Windows, and macOS.
Adobe Acrobat Pricing
While there's a free basic version, the Acrobat Pro DC subscription starts at $14.99/month to unlock the full range of capabilities.
Final Verdict on Adobe Acrobat
Adobe Acrobat continues to be the go-to choice for anyone needing to view, edit, and sign PDF documents. Its comprehensive feature set and industry-standard compliance make it an invaluable tool for productivity software for tablets.
8. Slack
When it comes to seamless team communication, Slack stands in a league of its own. Known for its outstanding features like Team Communication, File Sharing, and Direct Messages, Slack has become a staple in businesses around the globe.
Top 3 Features of Slack
1. Team Communication
Slack enables teams to communicate organizationally through various channels through which departments, projects, or topics can be categorized. This makes it easier to keep conversations relevant and searchable.
2. File Sharing
Sharing files is a breeze with Slack. Whether you share project assets, reports, or memes, you can quickly drop them into the channel or direct message. Slack integrates with various cloud storage services, making file access and sharing a seamless experience.
3. Direct Messages
For private, one-on-one, or small group discussions, Slack offers Direct Messages. This feature allows team members to have confidential conversations without cluttering the main communication channels.
Pros of Slack
Highly customizable interface
Robust integration capabilities with other software tools
Real-time messaging promotes rapid communication.
Cons of Slack
It can be overwhelming with multiple channels and messages.
Advanced features require a paid subscription.
Slack's Availability
Available on iOS, Android, Web, macOS, and Windows.
Slack Pricing
While Slack offers a free version with limited features, its paid plans start at $6.67/user/month and provide a host of advanced functionalities.
Final Verdict on Slack
Slack is a robust and versatile communication tool that has revolutionized how teams interact online. Its comprehensive features and wide range of integrations make it an invaluable asset for any modern workspace.
9. Asana
If managing tasks and projects feels like herding cats, then Asana is the solution you've been waiting for. Known for its robust features such as Task Assignment, Project Timelines, and Due Dates, Asana is designed to help teams stay organized and meet their goals efficiently.
Top 3 Features of Asana
1. Task Assignment
Asana makes assigning tasks to team members easy, clarifying responsibilities and expectations. This feature ensures that everyone knows their role and what they need to accomplish, reducing the chance of tasks falling through the cracks.
2. Project Timelines
Planning and tracking progress becomes a breeze with Asana's Project Timelines. You can visualize your project's roadmap, adjust schedules as needed, and see how changes might impact your deadline.
3. Due Dates
The Due Dates feature in Asana allows you to set and monitor deadlines for individual tasks and entire projects. This helps keep the team accountable and ensures that work is timely.
Pros of Asana
Easy-to-use interface with drag-and-drop functionality
Comprehensive tracking and reporting features
Seamless integration with other apps and tools
Cons of Asana
The learning curve for advanced features
Some useful functionalities are behind a paywall.
Asana's Availability
Asana is available on iOS, Android, and Web platforms.
Asana Pricing
Asana offers a free basic version that's perfect for small teams. Their Premium plans start at $10.99/user/month for more advanced features and larger team collaboration.
Final Verdict on Asana
Asana stands out for its focus on team collaboration and project management. Its intuitive design and feature-rich platform make it a compelling choice for teams looking to optimize their workflow and stay on top of tasks.
10. Dropbox
When it comes to efficiently storing, accessing, and sharing your files, Dropbox has got you covered. With top features like Cloud Storage, File Sharing, and Offline Access, Dropbox simplifies how you manage and distribute your files, regardless of your device.
Top 3 Features of Dropbox
1. Cloud Storage
Dropbox provides a secure and scalable cloud storage solution. Whether you need to store documents, media files, or backups, your files are just a click away. 
2. File Sharing
This feature allows effortless sharing of files and folders with team members, friends, or family. You can control who has access to your files and for how long, thus making collaboration much more effortless.
3. Offline Access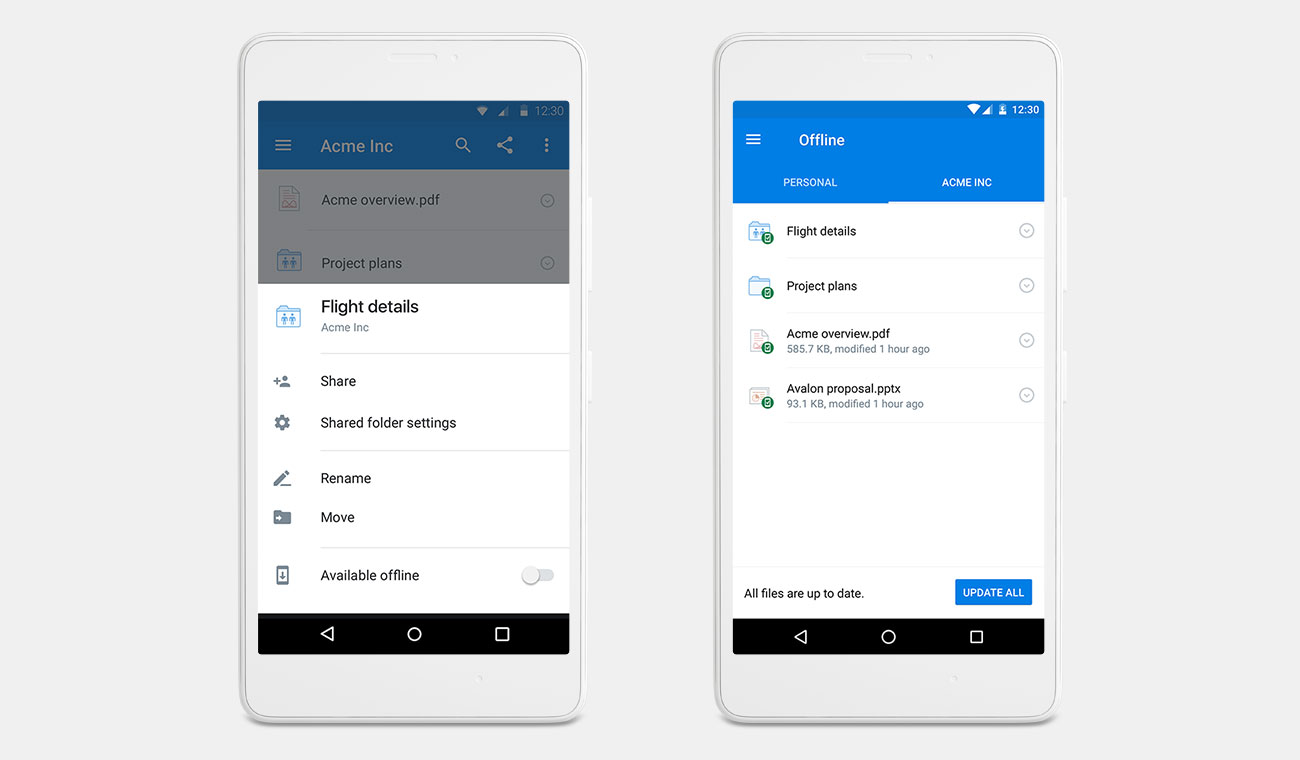 With Dropbox, you're not tethered to an internet connection to access your files. The Offline Access feature lets you download and work on files without an internet connection, allowing you to be productive from anywhere.
Pros of Dropbox
Intuitive user interface
Strong security measures, including two-factor authentication
Compatible with multiple operating systems
Cons of Dropbox
Free storage capacity is limited.
Larger files can take a while to upload.
Dropbox's Availability
Dropbox is widely available across iOS, Android, Web, macOS, and Windows platforms.
Dropbox Pricing
While Dropbox offers a free basic plan with in-app purchases, their Plus plan starts at $9.99/month for more storage space and additional features.
Final Verdict on Dropbox
Dropbox remains a strong contender in the cloud storage space. Its user-friendly design and robust features make it an ideal choice for individual users and businesses alike. With Dropbox, you can easily store, access, and share your essential files whenever necessary - Your go-to productivity software for tablets.
When it comes to productivity software specifically designed for tablets, Week Plan stands out for several reasons, as seen in the table. Week Plan offers a well-rounded feature set tailored for tablet productivity, making it the best choice for individuals and teams looking for a versatile and effective solution for productivity software for tablets.
Best of the Best - Top 3 Productivity Software for Tablets
In this roundup, we have handpicked the top 3 productivity software to elevate your tablet experience. Each software excels in its features and compatibility. 
1. Week Plan
Week Plan is our top pick due to its powerful task management capabilities, real-time collaboration, and customizable workspaces. The software offers a well-rounded feature set explicitly tailored for tablets, making it an indispensable tool for individuals and teams.
2. Asana
Asana is a close second because of its robust project management features, including task assignment and timelines. While it lacks offline access, its real-time collaboration and customizable workspaces make it a strong contender.
3. Dropbox
Dropbox takes the third spot for its seamless cloud storage and file-sharing capabilities. Though it lacks task management features, its reliable offline access makes it a versatile choice for document storage on the go.
Conclusion
After an exhaustive review of productivity software for tablets, it's clear that Week Plan stands out as the ultimate choice for individuals and teams looking to streamline their task management and planning processes. Its feature-rich interface and tablet optimization give it the edge over high-performing apps like Asana and Dropbox. With myriad options, we hope this guide has made your decision-making process more manageable. No matter your productivity needs, an app in our Top 10 list is likely perfect for you and your tablet.
Frequently Asked Questions (FAQs)
1. What should I consider when choosing productivity software for tablets?
When selecting productivity software, consider features, ease of use, cross-platform compatibility, and pricing to ensure it meets your needs.
2. Is it essential for the software to be cross-platform?
For most users, yes. Having software that works across different platforms (iOS, Android, Web, macOS, Windows) allows for greater flexibility and accessibility.
3. How secure is my data in productivity software?
Security varies between different software. It's crucial to check what kind of encryption and security measures the software employs to keep your data safe.
4. Do I need to invest in paid productivity software?
While many apps offer free versions with basic functionalities, paid plans generally provide more advanced features and better support.
5. Can I collaborate with my team using productivity software for tablets?
Many productivity apps offer collaboration features such as real-time editing, team chat, and task assignments to facilitate teamwork.
6. How are productivity apps for tablets different from their desktop counterparts?
Tablet versions are generally designed for touchscreen use and may have a more simplified interface. However, most of the core features are usually present.
7. Is it hard to transition from one productivity software to another?
It depends on the software. Some apps make it easy to import/export data, but there could be a learning curve when adapting to a new interface.
8. What kind of customer support can I expect?
Customer support quality varies. Some offer 24/7 support, while others might have limited hours or only provide email support.
9. Is there any productivity software designed explicitly for tablets?
While most software is designed to work on multiple platforms, some apps are optimized for tablet use, offering features like stylus support or enhanced touch controls.
10. Can I use multiple productivity apps together?
Some people prefer using different apps for tasks like note-taking, project management, and file storage. Just ensure that they can integrate well to streamline your workflow.

More Posts