Need help managing your daily time effectively? You're not alone. With the digital era's progression, finding tools that help us stay organized is increasingly essential. Time Planner for Mac can be your savior, allowing you to manage your tasks, set goals, and ensure you stay on track. 
This article will delve deep into the top 7 Time Planner apps for Mac, covering their features, pros and cons, and everything in between.
We've covered you, from to-do lists to daily planners with advanced features. Whether you're looking for an app to help with daily tasks or something more comprehensive for time management, we've scrutinized every detail. 
Quick Overview of 7 Best Time Planners for Mac
1. Week Plan
Week Plan is a famous time planner for Mac, tailored especially for those who aim to align their tasks with long-term objectives. Its intuitive interface ensures that even if you're new to the time planner for Mac world, you will avoid facing a steep learning curve.
Top 3 Features of Week Plan
1. Roles & Goals Setting
One of Week Plan's standout features is its ability to help you set roles and goals, allowing you to align your daily tasks with your overarching objectives.
2. Weekly Planner View
The weekly planner view provides a comprehensive snapshot of your upcoming tasks, ensuring you're always prepared for the week ahead.
3. Quadrants
The Quadrants feature, based on the urgent/important matrix, helps you prioritize tasks, ensuring you tackle the most critical items first.
Week Plan Pros
Intuitive user interface.
Comprehensive features tailored for goal-setting.
Offers both daily and weekly views.
Week Plan Cons
It may be overwhelming for first-time users.
Limited customization options compared to some competitors.
Focuses more on week-based planning than daily.
Week Plan's Availability
Available on Web, iOS, Android, Windows, and Chrome Extension.
Week Plan Pricing
Week Plan offers a free basic version. The Pro version is priced at $10.83/monthly.
Final Verdict on Week Plan
Week Plan emerges as a top contender in the world of time planner for Mac due to its focus on aligning daily tasks with long-term goals. It's particularly beneficial for those looking to get a clearer picture of their weekly tasks, making it a must-try for anyone aiming for holistic time management.
2. Fantastical
Fantastical stands out as one of the most intuitive and feature-packed time planner for Mac available. Designed to enhance scheduling and time management, this software caters to macOS, iOS, and Apple Watch users, ensuring they never miss an event or appointment.
Top 3 Features of Fantastical
1. Natural Language Event Creation
Typing "Lunch with Alex at 2 pm tomorrow" directly translates into an event. No more fiddling with drop-down menus and date pickers – Fantastical understands and converts your words into calendar entries seamlessly.
2. Powerful Weekly View
Get a clear snapshot of your entire week with this feature. Allowing users to plan effectively, the powerful weekly view gives a comprehensive overview of what's coming up.
3. Time Zone Support
This feature ensures clarity for the global trotters and those collaborating across different time zones. Schedule events in any time zone, and Fantastical will adjust it for you, ensuring you're always on time.
Fantastical Pros
The app boasts an easy-to-navigate design, making scheduling a breeze.
Being available on multiple Apple platforms ensures you have your schedule handy, no matter where you are.
The software's natural language processing capability is remarkable, making event creation smooth and hassle-free.
Fantastical Cons
It is exclusively available for Apple users, leaving out many Android and Windows users.
Some users might find the premium subscription slightly higher for a calendar app.
Fantastical Pricing
Fantastical operates on a freemium model. This means users can access basic features without any cost. However, for a richer experience and access to advanced functionalities, there's a premium subscription available at $4.99/month.
Fantastical Availability
Tailored for Apple enthusiasts, Fantastical is available for macOS, iOS, and even the Apple Watch. This ensures you're notified about your schedule no matter which device you use.
Final Verdict on Fantastical
Fantastical brings a fresh approach to time planner for Mac, with its natural language event creation being a game-changer. While the pricing might be a concern for some, the features offered in the premium version make it a worthy investment. Fantastical is an excellent choice if you're within the Apple ecosystem and looking for an advanced calendar solution.
3. Things 3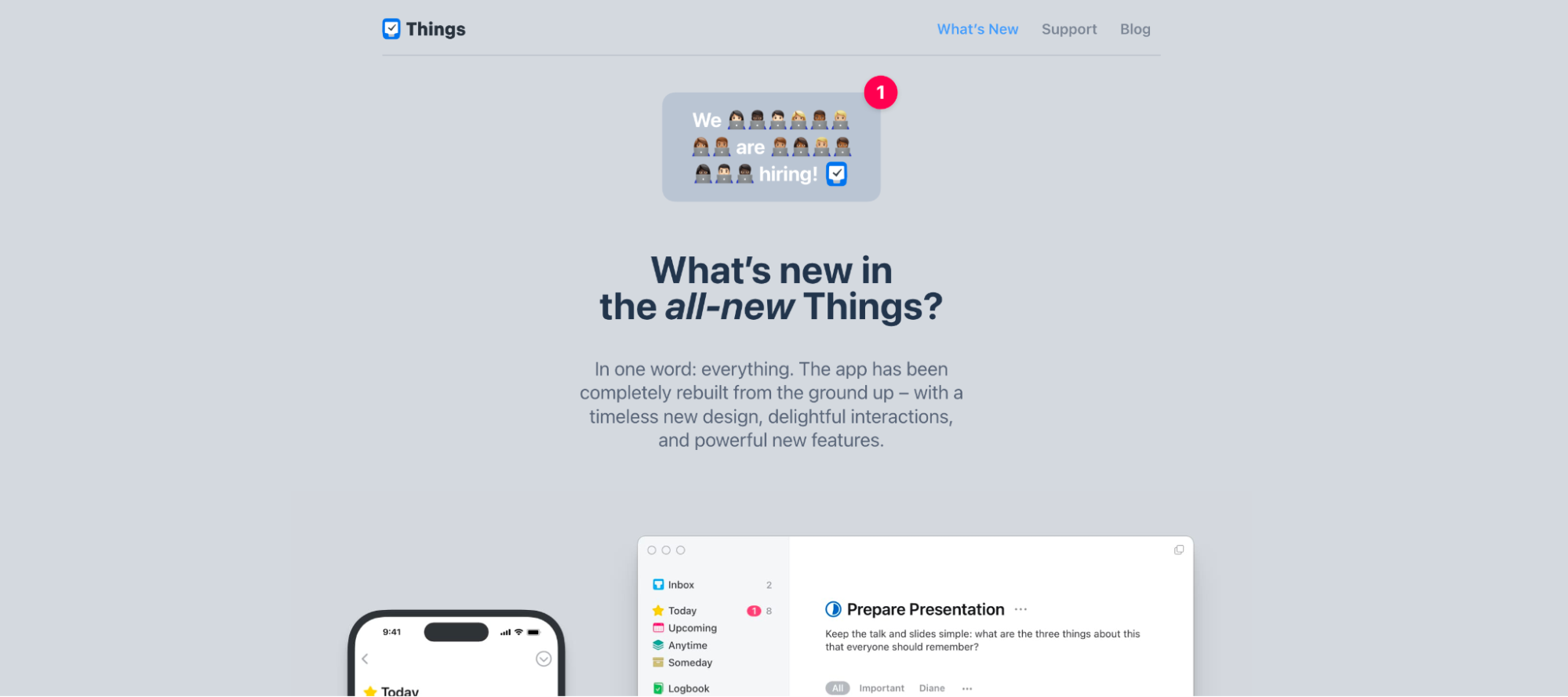 The best time planner for Mac is masterfully executed by Things 3. Tailored for individuals invested in the Apple ecosystem, this application simplifies the time planner for Mac like no other, ensuring users stay ahead of their to-dos.
Top 3 Features of Things 3
1. Upcoming Weekly View
The "Upcoming" view in Things 3 provides a chronological overview of your tasks for the week, ensuring you're always prepared for what lies ahead and never miss a deadline.
2. Magic Plus Button
Swiftly add tasks without disrupting your workflow. The Magic Plus button ensures that task entry is just a tap away, making sure that no thought or task goes unrecorded.
3. Multiple Windows & Sidebars for Organizing
Need to multitask? Things 3 has got you covered. With support for multiple windows and sidebars, you can simultaneously view and organize different projects or task lists, streamlining your productivity.
Things 3 Pros
Things 3 stands out with its minimalist design that does not compromise functionality, making task management pleasurable.
Seamlessly transition between devices while keeping track of your tasks.
With tags, checklists, and areas, the software provides ample flexibility to manage tasks of any complexity.
Things 3 Cons
Like other top-tier apps, Things 3 is restricted to Apple devices, leaving out potential users on Android and Windows platforms.
A one-time cost of $49.99 might deter some potential users, especially when cheaper or free alternatives are available.
Things 3 Pricing
Things 3 has set its price for the macOS version at $49.99. This one-time fee grants users access to a host of powerful task management features that are unrivaled in its domain.
Things 3 Availability
Crafted for Apple aficionados, Things 3 is smoothly integrated and available across macOS, iOS, and iPadOS platforms. Whether on your computer, phone, or tablet, your tasks and projects remain synchronized and accessible.
Final Verdict on Things 3 
Things 3 is undeniably among the best time planner for Mac available for the Apple ecosystem. Its blend of intuitive design and powerful features makes it a must-have for anyone serious about productivity. The pricing might seem steep, but for those seeking a premium task management experience, Things 3 delivers in spades.
4. Trello
Navigating the expansive world of time planner for Mac, Trello is a beacon for individuals and teams. Its visually appealing and intuitive card-based system makes project organization efficient and enjoyable.
Top Features of Trello
1. Customizable Boards
Trello's boards act as a canvas for all your tasks. With the ability to customize backgrounds, lists, and labels, users can tailor their board to reflect the nature and mood of the project at hand.
2. Card-based Task System
Each card in Trello can encapsulate a task, complete with descriptions, checklists, attachments, and comments. The drag-and-drop nature makes task progression transparent and satisfying.
3. Power-Ups (Add-ons)
Trello isn't just about boards and cards. Its Power-Ups system allows for integration with a plethora of other tools and services, supercharging the platform's capabilities and adaptability.
Trello Pros
The board and card system visually represent tasks, making it easier to grasp project progression.
From personal tasks to large team projects, Trello is adaptable to varying scales of management needs.
Power-Ups significantly expand Trello's functionalities, allowing integration with tools like Slack, Google Drive, and more.
Trello Cons
While the free version is robust, certain advanced features and integrations are reserved for the Business Class.
For users who prefer simple to-do lists, Trello's board system might seem too elaborate initially.
Trello Pricing
Trello generously offers a basic version at no cost, allowing users to familiarize themselves with its core features. The Business Class version is priced at $9.99/user/month for teams or individuals looking for enhanced functionalities.
Trello Availability
Trello is accessible across multiple platforms, including Web, macOS, iOS, Android, and Windows. This ensures seamless project management regardless of your device of choice.
Final Verdict on Trello
Trello offers a fresh perspective on time planner for Mac, balancing visual aesthetics with practicality. Its customizable nature caters to a variety of users, from freelancers to large organizations. Though some may find its richness a tad overwhelming initially, with time, many come to appreciate the flexibility it offers. Given its generous free tier and a reasonable pricing structure for advanced features, Trello is a commendable choice for anyone keen on an efficient time planner for Mac.
5. Microsoft To Do
In the realm of time planner for Mac, Microsoft To Do emerges as a simple yet effective solution for individuals and teams. Evolving from the beloved Wunderlist, Microsoft's offering streamlines daily planning and collaboration.
Top 3 Features of Microsoft To Do
1. My Day Daily Planner
Microsoft To Do's standout feature is the "My Day" section. It prompts users every morning to review their tasks and select those they aim to complete that day, fostering a sense of daily purpose and direction.
2. Customizable Lists
Tailoring your task lists has always been challenging. With Microsoft To Do, you can personalize lists with colors, backgrounds, and even emojis to reflect the essence of the tasks or projects they contain.
3. Task Sharing
Collaboration is a breeze with the task sharing feature. Whether delegating responsibilities at work or sharing a grocery list at home, Microsoft To Do facilitates seamless collaboration.
Microsoft To Do Pros
Given its origins, Microsoft To Do integrates effortlessly with other Microsoft products like Outlook.
Its design emphasizes clarity and ease of use, making it suitable even for those new to task management tools.
Task sharing ensures that teams or families can collaborate on tasks with minimal friction.
Microsoft To Do Cons
Professionals seeking intricate project management tools might find Microsoft To Do a bit basic.
Long-time Wunderlist users might experience a learning curve or miss certain beloved features.
Microsoft To Do Pricing
Microsoft To Do is a gift to the time planner for Mac community, coming at the unbeatable price of free. This means users can access its robust suite of features without any financial commitment.
Microsoft To Do Availability
True to its commitment to inclusivity, Microsoft To Do spans a plethora of platforms including macOS, iOS, Android, Windows, and Web, ensuring you have access to your tasks wherever you are.
Final Verdict on Microsoft To Do
Microsoft To Do strikes an impressive balance between simplicity and functionality. For those searching for a straightforward, user-friendly time planner for Mac that offers solid features at no cost. While it may not replace advanced project management tools, it certainly holds its own in the day-to-day time planner for Mac domain.
6. Notion
Diving deep into the world of versatile workspaces, Notion stands tall. This all-in-one workspace tool is not just another time planner for Mac; it's a cohesive platform designed for notes, tasks, wikis, and databases, reshaping the way professionals, students, and creative minds organize their digital lives.
Top 3 Features of Notion
1. Customizable Templates
Notion's flexible design architecture allows users to craft pages from scratch or choose from a myriad of templates. Whether you're building a reading list, a project tracker, or a personal journal, there's a template to kickstart your journey.
2. Databases with Various View Modes
One of Notion's crowning features is its database capability. You can construct tables, kanban boards, calendars, or lists, and even switch between these views based on your current need.
3. Embeddable Content Blocks
Elevate your pages with a variety of embeddable blocks, from simple text and images to code snippets, videos, and third-party integrations. This capability ensures your workspace remains dynamic and multimedia-rich.
Notion Pros
From personal journals to intricate project management setups, Notion's flexibility is unmatched.
Share pages, co-edit in real-time, and leave comments, streamlining team efforts.
Notion's team is known for its responsive approach, frequently rolling out updates and new features based on user feedback.
Notion Cons
Notion's vastness can be overwhelming for newcomers. The initial setup might require a time investment.
Some users report occasional sluggishness, particularly on content-rich pages.
Notion Pricing
Notion offers an impressive array of features even in its free version. For users looking to harness the full power of the platform, the Personal Pro plan comes in at a reasonable $4/month.
Notion Availability
A hallmark of a top-tier software is platform versatility. Notion gracefully checks this box, making its services available across macOS, iOS, Android, Windows, and Web. Your workspace, therefore, is accessible anytime, anywhere.
Final Verdict on Notion
For those yearning for a digital workspace that evolves with their needs, Notion is a dream come true. Its blend of simplicity, sophistication, and scalability makes it a favorite for many. While beginners might face a slight adjustment period, the rewards, in terms of organization and productivity, are well worth the effort.
7. OmniFocus
Venturing into the world of time planner for Mac with a more granular focus, OmniFocus takes the spotlight. Developed by the Omni Group, this software brings a structured approach to tasks and projects, presenting users with a suite of features tailored for in-depth organization and productivity.
Top 3 Features of OmniFocus
1. Forecast View
With OmniFocus's Forecast view, you can peer into your upcoming tasks and calendar events. This forward-looking perspective ensures you're prepared for the days and weeks ahead, effectively managing your time and priorities.
2. Context-based Task Management
OmniFocus pushes beyond traditional task lists by introducing 'contexts.' This means you can associate tasks with specific locations, tools, or situations. So, if there's a task you can only accomplish when you're at the office or with a particular person, OmniFocus will highlight it accordingly.
3. Review Mode
Periodic reviews are key to maintaining an organized and relevant task list. With Review mode, you can systematically reassess and recalibrate your tasks and projects, ensuring that nothing slips through the cracks and your goals remain aligned.
OmniFocus Pros
Detailed task input fields, contexts, and tags mean tasks are not just listed but deeply understood.
Tasks and projects sync flawlessly between macOS and iOS devices via Omni's cloud.
The Pro version offers a higher degree of customization, suiting varied work styles and needs.
OmniFocus Cons
For some, the pricing can be on the steeper side compared to other task management apps.
Those outside of the Apple ecosystem will find themselves unable to use OmniFocus.
OmniFocus Pricing
OmniFocus's commitment to a detailed time planner for Mac comes with a price tag. The Standard version for macOS is priced at $39.99, while those seeking advanced functionalities can opt for the Pro version at $79.99.
OmniFocus Availability
A tool designed keeping Apple enthusiasts in mind, OmniFocus is available on macOS and iOS platforms, ensuring a seamless experience between desktops and mobile devices.
Final Verdict on OmniFocus
OmniFocus is a powerful contender in the time planner for Mac arena, especially for users who enjoy in-depth planning and review. Its Apple-centric design ensures smooth integration and operation on Macs and iPhones. However, its price and platform exclusivity might deter some potential users. If you're an Apple user looking for a robust time planner for Mac, OmniFocus certainly deserves a spot on your radar.
Week Plan emerges as a clear contender when it comes to serving as a Time Planner for Mac. While both OmniFocus and Notion present powerful functionalities, Week Plan strikes a balanced blend of features, making it an all-rounder.
Best of Best - Top 3 Time Planner for Mac
1.  Week Plan
Holding the crown in our list, Week Plan offers an unparalleled blend of intuitive time-planning features tailored to Mac users. It effortlessly encapsulates the essence of time management with its Forecast View, Context-based Task Management, and seamless integrations. Its flexibility in accommodating structured and customizable planning methodologies makes it an essential tool for professionals and individuals seeking a time planner for Mac.
2.  OmniFocus
A close contender, OmniFocus brings to the table a refined approach to time management with its signature Forecast View, Context-based Task Management, and unique Review Mode. Built primarily for the Apple ecosystem, it appeals to dedicated Mac and iOS users, offering deep integrations and a polished user experience that emphasizes productivity and task prioritization.
3.  Notion
Redefining the boundaries of time planner for Mac, Notion presents a modular approach to time management. With its vast array of customizable templates and powerful database views, users can craft their unique workspace. Though it might miss a few specific planning features, its adaptability and multi-platform presence ensure it secures a spot in our top three, catering to a diverse user base that values flexibility and collaboration.
Conclusion
Navigating through the digital labyrinth of time planner for Mac can be daunting, but finding the perfect fit for your Mac doesn't have to be a Herculean task. After an in-depth analysis, we've sieved out the best in the business. And while all the tools listed have their strengths, Week Plan undeniably stands tall as the beacon of efficient time planning. So, why settle for ordinary when the best is within reach? Embark on a transformative journey of productivity; give Week Plan a spin as your time planner for Mac and redefine your time management on Mac.
Frequently Asked Questions (FAQs)
1. Why is it essential to have a dedicated Time Planner for Mac?
Mac users often seek a seamless experience between their software and the macOS interface. A dedicated time planner for Mac is optimized for the platform, ensuring smoother performance, better integration, and a consistent user experience.
2. What makes Week Plan superior to other time planners for Mac?
Week Plan offers an intuitive design and comprehensive feature set that goes beyond mere time planning. It's structured to cater to the holistic organizational needs of a user while ensuring that the focus remains on prioritization and effective time management.
3. Can I sync my time planner across different Apple devices?
Most modern time planners, including Week Plan, offer synchronization across various devices. This means you can plan on your Mac and seamlessly access and edit your schedule on an iPad or iPhone.
4. Are there any security concerns with using online Time Planners like Week Plan?
Reputed time planners, like Week Plan, prioritize user data security. Always check for encryption measures, privacy policies, and user reviews to ensure that your chosen software is safe and respects user privacy.
5. How can I ensure that I'm using all the features of my Time Planner efficiently?
Most time planners for Mac offer tutorials, user guides, or webinars. For Week Plan, many resources are available to help users maximize the platform's potential, ensuring that every feature is used to its utmost.
6. How steep is the learning curve for tools like Week Plan?
Week Plan is designed with users in mind, ensuring an easy-to-understand interface. While each software might have its nuances, starting with user-friendly options like Week Plan can make the transition smoother. 
7. Do these time planners offer collaboration features for team planning?
Some time planners, including Week Plan, come equipped with features that allow for team collaboration, task assignment, and shared calendars. This makes them suitable for both personal and professional use.
8. How often are these Time Planners updated with new features?
It varies from software to software. However, most top-tier time planners, including Week Plan, have regular updates that introduce new features, refine existing ones, and ensure compatibility with the latest macOS versions.
9. What's the primary difference between free and paid versions of time planners for Mac?
While free versions offer basic time planning features, premium subscriptions often unlock a host of advanced functionalities. With Week Plan, the premium version provides advanced planning capabilities, among other features, making the investment worthwhile for severe planners.
10. Can I migrate my data from one time planner to another?
Yes, many time planners offer import/export functionalities. Before making a switch, check if both your current software and the one you're transitioning to (like Week Plan) support data migration to ensure a hassle-free experience.

More Posts