Staying organized is more crucial than ever in a world that never stops. Daily planner apps have become indispensable tools for effectively managing personal and work-related tasks. 
With various features, from integration with Google Calendar to intricate task management, these apps serve as your assistant, streamlining your daily schedule and activities.
However, not all daily planning apps are created equal. The range of features can be overwhelming, from essential to-do lists to complex project management capabilities. That's why we've done the heavy lifting for you, narrowing the list to the five best day planning apps that excel in user-friendly interface, advanced features, and seamless task management.
This blog will discover which daily planner apps cut and why they are ideal for optimizing your daily routine.
Overview of 5 Best Day Planning Apps 
1. Week Plan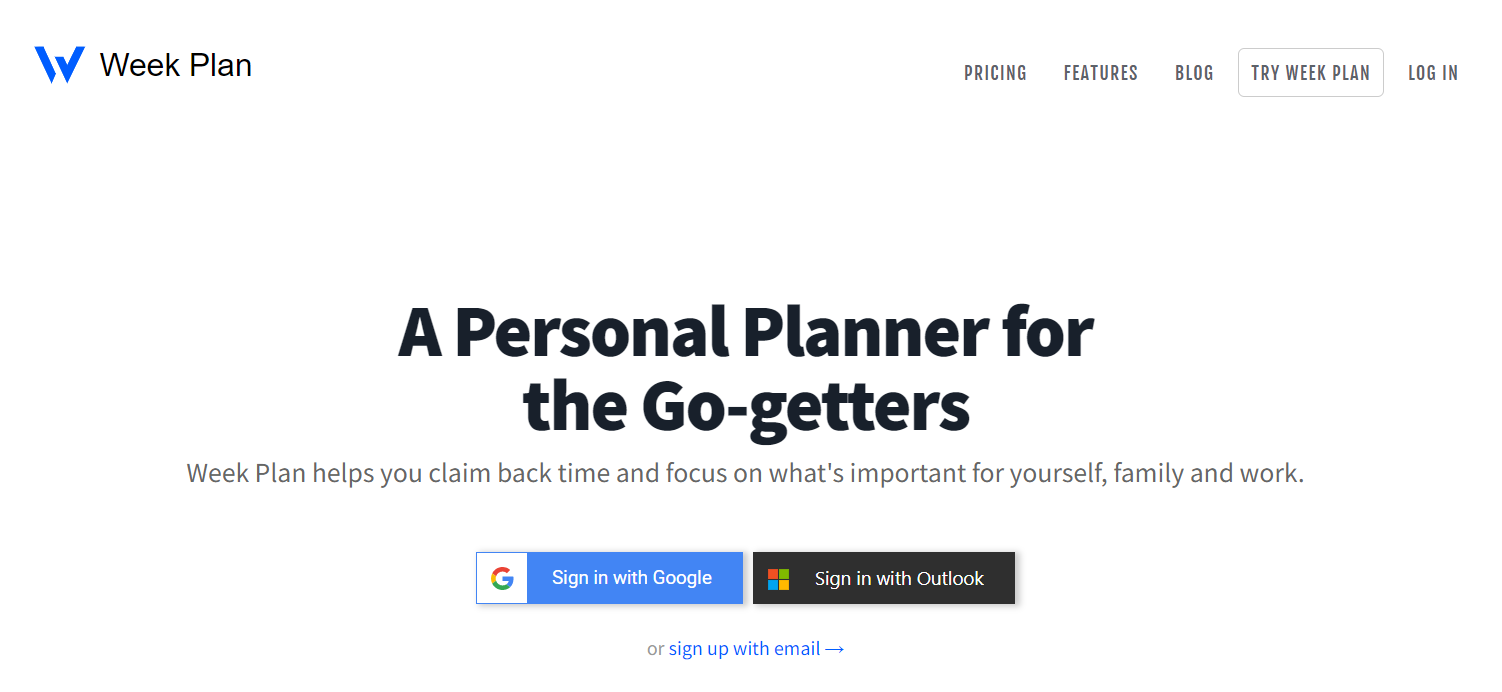 Week Plan stands out as a top-tier daily planner app, offering a harmonious blend of advanced features beyond essential to-do lists. With Week Plan, you'll manage your daily routine and strike a balance in your life like never before. Week Plan is a simplistic, sophisticated day planner app with fabulous features and excellent functionalities. 
Week Plan Features
Set up Goals / OKR
Task Management
Recurring tasks
Time Tracking
Roles
Goals Planner
Life Planner
Focus Planner
Productivity Planner
Personal Planner
Work Planner
Daily Planner
Weekly Planner
Monthly Planner
Calendar Planner
Week Plan Top 3 Features
1. Time Blocking
Week Plan shines as a daily planner app by offering a time-blocking feature, where you can allocate specific blocks of time to tasks or categories of tasks. This method is highly effective for task management, helping you focus and prioritize your daily tasks in a user-friendly interface.
2. Priority-based To-Do List
Week Plan offers a highly efficient to-do list feature that helps you prioritize your daily tasks effectively. It's not just an essential task list; it's a day planner app designed to align with your daily goals. 
3. Role-based Task Management
Unique among daily planning apps, Week Plan allows you to allocate tasks based on the various roles you play in your life, be it as a parent, employee, or friend. This feature gives you a wide range of capabilities for effective task management. 
Week Plan Pros
Role-Based Task Management for Better Life Balance.
Priority-Based To-Do List enhances task management.
Time Blocking aids in a well-structured daily schedule.
User-friendly interface for easy navigation.
Recurring Tasks simplify daily planning.
Week Plan Cons
Limited Integrations with other software.
Learning curves for new users may need clarification.
Subscription Required for advanced features.
Week Plan Pricing
Week Plan offers a monthly subscription that costs $10.83 and a Yearly subscription that costs $104.
Week Plan Availability
Week Plan is available for Android, iOS, and Windows.
Final Verdict on Week Plan
Week Plan stands out as a robust day planning app, offering a user-friendly interface coupled with powerful daily planner app features. Its priority-based to-do list and role-based task management help you achieve a balanced daily routine, ensuring you get all the personal tasks and work-related activities. Week Plan is a comprehensive tool that can genuinely upgrade your daily schedule.
2. ClickUp
ClickUp is a robust day planner app that can be used for professional purposes. Across the globe, more than 800,000 teams are availing of its features and benefitting from its functionalities. ClickUp has some of the top names as its clients, namely Samsung, IBM, Booking.com, and many more.
ClickUp Features
Docs
Goals
Dashboard
Whiteboard
Chat
Automation
Gantt charts
Native Time Tracking
Mind Maps
Notepad
To-do List
Kanban Board
Sprints
ClickUp Top 3 Features
1. Gantt charts
The Gantt charts are one of the best features of ClickUp, especially for managing daily tasks. This feature makes task scheduling super easy; you can organize multiple tasks within minutes.
Gantt charts open up numerous possibilities that can be extremely helpful for you and your teams. 
2. Dashboard for Daily Planning
The dashboard feature is your ultimate analytical tool for daily planning. This feature is designed to make reporting easier and quicker for your daily tasks. This feature provides you with the overall picture of what activities are being conducted and what employee is working on which tasks. 
3. Time Tracking
ClickUp sets itself apart in daily planner apps with its time-tracking feature. This tool lets you plan your daily tasks and keep tabs on how much time you spend on individual tasks. This is invaluable for work-related and personal tasks, enabling you to manage your day more effectively through its day planning app. 
ClickUp Pros
Advanced task management accommodates personal and work-related tasks.
Time tracking enhances daily planning efficiency.
User-friendly interface for easy navigation of daily schedules.
ClickUp integrates with Google Calendar for a comprehensive everyday planning experience.
ClickUp Cons
The initial learning curve for fully utilizing the daily planning app.
Less advanced features in the free version affect daily planning options.
ClickUp Pricing
ClickUp starts with a lifetime free version but with limited features; for unlimited features, you can take the first subscription that costs $5 per user per month, a business subscription that costs $12 per user monthly, business plus $19 per user monthly. If you want an enterprise subscription, you need to request a quote for custom pricing.
ClickUp Availability
ClickUp is available for Android/Mobile, Desktop App Windows, and Alexa.
Final Verdict on ClickUp
ClickUp is an inch-perfect day planner app; the features it caters to its users help them plan and strategise daily tasks and projects. ClickUp has also won the users' trust, which is evident from the ratings it has collected.
3. Todoist
Todoist is a comprehensive day planning app with one of the best mobile applications. Todoist can be operated flexibly throughout any device, which makes it an ultimate convenient day planner. The features and functionalities offered by this planner not only help you in daily planning but also focus on making the execution of daily tasks on time. Todoist is your ultimate tool for managing and planning your daily activities related to work or life.
Todoist Features
Quick Add
Recurring due dates
Sections & Subtasks
Priority levels
Favourites
Reminders
Delegate Tasks
Notification
Todoist Top 3 Features
1. Quick Add
The feature of quick ads allows you to organize and create tasks instantaneously. The name of the feature itself is self-explanatory. If an urgent task lands on your table, this feature allows you to do rapid task creation so that executions on that task can be started as early as possible. 
2. Priority levels
Priority levels are one of the most critical features of planning your day. This feature highlights the most important tasks set according to their priority. This helps you know what tasks need to be executed for today; this optimizes your daily task planning and allows you to avoid any backlogs or delays in work.
3. Reminders
In our daily lives or while working, we often get distracted or start to procrastinate; this leads to unproductivity and unnecessary delays in our work. Procrastination can be avoided, and todoist has a feature - reminders. The feature of reminders alters you regarding the most important daily tasks. 
Todoist Pros
Simplified task management, suitable for both personal tasks and work-related tasks.
User-friendly interface ensures efficient navigation of daily schedules.
Recurring tasks feature aids in consistent daily planning.
Quick overview with colour-coding and labels to prioritize tasks.
Todoist Cons
It requires a premium version for unlimited reminders and advanced features.
Some users might find the approach to task management too essential for complex projects.
Limited project management capabilities compared to specialized apps.
Todoist Pricing
Todoist starts from the free version but with limited versions; You can get a pro version that costs $4/user/monthly and a business version that costs $6/user/monthly.
Todoist Availability
Todoist is available for Android, windows, and MacOS.
Final Verdict on Todoist
Todoist is highly rated and recommended as a day planning app. Its feature optimizes your daily planning and helps you meet your daily targets. Top corporations and organizations like NASA, Facebook, Apple, NETFLIX, and others have trusted Todoist. The big-name clients of Todoist show how competent it is as a day planner.
4. Any.do
Any.do is a fabulous day planning app, the one-stop solution for daily planning. Its features are tailored to streamline your daily scheduling, which helps you in getting your daily work done instantly. As a day planning app, Any.do is trusted by over 30 million users. If such a large number trusts a platform, then it reflects its credibility and how beneficial its features are. 
Any.do Features
To-do list and tasks
Project Management
Daily Planner (My Day)
Calendar
Reminder
Chat & Collaboration
Integrations
Imports
Any.do Top 3 Features
1. Daily Planner (My Day)
The feature of the daily planner (My Day) offered by Any.do is a personalized daily planner for you. The Day Planner (My Day) lets you jot down all your professional and personal tasks in one place. This helps you remember all your daily tasks. This feature also provides valuable suggestions like which daily tasks you should focus on.
2. To-do List & Tasks
The to-do lists & tasks feature is designed to bring out the best performance from you and your team. The feature can be helpful for you in multiple ways. Firstly, task creation can be done within seconds with this application, and secondly, you can easily set the start and end times of the projects.
3. Reminders
The feature of reminders empowers you to kick procrastination out of your life. This feature notifies you when the tasks are to be initiated; as you get such notifications, you become alert and eager to complete the crucial daily tasks. While planning, we often add a few tasks to our daily goals. When your focus is centred on a particular task, you often forget about others; this feature prevents you from forgetting about other daily tasks so that all your daily planned tasks are achieved. 
Any.do Pros
Any.do Cons
Any.do Pricing
Like many other day planning apps, Any.do starts with the free version and offers a premium version which costs $3/user/monthly; for teams it costs $5/user/monthly.
Any.do Availability
Any.do is available on any mobile, PC, or Laptop device.
Final Verdict on Any.do
Any.do is a day planning app with all the essential features needed in a day planning app. Its massive consumer base and excellent ratings signify that this software is among the best daily planners. Trusting this day planning app for your daily planning is one of the safest bets you can place.
5. TickTick
TickTick is one of the most impressive daily planning apps; this day planning app is easy to use and offers valuable features that can help you optimize your daily tasks/objectives management. The features offered by TickTick take daily task planning to a whole new level.
TickTick Features
Voice input
Widgets & Quick ball
Smart date parsing
Task duration
Multiple reminders
Location reminder
Recurring tasks
Folder lists, tasks, and checklists
Tags
Multi-priority
Sorting
Search
Calendar view
Calendar subscription
Pomo Timer
White Noise
Sharing lists
Assigning tasks
Tasks activities
List activities
Achievement score
Statistics
Summary
TickTick Top 3 Features
1. Voice Input
While planning your day using TickTick, you need minimal effort as the tasks can be added through voice input. This means that you would barely have to do anything to create your daily tasks, which means that less time would be wasted, and planning your day becomes instantaneous.
2. Multi-Priority Daily Projects
The feature of multi-priority enables you to create four priority levels for your daily projects. Firstly, there is a high priority, followed by medium, low, and no priority. While planning your day, you can easily set your daily tasks on the priority list accordingly. This helps you to centre your focus and time on the most important daily tasks.
3. List Activities
The feature of list activities helps you to have a view of all the tasks and activities that are in progress. This means that as a manager, you would be updated about all the daily tasks of your subordinates, and you can also see whether they are acting according to your daily set targets and plans.
TickTick Pros
Versatile scheduling app functions allow detailed daily planning.
Habit tracker app integration aids in personal development alongside task management.
User-friendly task calendar view for an organized daily task overview.
Innovative scheduling features automatically slot tasks into free time in daily planners.
Provides Kanban-style boards for visually managing tasks.
TickTick Cons
Some advanced features are available only in the premium version.
Limited integrations compared to other daily planner apps.
The user interface, while intuitive, might require some initial learning for first-time users.
TickTick Pricing
TickTick offers a premium version, which costs $27.99 annually.
TickTick Availability
Final Verdict of TickTick
TickTick is a user-centric day planning app. This planner stresses the importance of planning and scheduling to achieve daily objectives. Its beyond-satisfactory ratings indicate that it is users' favourite day planning app.
Week Plan emerges as a forerunner, offering a comprehensive daily planning app for managing personal tasks and setting daily goals. Week Plan's focus on the essentials of a day planner makes it stand out. 
Best of Best - Top 3 Day Planning Apps
1. Week Plan
Standing tall at the forefront of the day planning apps is Week Plan. Week Plan offers a blend of task management and daily scheduling; this tool ensures no task goes unnoticed. Offering a user-friendly interface and a powerful tool for managing personal and work-related tasks, Week Plan is the ideal daily planning app for individuals aiming for productivity and balance in their routines.
2. ClickUp
A close runner-up, ClickUp brings an advanced approach to task management with its intuitive interface and wide range of features. It caters to daily planning and is robust enough for complex projects. Integrating seamlessly with Google Calendar, this daily planner app ensures you're on top of your game, whether handling individual tasks or collaborating on shared tasks.
3. Todoist
Simplifying daily planning app Todoist offers a straightforward user interface complemented by versatile scheduling capabilities. With the primary focus on to-do list creation and task list views, it provides a quick overview of daily tasks, ensuring you take advantage of personal events, team meetings, or any task in your daily routine. While it might not have the extensive features of its counterparts, its simplicity and efficiency make it a favourite for many.
Conclusion
We have discussed the A-list day planners that can optimize your daily planning and make this process hassle-free. All the daily planning apps mentioned above are feature-rich platforms for daily tasks and objectives management and planning. These daily planners' features enable you to make the most of your day. However, when it comes to a question like which day planning app is best, the answer is simple - Week Plan. Week Plan is the best day planning app among all of these. This planner has features and functionalities that focus on daily planning, time management, and productivity elevation. Week Plan is also affordable and easy to use, which makes it worth the choice as a day planner. So avail the services of Week Plan; with it, daily planning can be done right.
Frequently Asked Questions (FAQs)
1. What is a day planning app? 
A day planning app, also known as a daily planner app, is a digital tool designed to help users organize and manage their daily tasks, events, and activities.
2. Why should I use a day planning app? 
Day planning apps offer a convenient way to manage your tasks, appointments, and goals in one place. They provide features like to-do lists, calendars, reminders, and task management tools to enhance productivity and time management.
3. How do I choose the right day planning app for me? 
When choosing a day planning app, consider your specific needs and preferences. Look for features like task management, calendar integration, mobile accessibility, and any additional functionalities that align with your requirements.
4. What are the key features to look for in a day planning app? 
Key elements to consider include task management capabilities, calendar integration, reminders, ease of use, compatibility with mobile devices, and any advanced features like project management tools or collaboration options.
5. Can a day planning app help with managing my daily routine? 
Many day planning apps allow you to create and manage daily routines, set reminders for recurring tasks, and allocate time for different activities to help you maintain a structured and balanced routine.
6. Are there any apps that offer a Kanban-style task management feature? 
Some day planning apps provide a Kanban-style board for visual task management, allowing you to organize tasks into different stages and track their progress. Make sure to check the app's features list for this functionality.
7. Are there any day planning apps with collaboration features? 
Some day planning apps offer collaboration features, such as shared tasks, team meetings, and integration with communication tools. If you're working with a team or want to share tasks with others, look for apps that provide collaborative functionalities.
8. How can I compare different day planning apps to make the right choice? 
Compare day planning apps based on user reviews, available features, ease of use, mobile accessibility, pricing, and integration options. This will help you make an informed decision based on your needs.
9. Are there any recommended day planning apps offering basic and advanced features? 
Yes, various day planning apps are available that cater to different needs. Look for apps that balance basic features like to-do lists and calendars and advanced features like project management, time tracking, and collaboration tools.
10. What should I consider when it comes to pricing for day planning apps? 
Pricing models for day planning apps can vary. Consider factors such as the features offered in each pricing tier, whether there's a free trial, subscription costs, and whether the app's features justify the investment for your productivity needs.

More Posts