Are you tired of setting personal goals and struggling to accomplish them? Do you find yourself getting distracted and losing focus on your dreams? Well, fret not because help is at hand! In this blog, we'll be sharing the top goal planner apps that can help you achieve your dreams. 
Say goodbye to procrastination and experience better productivity with the best goal planner apps! Dive right in and start achieving those dreams!
1. Week Plan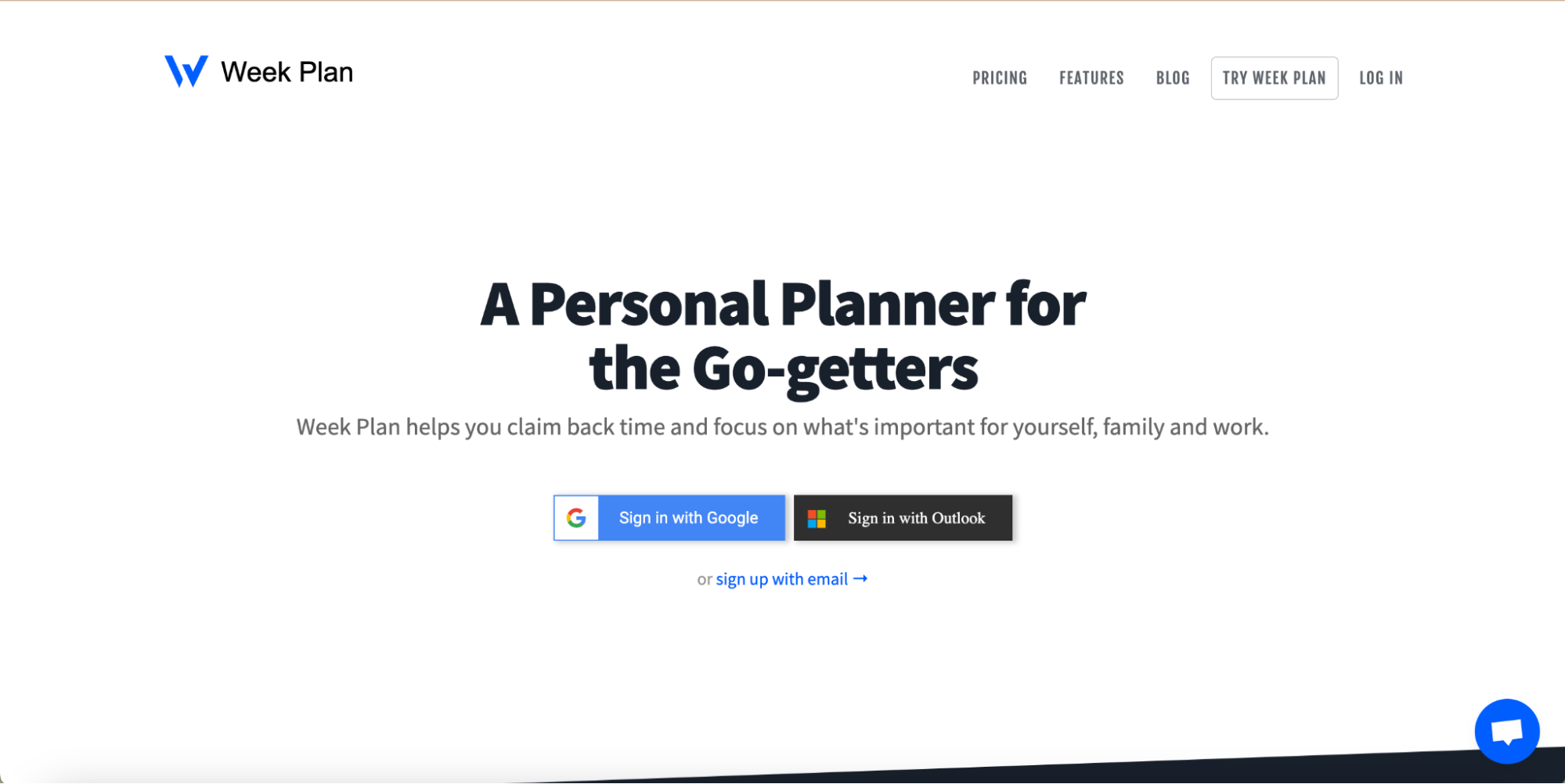 Week Plan is the ultimate goal planner app that transforms how you set, manage, and achieve your personal and professional goals. Our app offers an intuitive and holistic approach to organizing your goals, ensuring you always see the bigger picture while tackling the smaller tasks. 
Week Plan makes it among the best goal planner app, providing a comprehensive solution that enables you to break down long-term goals into subtasks or milestones, set their importance, and track your progress in real-time.
The key to Week Plan's success is its unique blend of features that promote enhanced productivity, stress reduction, and flexibility in goal planning. With tools like SMART goal setting, action plans, built-in journals, and weekly reviews, we elevate your goal-planning experience to a new level. 
Features
Weekly Planning 
Quadrant View 
Time Tracking
High impact tasks
Week View
Pomodoro Timer
Calendar
Integrations
Team Collaboration
Top 3 Features of WeekPlan 
1. Weekly Planner Layouts
Week Plan operates as a weekly planner that allows users to organize and prioritize tasks for the week. The Weekly layouts feature provides an easy-to-view interface, showing a detailed breakdown of your entire week, thereby helping individuals to visualize their personal and professional goals. This layout helps in setting a specific time frame for goals and ensures that daily tasks and actionable steps are laid out efficiently.
2. Quadrant View
The quadrant view in Week Plan offers a unique and efficient method for categorizing tasks based on urgency and importance. This visually appealing layout promotes thoughtful decision-making and helps you focus on high-priority tasks that contribute to goal attainment. By optimizing task management, our quadrant view streamlines the path to success.
3. Goal Dashboards
Week Plan includes Goal Dashboards that are designed to help users keep track of their various goals in manageable chunks. The dashboards provide a graphical representation of progress, helping users to visualize and track progress towards their yearly and monthly goals. These dashboards can be customized to display personal, team, or business goals.
Pricing
Monthly subscription for $10.83
Yearly subscription for $104
Testimonials
Customer support
Chatbot
Community Forum
Knowledge Base
Online Ticket
Email
Conclusion 
Week Plan is an intuitive goal planner and personal planner app, task management, and time planning platform that facilitates you in organizing your personal and professional lives. With features such as weekly planning, prioritization, role-based organization, and goal-setting, our goal planner app empowers you to achieve a balanced and productive lifestyle. 
Complemented by a robust customer support system, we foster user satisfaction and loyalty, making it an indispensable app for those seeking enhanced time management and organization capabilities.
2. ClickUp
When it comes to effectively planning and achieving your goals, ClickUp is the best goal planner app that you can rely on. As you dive into the app, you'll immediately notice its intuitive and user-friendly interface, designed to keep you engaged and motivated throughout your goal-setting journey. 
With its advanced features and customizable dashboards, ClickUp allows you to break down your goals into smaller, more manageable tasks, helping you stay organized and on track. Whether working on personal projects or collaborating with a team, this app offers the perfect flexibility and structure to cater to your unique needs.
Features
Project Management
Remote Work
Task management:
Time tracking
Goals and OKRs
Gantt charts
Custom fields
Subtasks and checklists
Collaboration
Multiple views
Top 3 Features of ClickUp 
1. Task Management
ClickUp's powerful task management system helps you keep your goals on track by creating, assigning, and organizing tasks with custom statuses. Its simple interface allows easy navigation and management, ensuring smooth collaboration on projects.
2. Time Tracking
ClickUp includes robust time tracking features, giving users precise data on how they spend their workday. This feature is crucial for professional performance and employee engagement, allowing managers and individuals to identify areas for improvement. Time tracking features enable detailed reporting on time spent on each task or project, aligning daily tasks with overarching goals.
3. Interactive Goal Dashboards
ClickUp's Goal Dashboards offer visual, interactive chart representations of goal progress, enabling users to see the status of their personal and professional goals at a glance. Users can set daily, weekly, monthly, and yearly goals, making progress tracking and time frame management more efficient. This key feature enhances ClickUp's utility as a goal planner software.
Pricing
Basic: Free
Unlimited: $5 per member per month
Business: $12 per member per month
Testimonials
Customer Support
Chatbot
Technical Support
Platform Support
Conclusion 
ClickUp is a comprehensive project management solution that elevates productivity with its robust task management, time tracking, and multiple view features. Its user-friendly interface and versatile functionality cater to diverse working styles, fostering collaboration and simplifying goal tracking.  
3. Strides 
Strides stand out as a robust goal planner app due to its exceptional flexibility and customization options. With four unique tracker types – Habit, Target, Average, and Project – you can effortlessly track any goal or habit, no matter how diverse or specific their needs may be. 
The app also offers a simple 3-step process for setting SMART goals and a variety of popular tracker templates to help users get started. In addition, strides adapt to the user's preferences, ensuring a personalized and engaging experience tailored to individual goals.
Features
Daily Goals View
Progress Report 
Task organizer
Progress tracking
Habit formation
Customizable goals
Deadline reminders
Visual analytics
Milestone achievements
Sync capability
Social sharing
Motivation boosters
Top 3 Features of Strides
1. Daily Goals View
​​The daily goal view is an essential feature of Strides, providing a clear and concise breakdown of your day-to-day objectives. This user-friendly layout encourages productivity and helps maintain focus by presenting tasks in an organized manner. 
With goal-tracking tools integrated seamlessly, you can monitor their progress and make necessary adjustments. The simple interface empowers you to stay on top of your daily goals while fostering a sense of achievement and motivation.
2. Visual Analytics 
Visual analytics in Strides offers a dynamic and engaging way to understand personal progress. The app provides detailed reports incorporating charts, graphs, and other visual elements, making it easier to identify trends and patterns. 
By transforming raw data into digestible visuals, you can quickly analyze your performance, spot areas for improvement, and make data-driven decisions. This feature encourages continuous growth and ensures you can keep your goals on track.
3. SMART Goals
Strides help you set SMART goals by providing a simple 3-step process that encourages you to create goals that are Specific, Measurable, Achievable, Relevant, and Time-bound. The app guides users through each aspect of a SMART goal, ensuring that your goals are well-defined and actionable.
If you want a quicker start, Strides offers popular tracker templates already designed as SMART goals. These templates can be easily customized to fit individual needs, allowing users to begin their goal-setting journey with a solid foundation. 
Pricing
Free on AppStore
In-app Purchases 
Lifetime membership: $79.99
Testimonials
Customer support
Help Center
Feature Requests
Conclusion 
Strides is a versatile goal planner app that streamlines task management, habit formation, and personal growth. With its user-friendly interface, daily goal view, visual analytics, and robust support, you can effectively track your progress and maintain motivation. Strides are the ideal companion if you seek to achieve your goals and transform your lives through structured planning and consistent effort.
4. Toodledo
Toodledo is known as an excellent goal planner app for you because it prioritizes adaptability and customization. This app truly understands that every individual has unique needs and preferences when it comes to organizing goals and tasks. With Toodledo, you can tailor your experience to fit your specific requirements, ensuring a seamless and enjoyable goal planning process. 
Toodledo excels at providing a comprehensive platform for goal planning and management, making it a robust tool for you. Its collaboration features facilitate easy communication and task sharing with your team, friends, or family, making it perfect for both personal and professional settings. In addition, the app's ability to sync across multiple devices ensures that you always have access to your tasks and goals, regardless of where you are. 
Features
Alarms / Reminders
Hotlist
Attachments
Goals
Scheduler
Statistics
Calendar
Time Tracking
Top 3 Features of Toodledo 
1. Customizable Goal Planning
Toodledo allows users to create custom goal templates that align with their personal development needs.
Users can set daily, weekly, monthly, and yearly goals, breaking them into manageable tasks. The app offers a goal-setting interface where users can define the key features of their goal and set specific, achievable targets.
2. Time Tracking 
Toodledo includes time-tracking features that allow users to allocate a specific amount of time for each task and goal. The tool also integrates with digital calendars, including Google Calendar, to ensure that users can synchronize their task goals and stay on track with their goals.
With Toodledo's time-tracking functionality, you can gain insights into your work habits, make informed decisions about task prioritization, and, ultimately, stay on course as you strive to achieve your goals.
3. Personal Goal Reviews
Toodledo includes a feature for personal goal reviews, allowing users to regularly assess their progress. This feature prompts users to engage in periodic reflections on their progress, encouraging adjustments and focused action plans to ensure continual movement towards the achievement of their life goals.
Pricing
Testimonials
Customer support
Email
Tutorials
Help Topics
Forums
FAQs
Conclusion 
Toodledo is a versatile and powerful goal management platform designed to help you efficiently plan, prioritize, and achieve your objectives. With features like alarms/reminders, time tracking, and hotlists, you can effectively organize and monitor your progress. Toodledo's user-friendly interface and comprehensive tools make it an ideal solution for those seeking to enhance your productivity and successfully accomplish your goals.
5. Trello
As a top choice for a goal planner app, Trello offers a robust and user-friendly platform for organizing tasks and projects. With its versatile features, Trello caters to individuals and teams alike, helping users to stay on top of their goals, collaborate effectively, and enhance productivity.
Features
Boards
Lists
Cards
Checklists
Labels
Due dates
Attachments
Comments
Notifications
Integrations
Top 3 Features of Trello
1. Kanban Boards for Goal Management
Trello utilizes Kanban Boards as a core feature of its goal planning software, enabling users to visualize and organize their tasks and goals with ease. These boards allow for the categorization of tasks, making it simple for users to break ambitious goals into actionable steps, and track progress towards those goals in a visually engaging way.
2. Lists & Cards For Creating Manageable Goals
The lists and cards feature in Trello offers a flexible way to break down goals into actionable tasks. Each list represents a stage in the project, while the cards act as individual tasks. Users can easily move cards between lists to signify progress and prioritize tasks, fostering better time management and overall organization.
3. Integration with Google Calendar and Other Digital Planners
Trello seamlessly integrates with Google Calendar and other digital planners. This feature ensures that users can synchronize their task goals, set deadlines, and manage time frames effectively, which is a key aspect of goal planning and professional performance tools.
Pricing
Free
Standard: $5/month
Premium: $10/month
Enterprise: $17.50/month
Testimonials
Customer Support
Community
Help Site
Personalized Support
Conclusion
Trello is an excellent goal planner app that enables you to efficiently manage projects, tasks, and goals. With its intuitive and visually appealing interface, Trello allows individuals and teams to collaborate and streamline their work processes. The top features like boards, lists, cards, and checklists paired with competitive pricing makes Trello a go-to solution for goal planning and project management.
The TakeAway
The best planner apps are designed to seamlessly integrate into your daily routine, assisting you in efficiently managing both personal and work-related tasks. They offer an array of features, from customizable views and extensive collaboration capabilities to intuitive interfaces and seamless integrations with other digital tools. 
Whether you are a project manager overseeing complex projects or an individual trying to streamline your personal goals, there is a perfect planner app waiting to be your daily 
Frequently Asked Questions (FAQs)
1. How do Custom Goal Templates in Goal Planner Apps work?
Custom Goal Templates in Goal Planner Apps allow users to design and structure their goals based on predefined or customizable parameters. These templates facilitate the setting of SMART objectives, ensuring that goals are specific, measurable, achievable, relevant, and time-bound.
2. Can Time Tracking Features in Goal Planner Apps integrate with other productivity tools?
Yes, Time Tracking Features in many Goal Planner Apps can integrate with other productivity tools, such as project management platforms and digital calendars, thereby streamlining the task management process and helping in achieving professional performance goals.
3. How secure is my data in a Web-based Goal Setting App?
Web-based Goal Setting Apps prioritize user data security. They often use encrypted connections and comply with data protection regulations, ensuring that your personal and professional goals, along with other data, remain secure and confidential.
4. Do Goal Planner Apps offer collaboration features for Team Goals?
Absolutely. Many Goal Planner Apps offer features designed for team collaboration, including shared boards or dashboards, task assignments, and communication tools, which are key for team performance and employee engagement.
5. How do Interactive Goal Dashboards in Goal Planner Apps help in Progress Tracking?
Interactive Goal Dashboards in Goal Planner Apps provide visual, at-a-glance insights into goal progress. They utilize progress bars, charts, and statistics to offer a clear and concise view of how close you are to achieving your personal and business goals, facilitating timely adjustments to action plans.
6. What are the options for mobile App Accessibility in Goal Planner Software?
Most Goal Planner Software solutions offer mobile app versions, allowing users to plan, track, and adjust their goals on-the-go. This enhances accessibility and continuous engagement with personal development and professional goals.
7. Can I set recurring tasks and habits in Goal Planner Apps?
Yes, Goal Planner Apps often include Habit Tracking Tools that allow users to set and monitor recurring tasks and habits, thereby promoting the establishment of wise habits that align with long-term goals.
8. Is it possible to export data and reports from Goal Planner Apps?
Absolutely. Most Goal Planner Apps allow users to export data, including goal progress reports and time tracking insights, which can be essential for personal goal reviews and performance management.
9. Do Goal Planner Apps offer different types of plans, including free and premium Plans?
Yes, Goal Planner Apps generally offer a variety of product plans, including free versions with basic features and premium plans that unlock additional functionalities often at an extra cost.
10. How do Goal Planner Apps integrate with digital calendars for effective goal planning?
Goal Planner Apps usually offer seamless integrations with digital calendars, such as Google Calendar. This allows users to sync their tasks and deadlines with their calendar, providing a consolidated view of daily planning and monthly goals.

More Posts